5 Best Freelancer Invoicing Software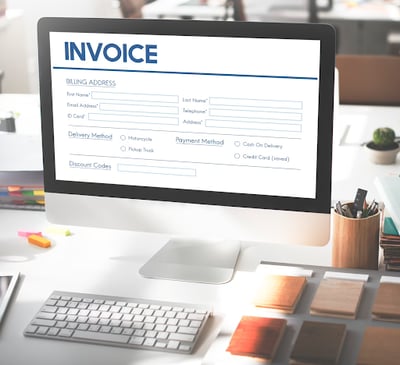 The professional preferences of individuals are constantly growing. While people once preferred full-time jobs, more people now earn through their freelance businesses.
However, the financial implications of freelancing differ from those of corporations. Freelancers are their accountants, which makes their work trickier. The slightest mistakes can cost them a lot. Thankfully, freelancer Invoicing software comes to the rescue.
There are countless invoicing software that promise convenience for freelancers. In this article we will look at some for the best freelancer invoicing software to help you have a better clientele and achieve better profits.
1. ZarMoney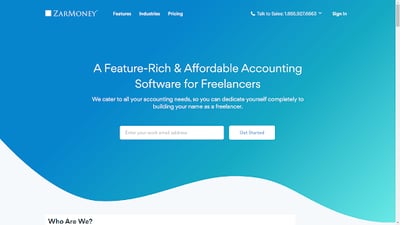 ZarMoney is a robust freelance invoicing software that provides accounting services to a variety of industries and business scales. Our freelancer invoicing software takes pride in the fact that it caters to all accounting needs of businesses. In addition, its all-inclusive features ensure every subscriber avails of its quality services without extra charges.
With ZarMoney, users can experience peace of mind in its spirit and essence. If you are a startup or a freelancer, industry or non-profit organization, we have got you covered. Thanks to its automated invoicing and billing, you are assured you will lose neither customers nor payments.
What sets our freelancer invoicing software apart from its competitors is that it seamlessly covers all invoicing processes. From invoicing to receiving payment and managing bank records, ZarMoney assists you at every step.
Features
Online Invoicing

Automated Billing

Inventory Management

Online Payments

Bank Connections

Quotes/Estimates

Purchase Order

Online Order Management
Top 3 Features
1. Estimates and Invoices
ZarMoney's feature-rich platform empowers freelancers to create captivating proposals that leave a lasting impression. Customize quotes to reflect clients' unique needs, include detailed cost breakdowns, and outline project timelines and deliverables with ease. Once your estimate is approved, effortlessly convert it into a professional invoice and watch your freelance business soar.
2. Automated Billing
Freelancers using ZarMoney can set up recurring billing for valuable clients who require regular services. The system generates and sends invoices at predefined intervals, allowing you to focus on what you do best. Customize payment terms, apply discounts or late fees automatically, and seamlessly integrate with popular payment gateways for prompt and hassle-free payments.
3.

Online Invoicing
Impress your clients with sleek, professional invoices that showcase your unique brand identity. With ZarMoney, freelancers can effortlessly create and send digital invoices directly to their clients' inboxes. The intuitive interface allows them to add line items, calculate totals, and include payment instructions in a snap. Bid farewell to lost or delayed invoices as you streamline your invoicing process online.
Pricing
15-day free trial

Entrepreneur package for $15 per month

Small Business package for $20 per month

Enterprise package for $350 per month
Customer support
FAQs

Chat

Live Support

Knowledge Base

Phone

Email
Ratings
ZarMoney is rated 4.7 on GetApp. GetApp rates it 5 for pricing and 4.5 for functionality. It rates 4.8 on G2 with being a High Performer in 2023. Capterra rates the software at 4.7.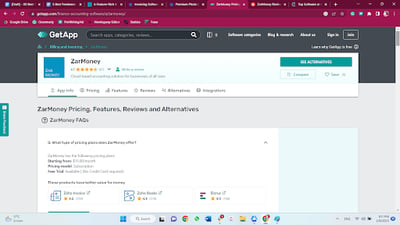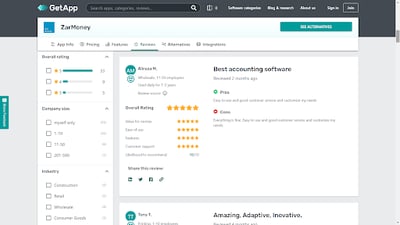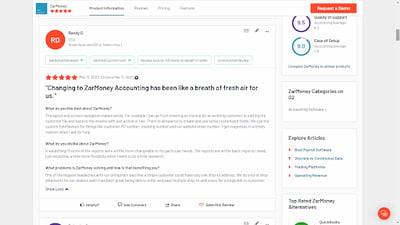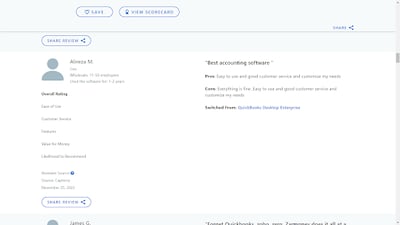 Conclusion
ZarMoney is a wholesome freelancer invoicing software that caters to the needs of freelancers. Its easy-to-use layout and to-the-point features ensure you get the most out of your software without being overwhelmed. Our software perfectly meets the latest requirements and exceeds your expectations. With our invoicing software, you can be sure that your invoices are accurate and your payments are on point.
2. FreshBooks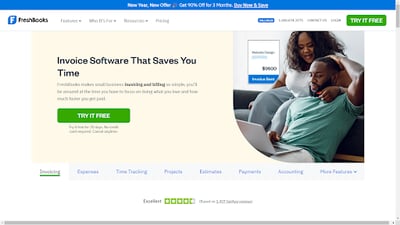 If you are a freelancer who provides products or services, FreshBooks is for you. This freelancer invoicing software strives to provide convenience to all small business owners and freelancers who dream big but start small.
The ease of creating custom invoices and mobile access makes it a preference for freelancers on the go. Wherever you are, FreshBooks accompanies you.
In addition to invoicing, FreshBooks software provides the facility of payment reminders, full or partial payment, and billable activities. This relieves the burden from the shoulders of freelancers who can efficiently manage multiple aspects of their work within a single software.
Features
Quick invoicing features

Customizable invoice design

Personalized emails

Multiple payment options

Payment reminders

Automatic charging of cards

Full or partial payments

Time tracking

Billable activity

Automatic tax calculation
Top 3 Features
1. Customizable Invoices
Freelancers take pride in the uniqueness of their work. They assign unique names and logos to their brands and have an exclusive theme for their products or services.
Therefore, it is desirable to incorporate their design elements into all their business aspects. FreshBooks caters to this demand with its customizable invoice feature.
With FreshBooks, you can customize your invoices just the way you like. The interactive layout gives you a Real-Time preview of how your invoice will look once completed, so you do not have to hit the preview repeatedly. Not only this, you can drag options and sections of the invoice to create a layout of your choice.
FreshBooks offers full customization options for its users. Various layouts, logos, and brand names give exclusivity to every business so it stands out from the crowd.
2. Invoicing Payment Reminders
The next step following invoice creation is to get paid. Amidst countless tasks that freelancers perform, it is easy to forget payments. FreshBooks understands these concerns and offers payment reminders to get paid on time.
This interactive freelancer invoicing software allows you to set payment reminders across multiple devices. So even if you are traveling with your laptop packed away, you can easily set reminders using the FreshBooks mobile app. So simply set payment reminders and sit back while this software gets your hard-earned money.
Another way to ensure timely payment is to have your client's credit card details saved. Although this is based on a good relationship of trust between both parties, a saved credit card is a convenient payment method.
In addition, FreshBooks freelancer invoicing software offers automatic card charging, so neither you nor your clients have to spare time and make payments.
3. Recurring Invoices
Certain freelancers offer services instead of products. Invoicing of both is different. While products are one-time purchases, services are paid for in segments or terms mutually decided by both parties. However, this means there will be a need to draft invoices continuously for each milestone.
Another fantastic feature of FreshBooks is generating recurring invoices, which allows you to accept continuous payments without composing invoices every time. Automatic, recurring invoices further eliminate the possibility of missed invoices or untracked reminders.
With FreshBooks, you can set the amount, time, and frequency of invoices and let this software do the rest.
Pricing
Monthly Plan

Lite for $1.50 per month

Plus for $3 per month

Premium Plan for $5.50 per month

Yearly Packages

Lite for $121.50 annually

Plus for $243 annually

Premium Plan for $445.50 annually
Customer Support
Chat

Email

Help Desk

FAQs

Knowledge Base

Phone
Ratings
FreshBooks is rated 4.5 by GetApp, G2, and Capterra. GetApp rates it 4.3 for value for money as well as functionality.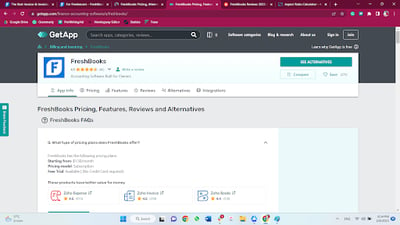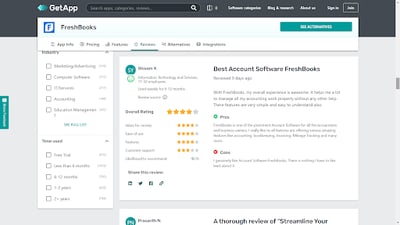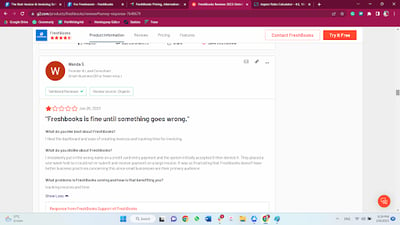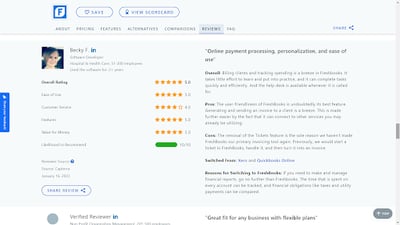 Conclusion
FreshBooks is an ideal choice for freelancers and small business owners who seek a comprehensive, user-friendly invoicing solution. Its customizable invoice designs, payment reminders, and recurring invoice features cater to the unique needs of freelancers and help them streamline their billing process.
3. Bonsai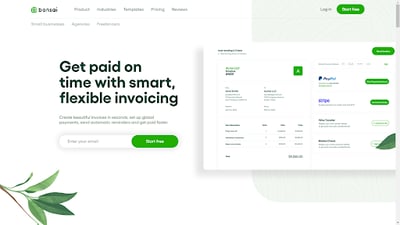 Another benchmark freelancer invoicing software designed to bring convenience to freelancers is Bonsai. Like a bonsai that is miniature in stature but holds the same value and characteristics as those of a full-sized tree, this software offers the same value and features to small businesses and freelancers.
Bonsai offers a professional yet convenient layout easily usable and customizable by freelancers. In addition, the software provides various features such as proposal creation, quotations, taxes, and more.
Features
Invoicing

Quotations

Invoice reminders

Package creation

Simple layout

Free invoice templates

Tracked work progress

Contract signing

Account information

Bank reconciliation
Top 3 Features
1. Streamlined Invoices
Bonsai promises convenience to its customers. It makes it possible by automating most of the features. For example, users can create professional-looking quotations and invoices. From there on, it's all on auto-pilot; Bonsai automatically starts the next invoice.
This freelancer invoicing software allows users to set reminders for the next invoice. Such features are beneficial for recurring invoices where customers pay a set amount for a specific time.
Not only this, Bonsai allows users to add a late payment fee. With these features, no payments go unnoticed.
2. Package Creation
Freelancers are always looking for ways to attract customers. One good way of doing this is by offering different service packages. Clients can choose the package that best caters to their requirements.
Bonsai allows its users to avail of this novel feature and offer different service packages. Moreover, users can build their package library and add them to individual invoices. This feature is an immense convenience for freelancers and an excellent, professional impression for the clients.
3. Accepting Payment
Bonsai creates invoices and has created an intelligent feature whereby clients can pay their vendors through the software.
Bonsai's payment feature allows customers to pay their vendors without any other banking app. In addition, it is integrated with several banks, so payments are no longer a hassle. Add a card and select the total or partial payment option.
This feature makes it easy for the customer and sellers to make and receive payments. Freelancers accept their payments within ten minutes. Bonsai works not only as an invoicing software but also as a complete business solution.
Pricing
Monthly Packages

Starter package for $24

Professional for $39

Business for $79

Yearly Packages

Starter for $17 per month, billed annually

Professional for $32 per month, billed annually

Business for $52 per month, billed annually
Customer support
Email

Help desk

FAQs

Forums

Knowledge base

Chat

24/7 support
Ratings
4.3 on GetApp and 4.7 on G2. GetApp rates the software 2.5 for value for money and 4.3 for functionality. Capterra rates the software 4.2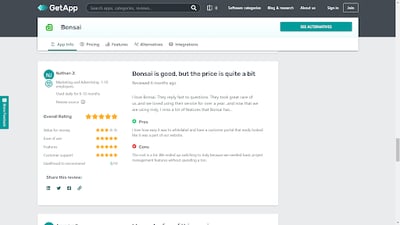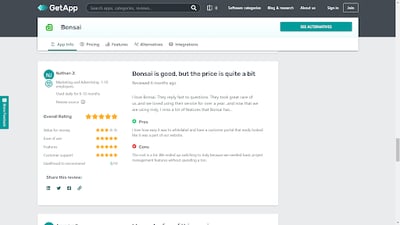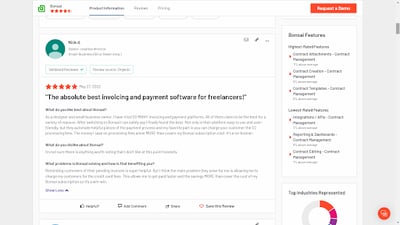 Conclusion
Bonsai is an intelligent invoicing solution for freelancers. It offers an innovative, professional-looking layout with diverse options that are a blessing for freelancers and small business owners. In addition, you can create invoices and track your payments easily which make the invoicing software quite convenient.
4. Wave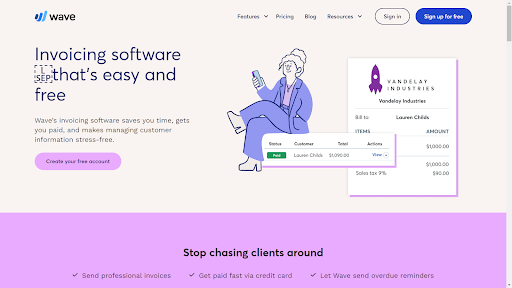 Countless invoicing software extends its services to several businesses and industries. However, Wave is one of the best freelancer invoicing software for those looking for an option only for startups.
This software has kept it small. It extends professional services to freelancers and small businesses only. Whether they are invoicing services or accounting, tax calculation, or payment, Wave does it all. What makes this software sought after is its free plans for users.
Features
Compiled client information

Customizable template

Recurring invoices

Accounting services

Bookkeeping

Automatic and manual billing

Mobile apps

Multiple users

Credit card payment

Bank integration
Top 3 Features
1. Invoice Dashboard
All freelancer invoicing software offers intelligent solutions to their customers. However, Wave takes it a step further by providing features of all client communication and invoice status in a compiled layout.
With Wave, all customer information and payment details are visible. Users can check whether any payments are pending and see when clients have made their payments. The feature also shows the history of client transactions.
Not only this, Wave allows users to create invoices in multiple currencies. This feature is handy when doing business with foreign clients. In addition, various currencies expand the business horizons for freelancers.
2. Recurring Billing
The feature of recurring billing is of immense importance for freelancers. However, since they are too occupied with other business areas, it is easy to miss out on repeating payments.
Wave offers the convenience of recurring billing, which users can switch between automatic and manual payments. With automated billing, Wave sends out payment reminders to clients per the amount and frequency set by users. On the other hand, manual billing gives more power to users who can send bills when they deem it appropriate.
3. Sync with Accounting Software
Accounting is one area freelancers find most challenging. The complexities of finances, tracking, and taxes are a headache, not to mention the legal requirements of filing taxes. Wave understands these concerns and offers accounting and bookkeeping services included in the software.
The best thing about Wave is that it does not charge an additional fee for accounting. Users no longer need spreadsheets for their transactions as Wave concisely documents all payments and sales. In addition, taxes are calculated simultaneously, so users know how much they must pay.
Pricing
Payroll services are charged at $40 per month for tax services states and $20 for self-service states

Bookkeeping support at $149 per month

Accounting and payroll coaching at $379, paid one time
Customer support
FAQs

Forums

Email

Chat

Help Center
Ratings
4.4 on Capterra, GetApp, and G2. GetApp rates this freelancer invoicing software at 4.7 for its pricing and 4.2 for functionality.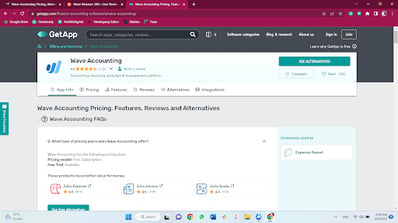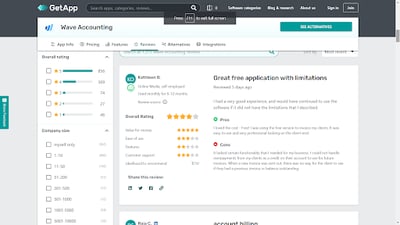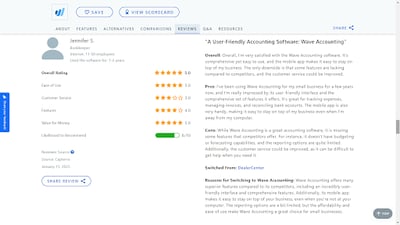 Conclusion
Wave is an excellent invoicing software solution for freelancers and small businesses due to its robust features and affordability. The platform offers an intuitive dashboard, recurring billing options, and seamless accounting integration, simplifying the invoicing process and allowing users to focus on their core business. Choosing Wave means investing in a user-friendly, comprehensive, and cost-effective invoicing solution that caters specifically to the needs of freelancers and small businesses.
5. Quickbooks Online



Quickbooks Online is one of the most frequently used invoicing and accounting software for freelancers. The software is appreciated by all, as it caters to the diverse needs of different businesses.
Quickbooks Online offers convenience and multiple features to users. Freelancers, in particular, can avail themselves of valuable features, such as billable activity, time tracking, and automated invoices. In addition, customizable invoices with unique logos and designs give perspective on individual enterprises, so their work stands out.
Features
Customizable invoices

Automated invoicing

Recurring invoices

Billable activity

Multi-currency invoices

Multilingual invoicing

VAT and discount calculation

Time tracking

Personalized invoices

Mobile application
Top 3 Features
1. Complete Invoicing Solutions
Quickbooks is an amalgam of all desirable features of a freelancer invoicing software. In addition, it includes all elements of individual applications and software.
This software can create estimates and send invoices accordingly. Users can send these invoices individually or in a batch, make them one-time, or send automatic recurring ones. Whatever the preferences, Quickbooks caters to them.
Quickbooks allows its users to customize their invoices, giving individuality to their brand. In addition, invoice designs can be viewed in easy previews.
Not only this, users can communicate with their clients in their native language. For example, the multi-language and multi-currency options in Quickbooks let users create invoices in the language and currency of their clients for better understanding. Such features leave a lasting impression on clients.
2. VAT Calculation
Calculating VAT, discount, or shipping on invoices and entering the last value can take time. Additionally, there are chances of erroneous calculations, too.
With Quickbooks, users can rest assured their calculations are on point. Even better, they do not have to do it themselves.
All they have to do is to enter VAT percentage, discount, or shipping charges. Quickbooks enters the resultant value automatically and accurately. The invoices mention these details, too, so clients have transparency of business interaction.
3. Billable Expenses
Several freelancing projects involve buying items. With interactive software such as Quickbooks by their side, freelancers can add all their expenses and time to their invoices.
Detailed invoices are a convenience and trust-building medium between clients and businesses. With billable expenses, you can charge your clients for the time they invest in completing projects. Additionally, an added cost can be added to the invoices, and freelancers can be paid for their efforts.
Pricing
Free trial for 30 days

Monthly Plans

Simple Start for $8.50

Essentials for $13

Plus, for $18

Yearly Plans

Simple Start for $161.57

Essentials for $247.10

Plus, for $342.14
Customer support
Email

FAQs

Chat

Phone

Glossary

Ask the Community
Ratings
Quickbooks Online is rated 4.3 on GetApp and Capterra. GetApp rates it 4.2 for pricing and functionality. G2 rates the freelancer invoicing software at 4.


Conclusion
Quickbooks promises inclusive features to all its users. It understands the diversity of work that freelancing involves and tries its best to check all boxes. Its unique features of multilingual and multi-currency invoicing are a prime example of its keen understanding of freelancers' work scope.
Table of Comparison
| | | | | | |
| --- | --- | --- | --- | --- | --- |
| | Estimation | Invoicing | Single Click Payments | Bank Reconciliation | Bills Tracking |
| ZarMoney | 🗸 | 🗸 | 🗸 | 🗸 | 🗸 |
| FreshBooks | 🗸 | 🗸 | 🗸 | ╳ | 🗸 |
| Bonsai | ╳ | 🗸 | 🗸 | 🗸 | 🗸 |
| Wave | ╳ | 🗸 | ╳ | 🗸 | ╳ |
| Quickbooks Online | ╳ | 🗸 | ╳ | 🗸 | 🗸 |
The Bottom Line
Freelance business is on the record rise. Most individuals now prefer to run their businesses instead of seeking employment. As a result, many software are now available to cater to invoicing needs of freelancers. Each promises convenience and includes several features to get to the top of the list.
ZarMoney is the all inclusive software that will solve all your freelancer invoicing needs. In addition, our plans are all-inclusive, so you do not have to pay additional fees to access professional services. Reach out to us today to learn more about our features and have the best invoicing partner by your side.
Frequently Asked Questions (FAQs)
1. How does an invoicing tool help freelancers manage online payments?
An invoicing tool simplifies the process of receiving online payments from clients by providing secure and reliable payment processing options. It enables freelancers to accept various payment methods, making transactions more accessible for clients. This results in a smoother and faster payment process, improving cash flow for freelancers and small businesses.
2. What are some advanced features to look for in an invoice software?
Advanced features in an invoice software include customizable templates, recurring invoices, multi-currency and multi-language support, tax calculations, time tracking, and seamless accounting integration. These features cater to diverse invoicing needs and help freelancers manage their finances more efficiently. They also contribute to a professional and organized invoicing experience.
3. How can expense tracking benefit freelancers using invoicing software?
Expense tracking in invoicing software allows freelancers to record and monitor their business expenses, providing a detailed overview of their financial situation. This feature helps freelancers better understand their spending habits, manage their budget, and identify potential areas for cost-saving. Furthermore, accurate expense tracking simplifies tax reporting and ensures compliance with financial regulations.
4. Are there payment processing fees associated with using invoicing software?
Payment processing fees may apply when using invoicing software, depending on the chosen payment gateway and the software's pricing structure. These fees typically cover the cost of processing credit card transactions and transferring funds. It's essential to review the invoicing software's fee structure and choose a plan that best suits your business needs.
5. How can I manage unpaid invoices using invoicing software?
Invoicing software often includes features to help freelancers manage unpaid invoices by tracking payment statuses and sending automated reminders to clients. These tools allow users to identify overdue payments and follow up with clients in a timely manner, improving cash flow and reducing the risk of unpaid invoices.