7 Top QuickBooks Alternatives Tailored for Freelancers
Managing financial performance is crucial for freelancers in the modern era of digital nomads and gig workers.
With its known financial performance reports, QuickBooks has long been the go-to choice for many. But with evolving time through reporting and the increasing need for a clean interface, there might be better fits for everyone.
1. ZarMoney
ZarMoney, a great QuickBooks alternative for freelancers, with its clean interface and smart insights, has positioned itself at the forefront of accounting software for freelancers. ZarMoney caters to the entire organization and addresses nuances like type of card, type of file, and even receipt data entry.
Plus, it safeguards against billing errors and human errors. With its additional pricing tiers, ZarMoney is a complete package, balancing user-friendliness with an extensive range of features.
Designed to streamline your day, it's no wonder many freelancers consider ZarMoney their top choice.
Features of ZarMoney
Quotes / Estimates

Quick Sales

Automatic Expense Recording

Automatic matching

Productivity

Customizable Dashboard

Bank Connection

Bank Account Reconciliation

Sales Tax

Profit & Loss

Comprehensive Reporting
Top 3 Features of ZarMoney
1. Productivity Features
ZarMoney boasts a user-friendly dashboard that provides easy access to all primary functions. It helps improve efficiency and lessen the time spent teaching new users.

Users can customize the software to fit their business needs, such as designing custom invoices or altering transaction forms.
2. Advanced Inventory Features
ZarMoney ensures that businesses can monitor stock levels in real-time. This immediacy is invaluable, particularly for businesses that deal with fast-moving goods or have a high turnover of products.


By knowing the exact quantity of stock on hand, businesses can make informed decisions about reordering, sales promotions, or even discontinuing certain products.
3. Accounting Features
ZarMoney is built on a double-entry accounting system, ensuring the accuracy and comprehensiveness of financial data.


Users can easily reconcile their bank statements with the software, helping identify discrepancies. Companies can handle their payables and receivables, guaranteeing timely payments and revenue collection.
Pros of ZarMoney
User-friendly interface

Comprehensive financial reporting
Cons of ZarMoney
Limited customization options

Requires internet connectivity for cloud-based features
Supported Platforms of ZarMoney
ZarMoney's availability on Android and iOS ensures you can access your finances on the go.
Pricing of ZarMoney
Prices start from $15/Month.
Final Verdict on ZarMoney
ZarMoney carves its distinct niche, standing out not only as a QuickBooks alternative for freelancers, but also offering far more than your standard accounting and inventory management solution.
Designed with businesses of all sizes in mind, from burgeoning startups to established enterprises, this cloud-based platform ensures that every financial detail is effortlessly captured and managed.
What truly sets ZarMoney apart from its contemporaries isn't just its decadent array of functionalities and the seamless blend of its user-friendly interface with a pricing structure that understands the financial constraints of businesses.
2. Freshbooks
Freshbooks is an accounting software that has garnered considerable praise and respect within the freelancer community. Renowned for its intuitive and user-friendly interface and robust suite of features, Freshbooks stands out in a crowded market.
One of the most distinguishing characteristics of Freshbooks, a notable QuickBooks alternative for freelancers, is its efficient time-tracking capabilities. This feature becomes an indispensable tool for freelancers juggling multiple projects simultaneously, ensuring accurate billing and providing insights into how their time is spent.
By automating many of the tedious aspects of financial management, Freshbooks ensures that freelancers can focus more on what they do best, be it writing, designing, consulting, or any other professional service, without being bogged down by the complexities of bookkeeping.
Features of Freshbooks
Invoicing

Payments

Time tracking

Accounting

Mileage tracking app

Reports

Projects

Estimates
Top 3 Features of Freshbooks
1. Accounting
Track and categorize business expenses. You can also take pictures of your receipts with the mobile app, and they'll be saved and organized in FreshBooks.

Develop reports like profit and loss, balance sheets, and expense reports to get insights into your company's financial health.
2. Time Tracking
You can start a timer to track your time on a job in real-time or manually enter your hours. Logs of time spent can be viewed, categorized, and organized by client or project.

Time logs can be marked as billable or non-billable. Billable hours can be automatically pulled into invoices.
3. Invoicing
FreshBooks has introduced an array of customizable invoice templates tailored to meet the diverse branding requirements of modern businesses.
One of the standout elements of these templates is their adaptability. Not only can you alter the appearance to match your company's unique brand identity, but you can also adjust the overall feel, ensuring that every invoice you send out resonates with the essence of your brand.
Pros of Freshbooks
Intuitive user interface

Efficient invoice management system

Reliable customer service
Cons of Freshbooks
It might be a bit pricey for some users

Limited third-party integrations

It does not offer advanced features like inventory management
Supported Platforms of Freshbooks
Freshbooks is available on both Android and iOS platforms, ensuring accessibility for freelancers on the go.
Pricing of Freshbooks
Freshbooks pricing starts at $8.50/month.
Final Verdict on Freshbooks
Freshbooks is a reliable Quickbooks alternative for freelancers, especially for those prioritizing time-tracking and efficient invoicing.
Its user-friendly interface guarantees that even those unique to accounting can navigate its elements effortlessly.
3. Wave
Wave, a great QuickBooks alternative for freelancers, has garnered attention among freelancers as a free, user-friendly accounting tool that offers solid features without the hefty price tag. This software aims to simplify financial tracking and offers tools tailored to the needs of solo entrepreneurs.
Wave understands that freelancers have unique financial management requirements. Unlike giant corporations with extensive resources, solo entrepreneurs need straightforward, practical tools that don't require a steep learning curve.
This is where Wave truly shines. Its intuitive interface ensures that even those with minimal accounting experience can easily navigate the platform.
Features of Wave
Invoicing

Payments

Accounting

Mobile receipts

Payroll
Top 3 Features of Wave
1. Payroll
Wave's payroll service calculates the appropriate taxes to be withheld and can handle tax filings and payments in certain areas. Employers can pay their workers straight to their bank accounts.
2. Accounting
Wave uses the widely accepted double-entry accounting system. Users can connect their bank accounts to sync transactions automatically.
3. Payments
Wave payments permit users to take credit card payments from the invoices they send. Users can also accept bank payments. Wave advertises a transparent fee structure for its payment processing.
Pros of Wave
Free to use

Comprehensive financial reports

Seamless integration with bank accounts
Cons of Wave
Limited customization options

It has no inventory management

It does not show a premium plan for developed components
Supported Platforms of Wave
Wave is available on Android and iOS, ensuring ease of access wherever you are.
Pricing of Wave
Wave offers its accounting features for free.
Final Verdict on Wave
For freelancers on a tight budget looking for a reliable accounting tool, Wave is a solid pick. While it might lack some advanced features, its core functionalities are more than enough for most solo entrepreneurs.
4. Zoho Books
Zoho Books showcases a user-friendly interface that even those unique to accounting can efficiently navigate. Its design ensures that users can quickly find and utilize its myriad features without feeling overwhelmed.
It is particularly advantageous for freelancers who often have to juggle multiple roles in their business, from service delivery to financial management. Beyond its core accounting functionalities, Zoho Books offers unique features tailored to freelancers' needs.
From invoicing to expense tracking, from bank reconciliation to time tracking, the platform ensures that freelancers have all the tools they need to manage their finances effectively.
Features of Zoho Books
Invoicing

Quotes

Customer Portal

Expenses

Bills

Banking

Projects

Inventory

Sales Orders

Purchase Orders

Online Payments

Reporting

Automation

Documents
Top 3 Features of Zoho Books
1. Reporting
Zoho Books offers a variety of financial reports such as gain and loss, balance sheets, cash flow reports, and more. It is helpful for companies to stay compliant with their local tax regulations.
2. Automation
Zoho Books can be connected to bank accounts, allowing automatic bank feeds. It lessens the need for manual access and can help reconcile transactions efficiently.
You can set up rules to automatically classify and match your bank transactions.
3. Quotes/Expenses
With Zoho Books, you can make and send professional quotes to buyers. Once approved, these quotes can be transformed into invoices with a single click.
Also, Zoho Books allows users to track and categorize business expenses.
Pros of Zoho Books
Extensive automation capabilities

Seamless integration with other Zoho products

Global tax support
Cons of Zoho Books
It might be overwhelming for those aiming for more specific solutions

Some developed components require higher-tier plans

Limited third-party integrations compared to some competitors
Supported Platforms of Zoho Books
Zoho Books is available on Android and iOS and has a web version.
Pricing of Zoho Books
Zoho Books has a free plan. Pricing starts at $10/month.
Final Verdict on Zoho Books
Zoho Books is a strong contender for freelancers who require a comprehensive accounting solution that can also integrate with other business tools. Its affordability and rich features make it a great QuickBooks alternative for freelancers.
5. Sage 50
Sage 50, a QuickBooks alternative for freelancers, previously recognized by many as Peachtree, is one of the pillars of accounting software.
With its roots extending deep into the early days of computerized financial management, Sage 50 has undergone various transformations, refining its tools and features to cater to the evolving demands of the business world.
This robust accounting solution is not merely a tool but an embodiment of reliability and precision.
Designed meticulously for freelancers, small businesses, and even medium-sized enterprises, it offers various functionalities beyond basic bookkeeping.
Features of Sage 50
Cashflow

Invoicing

Payments

Banking

Advanced inventory management

Job and project costing

Reporting
Top 3 Features of Sage 50
1. Accounting
Sage 50 is a popular accounting software package designed for tiny and medium-sized companies. It provides a broad range of accounting features to help businesses manage their financial processes effectively.
2. Job and Project Costing
Users can break down jobs into phases, stages, or tasks and allocate costs to each, allowing a detailed view of where funds are being spent.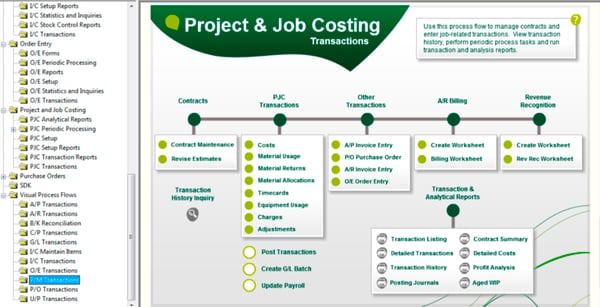 Compare budgeted or estimated prices with actual costs to see if a project is on track or adjustments are needed.
3. Reporting
Sage 50 provides a variety of customizable financial reports, allowing businesses to extract meaningful insights from their data.

Users can get a snapshot of their financial position with dashboard views that display key metrics and indicators.
Pros of Sage 50
Robust features suitable for both service-based and product-based freelancers

Strong security protocols

Multi-user options
Cons of Sage 50
Steeper learning curve compared to other alternatives

It might be overkill for freelancers with more straightforward requirements

The interface might feel dated to some users
Supported Platforms of Sage 50
Sage 50 is primarily a desktop application offering cloud and mobile functionalities.
Pricing of Sage 50
Sage 50's pricing starts at around $33/month.
Final Verdict on Sage 50
Sage 50 is a QuickBooks alternative for freelancers that suits small businesses with complex accounting needs. Its robust features can be overkill for those with more straightforward requirements, but it's a reliable tool for those who need it.
6. NetSuite
NetSuite, a QuickBooks alternative, is a complete cloud-based Enterprise Resource Planning (ERP) software suite delivered by Oracle Corporation.
It was created to serve the requirements of different companies, from tiny startups to large enterprises. NetSuite provides a unified platform to streamline multiple business procedures.
Features of NetSuite
Order management

Financial management

Global business management

Services automation

Analytics

Reporting

Procurement

Inventory management
Top 3 Features of NetSuite
1. Reporting
NetSuite offers a wide range of pre-built financial reports, including income statements, balance sheets, cash flow statements, and more. These reports can be customized to fit your specific accounting and financial needs.
2. Financial Management
Manage and track your incoming and outgoing finances, ensuring timely payments and collections. Employees can log expenses, which can be approved, reimbursed, and reported.
3. Analytics
Users can customize dashboards to see KPIs, reports, and other data appropriate to their role.
Companies can better understand their financial health with balance sheets, income statements, and cash flow statements.
Pros of NetSuite
Comprehensive business solution

Highly customizable

Robust customer support
Cons of NetSuite
Expensive for solo freelancers

It can be overwhelming to navigate

Requires time to set up and customize
Supported Platforms of NetSuite
NetSuite is a web-based solution accessible through browsers.
Pricing of NetSuite
NetSuite's pricing is custom and varies based on specific business needs. Pricing starts at $99 per user per month. It's typically more expensive than other alternatives listed here.
Final Verdict on NetSuite
NetSuite, a QuickBooks alternative for freelancers, is more suited for growing businesses rather than individual freelancers. However, it's a forward-looking choice if you're a freelancer with a rapidly expanding client base or operations.
7. Bonsai
Bonsai is an amazing QuickBooks alternative for freelancers and primarily a software platform designed to assist them with various aspects of their business, including proposals, contracts, time tracking, invoicing, and payments.
Bonsai aims to streamline administrative tasks for freelancers, allowing them to spend more time on their core work and less on administrative tasks.
Features of Bonsai
Scheduling

Proposals

Contracts

Forms

Project Management

Time tracking

Tasks

File sharing

Client portal

Collaboration

Financial Management

Invoicing

Payments
Top 3 Features of Bonsai
1. Expense Management
With Bonsai, the often intimidating task of managing expenses becomes effortless. Freelancers can effortlessly record and monitor every expenditure, from office supplies to travel expenses and beyond.
This accurate attention to financial detail guarantees that nothing goes unnoticed, helping you maintain a tight grip on your financial health.
2. File Sharing
Users can attach files to invoices, contracts, and other documents within Bonsai. It helps provide additional details or proofs to clients.


Bonsai offers a secure platform to store these files, ensuring sensitive information remains confidential.
3. Integration with Accounting Software
While Bonsai has its accounting-related features, it also integrates with popular accounting software such as QuickBooks and Xero.


This enables you to synchronize your financial data with more comprehensive accounting tools if needed.
Pros of Bonsai
Tailored specifically for freelancers

Streamlined workflow from client onboarding to payment

Reflexive and user-friendly interface
Cons of Bonsai
Limited features for complex accounting needs

It might be too simple for growing businesses

Relatively newer compared to other established platforms
Supported Platforms of Bonsai
Bonsai is available on web browsers and has a mobile app for both Android and iOS.
Pricing of Bonsai
Bonsai's pricing starts at $21/month for the starter plan.
Final Verdict on Bonsai
Bonsai is a top pick for freelancers seeking a straightforward, all-in-one solution to manage client work. As a QuickBooks alternative for freelancers, it streamlines various freelance tasks, making the process smoother and more efficient.
Table Comparison
| | | | | | | | |
| --- | --- | --- | --- | --- | --- | --- | --- |
| Feature | ZarMoney | FreshBooks | Wave | Zoho Books | Sage 50 | NetSuite | Bonsai |
| Invoicing | ✅ | ✅ | ✅ | ✅ | ✅ | ✅ | ✅ |
| Accounting | ✅ | ✅ | ✅ | ✅ | ✅ | ✅ | ✅ |
| Expense Tracking | ✅ | ✅ | ✅ | ✅ | ✅ | ✅ | ✅ |
| Mobile App | ✅ | ✅ | ✅ | ✅ | ✅ | ✅ | ✅ |
| Time Tracking | ❌ | ✅ | ❌ | ✅ | ✅ | ✅ | ✅ |
ZarMoney is the best choice for its diverse feature set tailored for freelancers, making financial management effortless.
Best of Best
1. ZarMoney
ZarMoney operates in the cloud, letting companies access their financial data and inventory components anywhere. This cloud-based solution ensures that all your data is backed up, secure, and available whenever needed, without in-house servers or additional IT infrastructure. Whether you're a startup, a small enterprise, or a large corporation, ZarMoney is designed to scale and adapt to your specific needs. The software can handle the complexities of more prominent companies while remaining user-friendly for smaller entities.
2. Zoho Books
Zoho Books is part of the Zoho ecosystem, which suggests a span of enterprise applications. This tool provides a good balance between usability and comprehensive features. The client portal, automated banking, and timesheet tracking features are particularly beneficial for freelancers. Its integration with other Zoho products also means it can grow with a freelancer's needs.
3. Bonsai
Bonsai emerges as a platform meticulously designed with freelancers in mind. From the initial stages of crafting well-thought-out proposals to drafting legally sound contracts and ensuring timely and seamless payments, Bonsai encompasses every facet of the freelance client relationship.
Conclusion
The freelancing world comes with its set of financial hurdles. Effective management often seems daunting. Yet, solutions exist. Resources can transform these challenges into structured processes. Among them, ZarMoney stands out. This tool offers more than just accounting. It provides clarity in a sea of numbers. For freelancers, it's a beacon. With it, navigating financial terrains becomes less overwhelming and more assuring.
Frequently Asked Questions (FAQs)
1. Why opt for a different solution than QuickBooks?
While QuickBooks is popular, platforms like ZarMoney are tailored for freelancers, offering unique features and more affordable pricing plans.
2. Is cloud-based accounting software safe?
Yes, reputable cloud-based solutions like ZarMoney employ encryption and multiple layers of security to protect your data.
3. Can I switch software midway through the fiscal year?
Absolutely! Most accounting software, including ZarMoney, allows you to import data from other platforms, ensuring a seamless transition.
4. Do these tools support credit card processing?
Many tools, including ZarMoney, offer credit card payment processing capabilities, streamlining transactions for freelancers.
5. Are there any free trials available?
Certainly! Platforms like ZarMoney often provide users with a 30-day free trial, allowing you to explore their features and functionalities.
6. Can I track expenses and categorize them for tax purposes?
Absolutely. For freelancers, software that offers intuitive tracking and categorizing expenses, like ZarMoney, is a boon. It simplifies record-keeping and ensures you're well-prepared come tax season.
7. Can I migrate my data from QuickBooks to one of its alternatives?
Most reputable accounting software options, including ZarMoney, offer data migration tools or services. However, the transfer's ease and completeness can differ from platform to platform.
8. Can these alternatives be seamlessly integrated with other tools I utilize?
Many modern accounting tools, like ZarMoney, provide integrations with popular platforms – from CRMs and payment gateways to e-commerce platforms. But, it's always wise to check the list of integrations a software offers before committing.