4 Best Sage Accounting Alternatives To Consider
Business accounting is a complicated process. Recurring invoices, payment processing, expense tracking, cash flow management, bookkeeping – the list goes on. While managing can be stressful, accounting is an indispensable part of your business.
Small business owners can rely on online accounting software to send invoices, pay bills, reconcile their accounts, calculate taxes, and maintain audit trails, among other functions.
Sage Accounting is an online accounting software that helps simplify and streamline your small business's accounting system. But this list is helpful if you are looking for Sage Accounting alternatives. Sage offers flexibility and rich accounting features.
However, despite its good functionality, Sage Accounting only caters to some business needs. It may fall below your expectations if, for instance, you want a cheaper tool or quick implementation time.
You can look into Sage accounting alternatives, explore their functions, and decide if any fits your requirements better.
This blog will explore the top 4 alternatives to Sage Accounting and their features, pros, cons, and everything you need to know.
Overview of 4 Best Sage Accounting Alternatives
1. ZarMoney
Compared to Sage Accounting, ZarMoney ranks higher in ease of use, features, and value for money. If you are looking for a top Sage accounting alternatives accounting platform, ZarMoney is it. It performs essential functions small businesses require, like invoicing, billing, expense tracking, and bank reconciliation. Find a comparison table of ZarMoney and Sage Accounting here. Use ZarMoney if you are looking for the best Sage accounting alternative.
ZarMoney Key Features
Accounts receivable

and payable

Bank reconciliation

Billing and invoicing

Cash management

Check processing

Customer statements

Customizable invoices

Connection with over 9600 banks

Multi-login

Automated taxation

Custom tax order

Journal entries

Profit and loss statements

Alerts and reminders
ZarMoney Top 3 Features
1. Project and Inventory Management
ZarMoney, as a prominent online accounting software, offers robust project management capabilities. This feature ensures businesses can efficiently track project progress and allocate resources.
Inventory tracking is pivotal for any business, and ZarMoney excels in this domain. The software provides real-time insights into stock levels, facilitating superior decision-making.
2. Financial Management with Bank Reconciliation

ZarMoney isn't just another cloud-based accounting software; it's a comprehensive financial management platform. Its bank reconciliation feature allows users to seamlessly align their bank statements with recorded transactions, eliminating potential manual entry errors and maintaining a precise balance sheet, showcasing the financial health of a business more transparently than competitors like Sage Business Cloud Accounting.
3. Expense Tracking with Online Payment Integration
ZarMoney simplifies expense management by offering an intuitive expense tracking system that categorizes and logs each business expense. With its online payment integration, businesses can efficiently manage their cash flow, send online invoices, and accept payments.
ZarMoney Pros
It has several third-party integrations available.

It is scalable, meaning you can either scale up or down, depending on the needs of your small business.

It uses data analytics to help you understand your financial performance.
ZarMoney Cons
It does not offer a mobile app.
ZarMoney Availability
ZarMoney is available on Android, web browsers, Windows, and laptop platforms.
ZarMoney Pricing
ZarMoney offers pricing tiers of $15/month for a single user under the Entrepreneur plan, $20/month for two users in the Small Business plan, and $350/month for 30+ users in the Enterprise plan, with a free trial available.
Final Verdict on ZarMoney
When considering Sage accounting alternatives, ZarMoney emerges as a compelling contender. Unlike traditional platforms such as Sage 50cloud and Sage Business Cloud Accounting, ZarMoney offers many essential accounting tools. Whether sole traders or medium-sized businesses, business owners can benefit from its user-friendly interface and comprehensive features.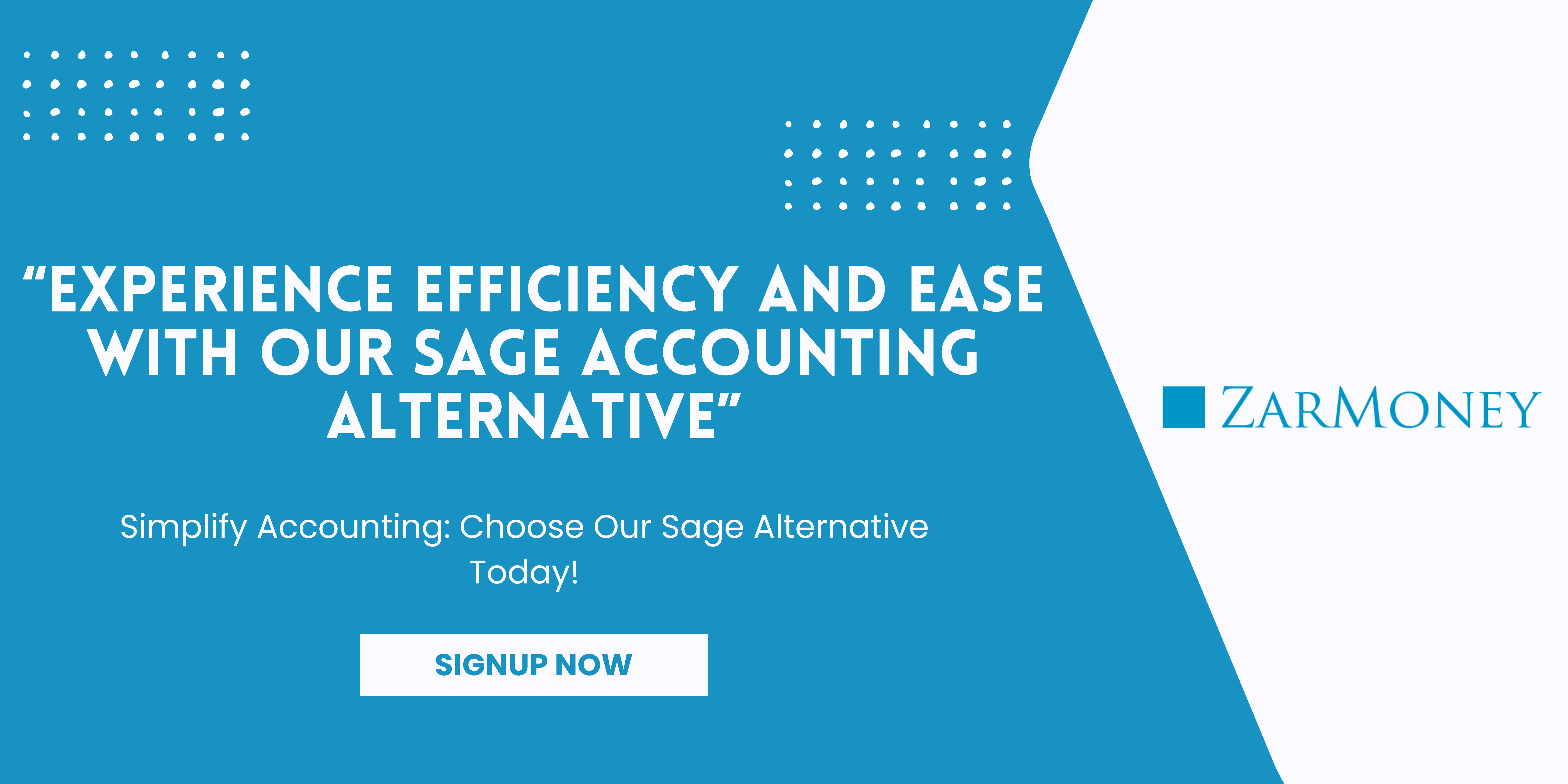 2. Xero

Compared to Sage, Xero offers greater flexibility in two key areas of small business accounting - multi-user login and payroll, making it a vast choice as a Sage accounting alternative. In addition, while Sage offers limited users on a single accounting dashboard, Xero allows you to add more team members. If you have a bigger team and want them to collaborate with you on your accounting tool, you can go for Xero.
Xero Key Features
401(k) tracking

ACH payment processing

Accounts payable & receivable

Automated quoting & billing

Bank reconciliation

Billing & Invoicing

Budgeting

Currency conversion

Customer statements

Customizable invoices & reports

Financial analysis

Income & balance sheet

Multi-channel management

Online invoicing & payments

Real-time reporting
Xero Top 3 Features
1. Comprehensive Financial Management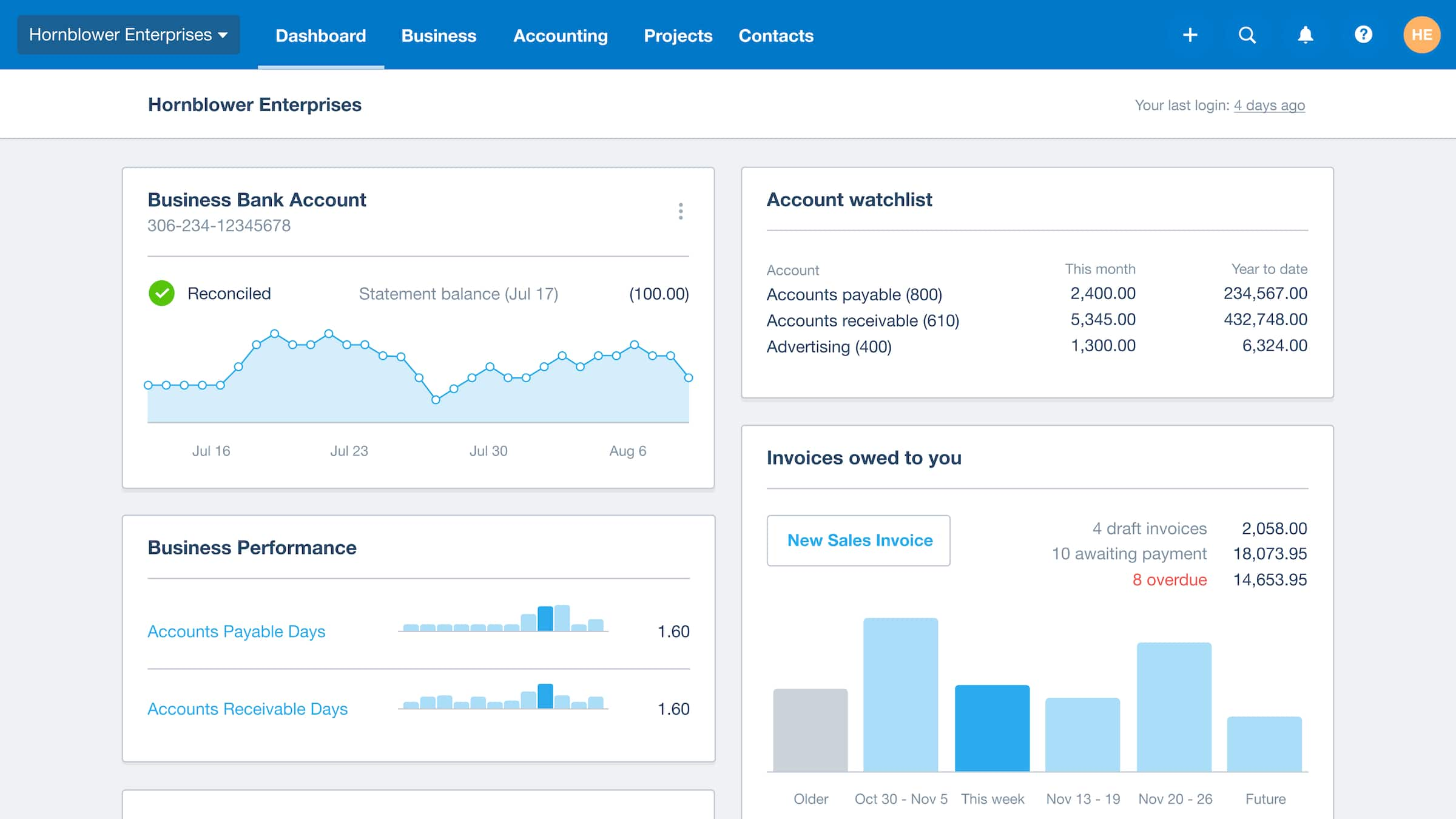 Xero offers a cloud-based accounting platform suitable for businesses from sole traders to medium-sized enterprises. It provides a robust balance between financial tracking and essential accounting tools, rivaling Sage accounting alternative.
2. Efficient Bank Reconciliation and Expense Tracking

Xero simplifies bank reconciliation by automating the matching of bank transactions. Additionally, its expense management solution and integrated online payment and credit card processing ensure seamless financial operations.
3. Project Accounting and Management

Xero stands out with its project management and accounting capabilities, from online invoicing to project time tracking. Its user-friendly interface ensures a smooth experience, making it a preferred choice over Sage accounting alternatives.
Xero Pros
Xero is easy to implement and use.

It has a mobile app for iPhone and Android, making it a democratic tool.

It has a customer billing portal. You can add your customers to the portal and improve client management and communication.
Xero Cons
Its features for inventory and purchase order management could be more extensive.

Its reporting function keeps changing, making it difficult for many business owners to use.

The bank feed function can fail to work sometimes.
Xero Pricing
Xero offers pricing tiers at $12/month for Early, $34/month for Growing, $65/month for Established, and a 30-day free trial.
Xero Availability
Xero is available for both iPhone and iPad.
Final Verdict on Xero
Xero is a prominent choice among Sage accounting alternatives, offering a comprehensive suite of online accounting software features. With capabilities ranging from tax management, bank reconciliation, and project accounting to inventory management and expense tracking, Xero stands out in many online accounting platforms. Business owners appreciate its user-friendly interface and offer essential tools such as online invoicing, financial reports, and cloud-based accounting software functionalities.
3. QuickBooks Online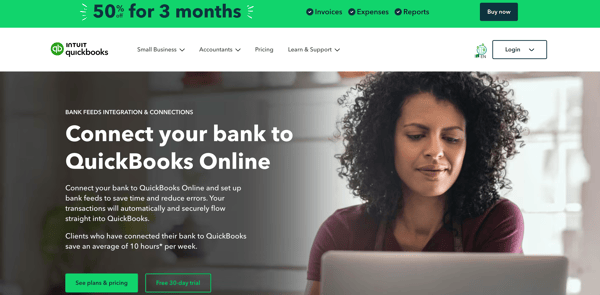 Compared to Sage, QuickBooks is a very easy-to-use accounting software, making it a vast choice for Sage accounting alternative. Both tools offer entry-level accounting functions. But while Sage has a steep learning curve, Quickbooks requires no training and very little time to use. It provides a financial reporting feature that helps you and your team gain insights into your financial standing.
QuickBooks Key Features
Accounting

Activity Dashboard

Automatic Billing

Compliance Management

Data Import/Export

Donor Management

Expense Tracking

Invoice Management

Multi-Currency

Payroll Management

Sales Tax Management

Third-Party Integrations

Time Tracking
QuickBooks Top 3 Features
1. Bank Reconciliation
QuickBooks Online, a leading online accounting software, offers seamless bank reconciliation. It automatically matches your bank transactions with entries in the software, eliminating manual entries and ensuring accuracy. This feature, often considered essential in accounting software, gives business owners a clear picture of their financial health.
2. Inventory Management and Tracking
As an accounting platform, QuickBooks doesn't just handle numbers; it's adept at inventory management, too. The software's inventory tracking capabilities ensure that businesses, from sole traders to medium-sized companies, have a detailed report of their stock levels and sales.
3. Project Accounting and Management
QuickBooks offers a wide range of project management and accounting tools. It aids businesses in tracking the financial performance of individual projects, ensuring that they remain profitable. With its user-friendly interface, business owners can manage project time tracking, expense tracking, and even invoice creation all under one roof.
QuickBooks Pros
It is a comprehensive tool. It comes in handy for accounting and customer and payroll management.

It has good expense tracking capability.

Use its multi-currency function to manage global clients without the hassle of currency conversion for each transaction.
QuickBooks Cons
It has limited industry-specific functions.

It allows you to add only a few users to the accounting dashboard.

Its third-party integration options are restricted.
QuickBooks Pricing
QuickBooks Online offers various pricing tiers, including Simple Start at $8 per month per user, Essentials at $12.50 per month for three users, plus $17 per month for five users plus an accountant, with a free trial available for the app.
QuickBooks Availability
QuickBooks is available for Windows on desktop platforms.
Final Verdict on QuickBooks
When evaluating Sage accounting alternatives, QuickBooks Online emerges as a robust online accounting software. It provides business owners comprehensive features like tax management, bank reconciliation, and project accounting. Its inventory management and expense tracking capabilities are commendable. Its affordable pricing tiers and extensive features make it a top pick among modern Sage accounting alternatives.
4. Wave Accounting
Unlike Sage, Wave Accounting is software for small businesses with clear accounting and bookkeeping needs. The app does away with complex functions and provides clean functionality at reasonable costs. For instance, you can get bank connections automatically. This means you do not have to manually enter data about transactions, whether incoming or outgoing. If you need to add more people, consider the alternatives to Wave.
Wave Key Features
ACH payment processing

Accounts payable

Accounts receivable

Automatic billing

Bank reconciliation

Invoicing

Cash flow management

Currency conversion

Customer statements

Customizable branding

Electronic payments

Estimating

Expense tracking

Financial reporting

General ledger

Income & balance sheet

Online invoicing

Invoice management

Mobile app
Wave Top 3 Features
1. Affordable Accounting Software

Wave Accounting stands out as one of the key Sage accounting alternatives. This online accounting software offers essential accounting tools for sole traders and medium-sized businesses. Unlike many accounting platforms with tiered pricing, Wave Accounting boasts a free-forever plan, making it a cost-saving alternative, especially for business owners who are conscious about their expenses.
2. Comprehensive Financial Management

Wave Accounting goes beyond being just a Sage accounting alternative. It offers comprehensive features, such as bank reconciliation, financial reports, and expense tracking, ensuring businesses fully grasp their financial health.
3. User-Friendly Interface with Online Payment Options

One of the main challenges for many business owners when choosing an accounting app is the user interface. Wave Accounting shines in this department by offering a user-friendly interface, ensuring even novice users can navigate the system efficiently.
Wave Pros
The pricing plans list the costs upfront, with no extra money charged later.

Through its zero-fee plan, it offers free accounting software to small business owners.

The user interface is modern and easy for new users to get around.
Wave Cons
Sending recurring invoices can be a slow and cumbersome process

The tool can hang at times

Its accounting features are limited if you are looking for more advanced functions.
Wave Pricing
Wave's accounting software is available at $0, with credit card processing costing $0.30 plus 2.9% per transaction, bank payment/ACH processing at 1% per transaction (with a $1 minimum fee), and a free trial.
Wave Availability
Wave is available on Windows, MacOS, mobile devices, and iPads.
Final Verdict on Wave
Wave Accounting is a notable option for various business sizes when delving into the myriad of Sage accounting alternatives. As an online accounting software, Wave stands shoulder-to-shoulder with giants like ZarMoney and QuickBooks Online. Its user-friendly interface makes it an ideal option for business owners and novice users, providing comprehensive tools for tax management and bank reconciliation.
Table Comparison - Top 5 Sage Accounting Alternatives
| | | | | |
| --- | --- | --- | --- | --- |
| Features | ZarMoney | Xero | QuickBooks | Wave |
| Bank Reconciliation | ✅ | ✅ | ✅ | ✅ |
| Project Management | ✅ | ❌ | ✅ | ❌ |
| Inventory Management | ✅ | ✅ | ✅ | ❌ |
| Expense Tracking | ✅ | ✅ | ✅ | ✅ |
| Online Invoicing | ✅ | ✅ | ✅ | ✅ |
| Online Payment | ✅ | ✅ | ✅ | ✅ |
| Financial Reports | ✅ | ✅ | ✅ | ✅ |
| Unlimited Users | ✅ | ❌ | ❌ | ❌ |
| Customer Relationship Management | ✅ | ❌ | ❌ | ❌ |
Businesses often encounter a wide range of options when searching for Sage accounting alternatives. Xero, QuickBooks Online, and Wave are among the most popular online accounting software solutions, with a wide range of features tailored for businesses. However, ZarMoney emerges as an unrivaled option among these choices.
Best of the Best - Top 3 Sage Accounting Alternatives
1. ZarMoney
As the elite of Sage accounting alternatives, ZarMoney tops our list. This accounting software provides businesses with a comprehensive suite of financial management tools, ensuring seamless bank reconciliation and efficient inventory management. With its cloud-based accounting software capabilities, ZarMoney facilitates easy online payment processing and excels in online invoicing. Business owners, particularly those seeking advanced features paired with a user-friendly interface, will find this platform invaluable.
2. Xero
Securing the second spot, Xero is a powerful Sage accounting alternative known for its exceptional financial tracking and inventory tracking functionalities. It has rich features, including bank transaction management and expense tracking, essential for business growth. Xero offers an intuitive user interface, allowing even novice users to navigate easily. Its mobile capabilities ensure that users can manage their finances on the go, making it an ideal option for sole traders and midsize businesses looking for a versatile Sage accounting alternative.
3. QuickBooks Online
QuickBooks Online, a stalwart in online accounting software, offers various essential accounting tools. It excels in project management, bank reconciliation, and financial report generation. Its asset management and credit card processing features further enhance its appeal. QuickBooks Online stands out as a reliable Sage accounting alternative with its affordable pricing tiers and reliable online payment options.
Conclusion
Accounting software is vital today to ensure financial management, streamlined operations, and transparent reporting. However, make sure to use a more suitable online accounting tool. Before you purchase a new platform, make sure you gauge your business requirements. The accounting functions needed by a retail business would be very different from what an e-commerce store requires. Next, determine the budget you can set aside for the tool.
Now that you know the best Sage Accounting alternatives, what's stopping you? Explore and experiment. Start by trying out ZarMoney for free. Take the free trial today; no credit card payment is needed!
Frequently Asked Questions (FAQs)
1. Why would someone consider Sage accounting alternatives?
Businesses and individual users often look for Sage accounting alternatives to find a solution that better suits their financial tracking needs, user interface preferences, or specific accounting requirements.
2. Is QuickBooks Online a viable Sage accounting alternative?
Yes, QuickBooks Online is one of the notable Sage accounting alternatives. With features like online invoicing, bank reconciliation, and inventory tracking, many businesses find it aligns well with their financial management needs.
3. What are some essential accounting tools that Sage alternatives should offer?
Comprehensive features like bank reconciliation, tax management, project accounting, expense tracking, and online payment processing are essential accounting tools businesses often look for in Sage alternatives.
4. How do ZarMoney and other Sage accounting alternatives support businesses with project management?
Many Sage accounting alternatives, including ZarMoney, offer project management tools. These can help businesses track expenses, manage project time, and ensure efficient financial management throughout the project cycle.
5. What features are vital in Sage accounting alternatives for small to medium-sized businesses?
Medium-sized businesses and sole traders often prioritize features like online accounting software capabilities, cloud-based accounting software flexibility, and user-friendly interfaces in their Sage accounting alternatives.
6. Can Sage accounting alternatives handle inventory management?
Yes, many Sage accounting alternatives offer comprehensive tools for inventory management. This includes inventory tracking, ensuring businesses can monitor stock levels and manage sales orders efficiently.
7. Is it easy to transition to a Sage accounting alternative?
Transitioning to Sage accounting alternatives like ZarMoney usually involves a learning curve, but many of these platforms prioritize a user-friendly interface to make the process smoother. They often provide professional services to aid in the transition, ensuring the continuity of business accounting processes.
8. Do most Sage accounting alternatives offer mobile capabilities?
Yes, a wide range of Sage accounting alternatives provide mobile capabilities in today's digital age. This ensures that businesses can manage their financial health, create invoices, or even perform bank transactions on the go.
9. Is there an affordable accounting software that can be considered an alternative to Sage 50cloud?
Indeed, while Sage 50cloud is a comprehensive accounting platform, other affordable accounting software options exist in the market. Wave Accounting and other platforms often offer basic or even free-forever plans to cater to businesses with varying budgets.
10. How do Sage accounting alternatives support online payment processes?
Sage accounting alternatives typically provide various online payment options like ZarMoney, including credit card payments and online payment integrations. This ensures businesses have the flexibility to process payments in a way that suits their operations best.