Energize Your Marketing with These Changes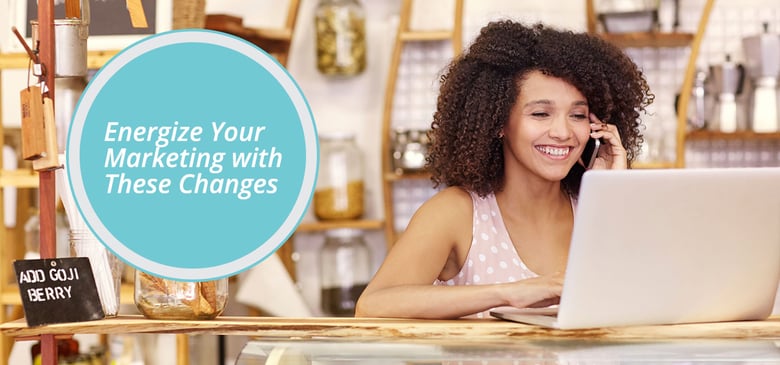 Growing your business is like nurturing a garden; it needs constant care. Sometimes that means changing up the routine and fine-tuning the approach. Here are several business fresheners that should be part of your marketing plan for this year and beyond, if you seriously want to accelerate your progress.
It's All About Relationships
Establishing a personal connection with your customer isn't just about good service anymore. It goes much deeper than that. You have to proactively seek out ways to keep your customer involved. In retail, that might mean creating free business memberships, like those at Starbucks for example, where you offer private coupons and offers almost daily to establish familiarity and reasons for customers to visit. On a business-to-business level, it could amount to something like an ongoing email campaign with priority discounts, special inventory deals or additional delivery options. In other words, don't wait for the customer to come to you; establish a path where you go to them.
Mobile-ize Your Business
In today's marketing world, more consumers search for goods and services through mobile than on desktops or other computerized devices. So when your mobile site is not optimized, Google penalizes you for your tardiness in evolving. If you haven't upgraded your mobile website with the latest SEO best practices, now is the time to start. You are losing customers every day that you delay.
Create an Experience
No longer can you build your case with just the facts. A cold recitation of your company's features and capabilities will be a yawner to today's customer. You must put your message into a form that makes your audience feel you are changing their life for the better. Whether you are selling trinkets from a storefront, offering B2B services to a wholesaler or creating the need for an online product through email, you must find a way to give your customer a better overall experience, from beginning to end. This involves all the components of your business, from pre-sale service, to purchase, follow-up and, ultimately, delivery. Every aspect of the transaction must resonate with the buyer.
Content is Your Friend
One of the essentials of modern day marketing is to create a message that is not only multi-purpose, but also multi-tasking. That means combining the written word with video, infographics and more, then delivering it across multiple platforms. If you think you can get by with a standardized sales message, a blog post and a few back links, think again.
Test and Re-Test
Whether you are a small business or a large corporation, testing your product and your marketing model will always be important. Now, however, you must make those tests as comprehensive as possible: studying your analytics, adjusting your marketing campaign, monitoring customer feedback, reviewing your demographics and tweaking your creative concepts. Once you have tested multiple times, don't be afraid to make changes accordingly. At least you'll have a roadmap for the new directions you take.
Keep It Consistent
Though this tip might seem to run counter to the idea of making adjustments, it really doesn't. You can change the bath water without remodeling the bathroom. In other words, continue moving ahead with the business tools that work, to keep your foundation sound…things like maintaining a presence on social media, sending out regular correspondences to customers, keeping your blogs on schedule and building your established brand. People need to know that they can trust you to be there when they need you, and the best way to do that is with consistency.
Stay on Top of Your Books
You might think it goes without saying that successful businesses collect for their services. But you'd be surprised at how many companies work so hard at sales that they forget one of the most critical components of all – their bookkeeping. Whether you are using a value-added full-service cloud accounting software package like ZarMoney or maintaining your financial records through a contracted accounting firm or individual, it's vital that you keep all the numbers in good working order. Without a quality accounting solution, everything else is moot.
Stop, review…re-calibrate. If you're running your own business, you've obviously made a serious long-term commitment. You can improve your odds of success if you're willing to make the little changes that can give you a competitive boost