The Battle of Accounting Software: ZarMoney vs. QuickBooks
Quickbook has been a staple among small business bookkeeping software for quite some time. But a new challenger is emerging and ready to compete for first place. The best part? It will get you more features for less money.
Bored of reading a long article? Skip to the back to back comparison of features of both software here.
Isn't that every business owner's dream? Pull up a seat, grab the popcorn, and watch as these two small-business accounting software companies go head to head. Who's going to take home the prize as the best accounting software for the money?
But first things first. Since each of these platforms has various features and plans, we will have to compete with two similarly featured plans. That's why it will be ZarMoney's Software with 5 users versus QuickBooks Online Plus for 5 users. Stick around and we'll challenge what you think you know about small business accounting software.
Secondly, let's cover the features that ZarMoney offers and QuickBooks Plus doesn't.
Improve Your Cash Flow
ZarMoney accounting software offers you more ways to manage and improve your cash flow than QuickBooks Online Plus. With ZarMoney you can automatically enforce credit limits and credit holds to help limit your accounts receivable. Plus, you'll have access to a ZarMoney's Payable Center and Calendar, a convenient feature that gives you a glance at your accounts payable.
But there are three other big advantages of choosing ZarMoney over QuickBooks Plus when managing your cash flow.
Customer Statements
ZarMoney users agree that being able to send weekly statements to customers helps them improve business cash flow. Keeping your customers up-to-date on their account balances and open invoices helps encourage them to pay invoices on-time.
Related Transactions
With ZarMoney, you won't have to trace purchase orders to sales orders to bills - what a mess that can be! Instead, ZarMoney simplifies your business by automatically linking all of your related purchase orders, sales orders, and bills together. It adds additional convenience and improves your business efficiency.
Learn more about the difference between Sales Orders and Purchase Orders in this guide.
Payment Discounts
As a small business, every dollar counts. That means, every discount can make an impact on your bottom line. ZarMoney allows you to track and automatically apply discounts like Early Payment Discount effortlessly. QuickBooks doesn't offer this key feature. Instead, you may be manually tracking down each discount.
An Early Payment Discount is one form of trade finance and a way for companies to obtain a discount on a supplier's invoice in exchange for paying the supplier early. In other words, your business partner trades some money for the cash flow coming in faster.
Learn more about Early Payment Discount here.
Provide Better Customer Service
ZarMoney helps you provide better customer service in ways that QuickBooks Plus Online can't compete. We can all agree that better customer service leads to happier customers and happier customers are more likely to become repeat customers.
Customer service should be at the heart of your business. Here's how ZarMoney is helping you accomplish that:
Text and Email Notifications
Your customers are on the go as much as you are. Now, you can automatically update customers when the status of their order changes. Keeping them informed every step of the way helps you provide solid communication and better customer experience, overall.
Internal Customer Service
Your team is as much a customer as your external customers. Show your internal customers some love with ZarMoney's collaboration and notes features. You can update your team with built-in messaging and alerts. Don't risk your ideas getting lost in the inbox black hole. Instead, leave notes directly in transactions for your team to see.
Add Security
Remote work is becoming more prevalent but you still want your data secure. QuickBooks offers plenty of security features. However, ZarMoney gives you additional layers of security and helps you keep your business data safer.
Approve Bills
This is a ZarMoney's fan-favourite feature. If you're like most business owners or finance managers, you want to oversee the money leaving your business. ZarMoney gives you the option of approving bills before they are paid. This helps avoid costly mistakes and can even help prevent fraudulent activity. But it is not the only way it helps you prevent fraud.
Learn more about how ZarMoney helps you prevent fraud.
Limited User Access
QuickBooks allows you to set permissions and customize user access with their Advanced platform. However, ZarMoney still gives you the ultimate control of your data in ways that QuickBooks can't match.
You'll be able to set permissions and restrict access based on both computer location and user roles. Additionally, you can give users access based on IP-address. That means your company data can only be accessed outside the office by the employees you choose. This is perfect if you have contractors.
Oh, and it's about $120 cheaper than QuickBooks Advanced each month.
Customize to Fit Your Needs
What good is your software if you can't customize it to suit your business? That's why ZarMoney offers customizable dashboard, product fields, and units of measure. You're not going to find this with QuickBooks Online Plus.
Learn more about ways to customize and revamp your accounting system here.
Customizing your dashboard helps you keep the most relevant data visible. You can simplify the way you view data while still seeing everything you need. If you want to report on data that isn't currently recorded in ZarMoney, customizable customer and product fields help you do it. You can track new data fields specifically for your business. If you want that with QuickBooks, you'll have to upgrade to their Advanced plan and shell out some serious cash and you'll still be limited to 10 customizations. Quickbooks Advanced plan's market price is $150.
Scheduler Synced with Google Calendar
With ZarMoney scheduler you will be able to use drag&drop builder of the calendar. You will be able to fill in your calendar with activities that matter to you and your team. Are you supposed to send an invoice to your business partner tomorrow and don't want to forget about it? Simply automate invoice creation in your scheduler, and assign this task for tomorrow - your invoice will get automatically generated and set without your further input.
That having multiple calendars is too much on one person to manage? Simply sync your ZarMoney scheduler with your Google Calendar and have all tasks accessible from one place.
This is one of the most powerful automation features by ZarMoney that is going to save you time, money and in case something would go wrong a possible headache.
Manage Inventory
A lot of small business accounting software doesn't consider the complexity of your inventory. That's where ZarMoney stands out. We treat your company like a legitimate business with legitimate inventory.
Interested in this feature? Check our guide on the Best Inventory Management Software 2020.
Still not sure how could inventory management benefit your business? Check our guide 10 Ways You'll Save Time with Inventory Management Accounting Software.
Multiple Warehouses
If you sell products, your growth may depend on how much inventory you can keep at a given time. That's going to require some additional space. Enter: ZarMoney's multiple warehouse management. You can instantly access inventory counts from multiple locations. You'll see details about sales and purchase history. This gives you the best picture of your inventory available.
Transfers
When you need to transfer inventory from one warehouse to another, ZarMoney keeps it simple. It's a simple two-step process that you can easily track. That's it. Done.
Split Transactions
What happens when you only receive part of your order? ZarMoney supports split transactions. Then, ZarMoney automatically splits the bills so you aren't paying for items you haven't received.
How Does QuickBooks Stand Out?
We've focused a lot on the features ZarMoney provides that QuickBooks lacks. However, we're all about a clean, fair fight. Here are some features that QuickBooks Online Plus offers users that ZarMoney doesn't.
Mobile App
We know you're on-the-go. Having your accounting software in the palm of your hands is just necessary today. QuickBooks Online Plus does have an intuitive app that lets you access key features from anywhere.
However, we're proud to announce that ZarMoney is currently developing an exciting new app for our users. Stay tuned because we're excited to show you everything it has to offer!
Mileage Tracking
If you're looking to take advantage of every mile you travel for business (as you should!), look no further than QuickBooks Online Plus. This built-in feature lets you track mileage and allocate it to personal or business. This is going to be a huge time-saver come tax time.
While ZarMoney isn't currently providing this, we know of an incredible free app that is. Stride automatically tracks your mileage for you and lets you categorize it as a business expense. Then, simply enter the data into your favourite accounting software each month and make tax time a breeze.
Finance Charges
QuickBooks Online Plus allows you to add finance charges automatically to your invoices. ZarMoney doesn't offer this as a feature and recognizes that it may mean extra time on your part.
With any business decision, it really comes down to the price. Keep reading to see if you're willing to pay for this feature alone.
What's it Cost?
It's clear that ZarMoney comes with a ton of features that aren't offered by QuickBooks Online Plus. Also, this list isn't even exhaustive! Check out each feature that ZarMoney offers and where QuickBooks stacks up against us.
The bottom line is the price. And how much should you be paying for your accounting software? Learn more on how much you should be spending on it in this brief guide.
Here's what you can expect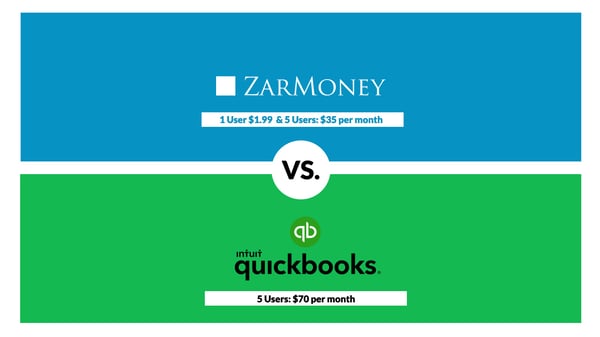 QuickBooks Online Plus for 5 Users: $70 per month
ZarMoney Software for 1 user $1.99 and 5 Users: Only $35 per month
This means you'll save 50% by choosing ZarMoney over QuickBooks Plus! That's an annual savings of over $400.
Right now, you can get a FREE trial of ZarMoney - no credit card required. We know you'll be as excited about the software as we are.
Bottom Line
We've seen a clean fight today and it is on you now to decide who wins. If you're looking for the best features and the lowest price, ZarMoney is the best option for your business.
Among features that ZarMoney overpowers Quickbooks you can find:
Customer Statements
Related Transations
Payment Discounts
Text and Email Notifications
Internal Customer Service
Added Security
Bill Approving
Limited User Access
Advanced Inventory Management
Multiple Warehouse Tracking & Updates
Inventory Transfers
Split Transfers
Scheduler
Accepting Pre-payments
Fax Purchase Orders
Taxable Center & Calendar
Team Collaboration Features, including Internal Notes
Organize Customers with Custom Fields
Barcode Scanning
Custom Units of Measures
Custom Product Fields
and more!
At the other hand there are awesome features that Quickbook provides over ZarMoney:
Mobile App (on ZarMoney already in development as well)
Mileage Tracking
Finance Charges
Advanced App Store (on ZarMoney just a couple of apps are present)
Advanced Sales Tax (on ZarMoney just standard Sales Tax feature)
Interested in the full list of differences between the two? Check our back to back comparison app.
Price is yet another important decisive factor. Quickbooks provides its Online Plus plan for $70/month, (with no option for a single user, the plan is 5-seated), while ZarMoney costs $1.99/month for 1 user and $35/month for 5 users.
For more details on ZarMoney pricing check its pricing page here.
For more details on Quickbooks pricing check its pricing page here.
Save time and money while giving your customers the best service you can offer.
Have you checked out our other blog content? We offer some great insights that cover accounting and business topics as well.