The Best Gym Accounting Software to Bulk Up Your Business
In the ever-evolving fitness industry, managing a gym or a fitness center involves more than just monitoring workout schedules and membership subscriptions.
Administrative tasks, especially dealing with finances, can get quite complicated without the right tools. Gym accounting software is a true game-changer in this regard.
This robust software streamlines all financial aspects of running a gym; from automated billing and invoicing, the chaos of cash flow management can be transformed into a smooth and efficient process.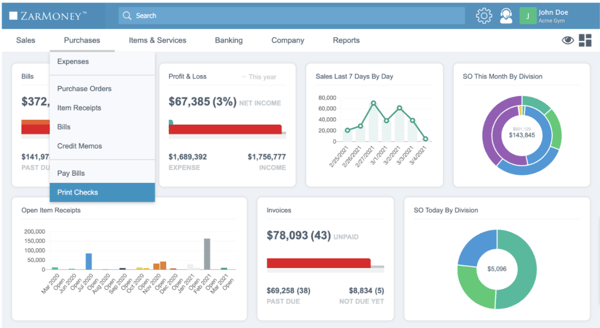 Let's dive into the list to discover the potential of the best gym accounting software!
1. Automated Billing and Invoicing
Efficient management of administrative tasks is key to any successful gym. With the best gym accounting software, fitness businesses can automate their billing and invoicing processes, freeing up valuable time for more critical tasks.
This feature provides a user-friendly interface where gym owners can generate custom invoices, manage monthly billing, activate auto-billing, and even embed a 'Pay Now' option directly on invoices. This convenience enhances the customer experience and streamlines payment collections.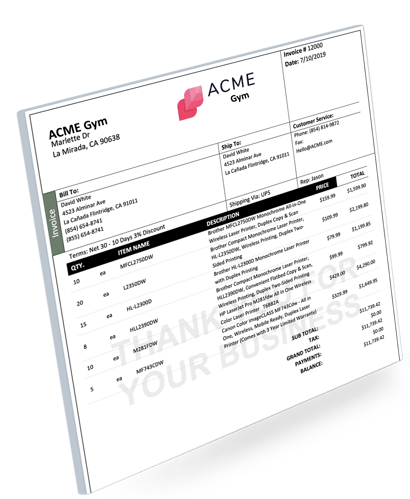 Consider a scenario; you have hundreds of members who have different plans. Some are basic, others are premium.
Managing these individual billing cycles manually can be tedious. But with automated billing and invoicing, you can swiftly manage and track each member's account, ensuring timely revenue collection and improving member satisfaction.
ZarMoney accounting software handles regular membership billing, saving time and reducing potential billing errors. It allows gym owners to focus more on client service than administrative tasks.
2. Online Payments
Modern fitness studios require flexible payment processing options. The best gym accounting software offers online payment capabilities that cater to various methods, including Credit Card payments and even gift cards.
This user-friendly approach accommodates the diverse preferences of gym members and facilitates timely payment collections, thereby improving the cash flow in the gym business.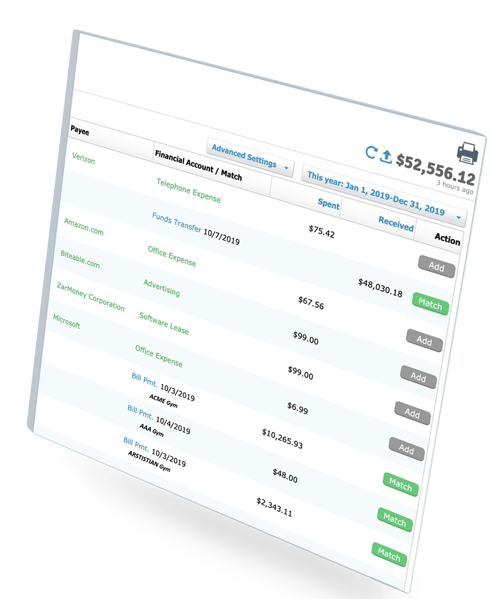 Digital transactions have become the norm, and gyms must adapt to this change. Your members could be anywhere, at home, traveling, or even relocating.
A gym's financial health relies heavily on timely payments. The best gym accounting software enables the easy generation and tracking of invoices, ensuring you're always aware of your revenue flow.
With online payment processing, you make it possible for them to maintain their membership effortlessly, ensuring your business continues to generate revenue regardless of physical barriers.
ZarMoney accounting software integrates seamlessly with various online payment platforms, simplifying the transaction process. It offers your clients a convenient and user-friendly payment method, enhancing their overall experience.
3. Financial Reporting
In the fitness industry, having access to detailed reports on the financial health of the business is vital. Advanced gym accounting software solutions can generate comprehensive financial reports, including balance sheets and cash flow statements.
Such detailed insights allow gym owners to make data-driven decisions and plan effective strategies for growth.
It can also aid in payroll tracking and provide a clear picture of the club's financial management.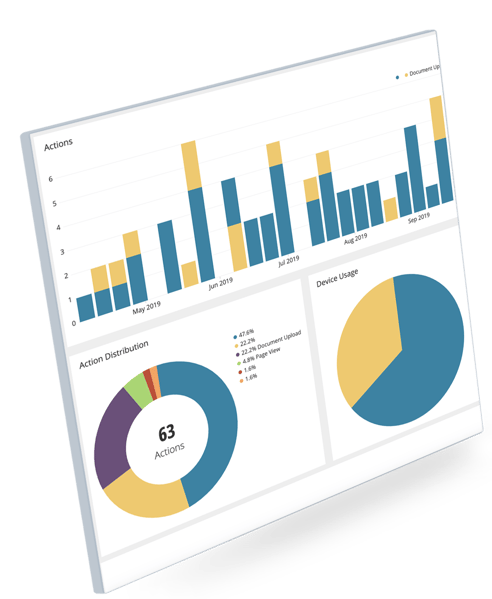 Your gym could have the best trainers and equipment, but if your financial health is not monitored, it could lead to unexpected setbacks.
The financial reporting feature provides a clear snapshot of your business's fiscal standing, enabling you to effectively strategize and adapt to changes.
Providing accurate cost estimates to potential clients can boost your gym's reputation. ZarMoney accounting software streamlines this process, ensuring clear and professional customer communication.
4. Automated Tax Calculation & Payment
Ensuring tax compliance can be a daunting task for gym owners. But this becomes an automated process with the best fitness & gym accounting software.
The software calculates taxes on behalf of the business, prepares tax filing reports, and even allows for different tax zones for multiple business locations.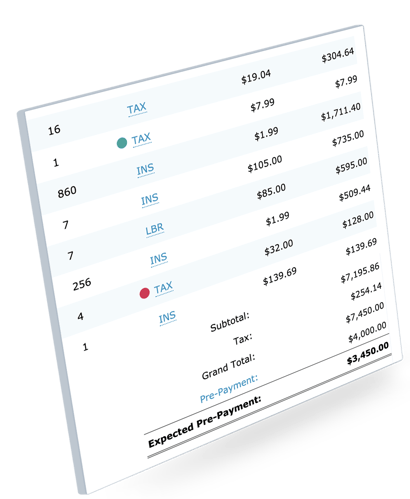 This automated feature alleviates the stress associated with tax compliance, enabling owners to focus more on their fitness services.
In different states or even countries, the taxation laws vary. If your gym has multiple branches, keeping track of regional tax laws is crucial.
Automated tax calculation and payment features help you stay compliant and eliminate the risk of penalties arising from taxation errors.
5. Account Reconciliation
Fitness businesses often have multiple revenue streams – from membership fees to income from selling products.
The gym accounting software should allow for account reconciliation to maintain financial transparency.
Gym owners can quickly identify discrepancies and make corrections by providing a comprehensive overview of business transactions and cash positions.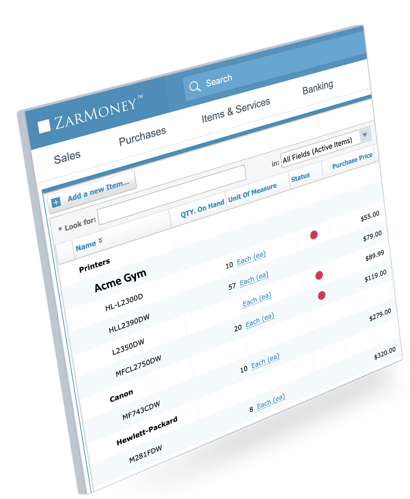 Mistakes happen, and in finance, a tiny mistake can result in significant discrepancies. Account reconciliation helps identify these errors, whether a double-charged fee or an unaccounted payment. Regular reconciliation can improve your gym's financial integrity.
With the best gym accounting software, syncing your bank transactions is a breeze. It automates financial data entry, enabling you to closely monitor your gym's financial status.
6. Multi-Users Access
Multiple staff members may need to access the system in fitness centers and martial arts studios. The best gym accounting software supports multi-user access, allowing users specific permissions and role-based entry systems.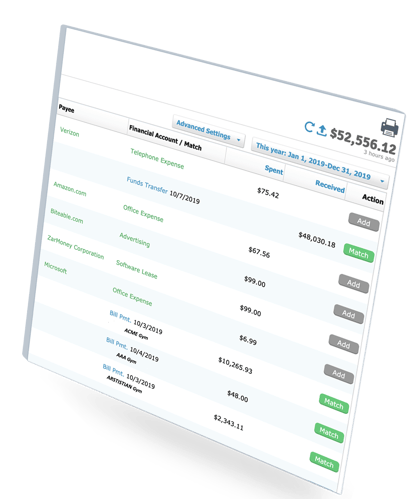 This feature ensures a high level of security while maintaining operational efficiency. From managing the class schedule to processing payments, each task can be assigned to the appropriate staff, streamlining the workflow in the gym.
A large gym has various roles - from trainers and nutritionists to front desk staff and cleaners.
gym accounting software with multi-user access allows for clear role definition and facilitates effective communication, leading to a seamless operational flow within the gym.
7. Dynamic Statements
In a competitive industry like fitness, gyms must be able to generate dynamic financial statements.
The ability to create balance sheets, cash flow statements, and custom earnings reports suited to their specific needs is an essential feature of top-tier gym accounting software.
These detailed reports give gym owners a bird's eye view of their business's financial health, facilitating data-driven decisions and contributing to long-term success.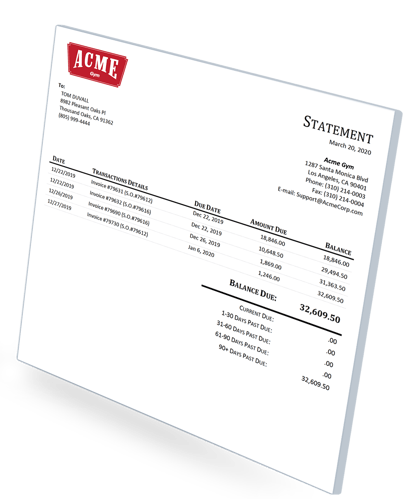 Financial health is not a one-dimensional aspect; it combines cash flow, assets, liabilities, etc.
Dynamic financial statements can provide comprehensive insights into all these aspects, better understanding your gym's overall financial performance.
ZarMoney accounting software helps gyms manage online orders for merchandise or services, creating an additional revenue stream and enhancing customer convenience.
Comparing ZarMoney with Competitors
| | | | | |
| --- | --- | --- | --- | --- |
| Features / Software | ZarMoney | Mindbody | Zen Planner | Glofox |
| Online Invoicing & Billing | Yes | Yes | Yes | Yes |
| Automated Billing | Yes | Limited | No | No |
| Financial Reporting | Comprehensive | Basic | Basic | Basic |
| Online Payments | Yes | Yes | Yes | Yes |
| Tax Calculation & Payment | Yes | No | No | Yes |
| Account Reconciliation | Yes | No | Limited | No |
| Multi-User Access | Yes | Yes | Yes | Yes |
| Dynamic Financial Statements | Yes | No | No | No |
Final Verdict
Gym accounting software is undeniably a standout feature in the management toolkit of any successful fitness business.
It's not just about accounting; it's about harnessing the power of automation to manage payments, streamline invoicing, and keep a keen eye on your financial health.
Best gym accounting software by ZarMoney is an indispensable asset that empowers gym owners to focus less on administrative tasks and more on what truly matters - helping their clients achieve their fitness goals.
Remember, your fitness club's success is measured not only by the strength of your clients but also by the strength of your financial management!
Frequently Asked Questions (FAQs)
1. Why is gym accounting software important for fitness businesses?
Gym accounting software plays a crucial role in fitness businesses by automating financial management and administrative tasks, which increases efficiency and reduces the possibility of human error. It simplifies payment processing, inventory management, financial reporting, and much more, providing gym owners valuable insights into their business.
2. What are the key features to look for in gym accounting software?
The key features to look for in gym accounting software include automated billing and invoicing, online payments, inventory management, financial reporting, tax calculation, account reconciliation, multi-user access, and dynamic financial statements. User-friendly interface and customer experience should also be considered.
3. How does ZarMoney stand out as a gym accounting software?
Although ZarMoney is not a dedicated gym accounting software, it stands out because of its comprehensive feature set which includes advanced financial reporting, automated billing, tax calculation, account reconciliation, and dynamic financial statements. It's a versatile tool that adapts well to various business scenarios including gyms.
4. Can ZarMoney handle online payments and automated billing for gym memberships?
Yes, ZarMoney is equipped with features that facilitate online payments and automated billing, making it easier for fitness studios to manage membership subscriptions. These features help streamline payment collections, enhancing the client experience and improving cash flow.
5. Is ZarMoney suitable for small to medium-sized gyms?
Yes, ZarMoney is scalable and flexible, making it suitable for gyms of all sizes. From basic plans for smaller gyms to professional plans for larger fitness clubs, ZarMoney can adapt to the varying needs of different gym business models. It's especially beneficial for gyms aiming for efficient financial management.