Best Electricians Accounting Software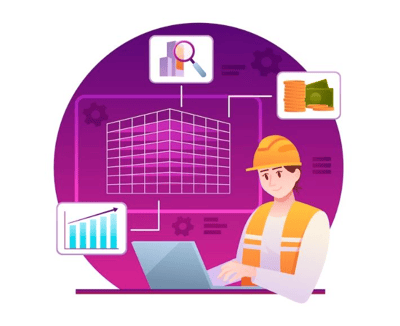 Any business, including an electrician's, needs accounting to function. Maintaining track of all financial transactions, labor and material costs, and other expenditures is crucial. Electrician software must be equipped with scheduling features and project management capabilities and be an all-in-one solution for comprehensive financial management. We bring to you the champion in this sector - ZarMoney.
With ZarMoney as your trusted software companion, you can rest assured that your financial management needs are in good hands. Its wide variety of functions and user-friendly design make it the best choice for electricians seeking a powerful, reliable, and user-friendly software solution to drive their business success.
ZarMoney: A Comprehensive All-In-One Solution for Electrical Contractors
ZarMoney is not just another business software; it's a complete solution designed to cater to electricians' unique needs. This cloud-based software offers various accounting features to streamline your business operations. It aids in time tracking, dispatching technicians, tracking expenses, generating professional invoices, and more. Its standout features include:
Customers & Accounts Receivable
Invoicing
Accept Credit Cards Online
Accept ACH Payments
Quotes/Estimates
1. Customers & Accounts Receivable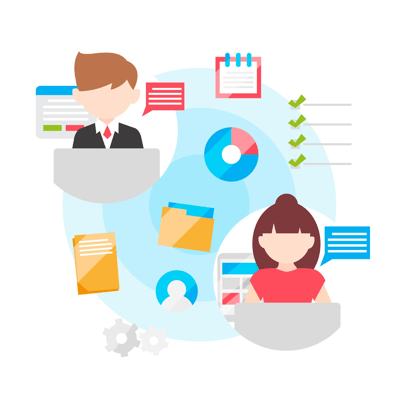 With ZarMoney, you can manage your customers and accounts receivable efficiently. This feature allows you to maintain customer history and generate invoices seamlessly. Plus, the ability to accept credit card and ACH payments offers convenience to your clients while ensuring swift payment processing. With ZarMoney, you can create sales orders and provide accurate estimates, keeping your business growth on track.
ZarMoney's Customers & Accounts Receivable feature empowers you to create sales orders and provide accurate estimates. This functionality helps you stay organized, fulfill customer demands efficiently, and maintain control over your electrical contracting business growth trajectory.
Maximize your business potential with ZarMoney's robust Customers & Accounts Receivable feature. Seamlessly manage customer relationships, streamline invoicing and payment processing, and ensure smooth business operations, setting the stage for lasting success.
2. Invoicing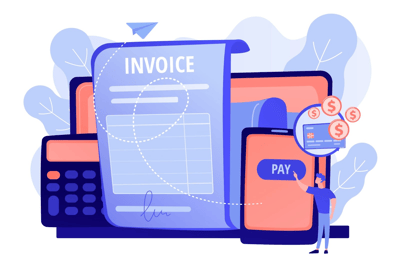 ZarMoney is equipped with invoicing features that aid in creating professional and customizable invoices for your services. It handles your billing processes, improving cash flow management and customer service. Offering accurate cost tracking and job costs reduces human error, leading to increased customer satisfaction and return business.
This precision not only boosts customer satisfaction but also encourages repeat business as clients appreciate the reliability and professionalism demonstrated in your invoicing practices.
Utilize the invoicing features of ZarMoney to your greatest advantage. Streamline billing processes, enhance cash flow management, and provide unparalleled customer service. Witness heightened accuracy, efficiency, and customer satisfaction, driving your company's expansion and success to new heights.
3. Accept Credit Cards Online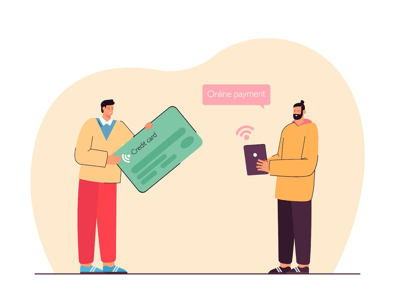 Experience seamless online payment processing with ZarMoney's integration with reputable online payment processors. As an exceptional electrician software, ZarMoney provides a secure platform for accepting credit card payments, giving your customers the convenience they desire. By leveraging this feature, you can offer a fast and efficient payment solution that enhances the overall customer experience.
With ZarMoney's integrated credit card payment processing, you can ensure the financial operations of your business run smoothly and efficiently. The platform facilitates secure transactions, protecting sensitive customer information and instilling trust in your clients.
By accepting credit card payments online through ZarMoney, you eliminate the hassle of manual payment handling, reduce the risk of errors, and expedite cash flow. This streamlined process not only improves your business's financial efficiency but also positions you as a modern and tech-savvy electrician, enhancing your professional reputation.
Embrace the power of ZarMoney's integrated credit card payment feature to provide a convenient and secure payment experience for your customers while optimizing your financial operations for long-term success.
4. Accept ACH Payments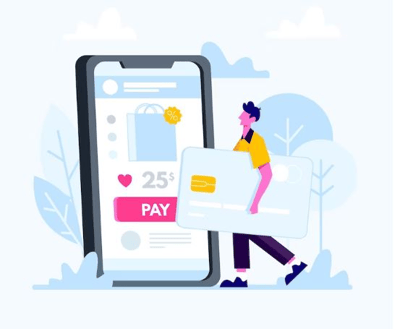 With ZarMoney, you can effortlessly accept ACH payments directly from your client's bank accounts, revolutionizing your payment collection process. By enabling electronic payments, this feature enhances the financial health of any small business in multiple ways.
Firstly, accepting ACH payments reduces reliance on traditional paper checks, eliminating the inconvenience and potential delays associated with physical payments. This streamlines the payment process, enabling you to receive funds in a more efficient and timely manner.
ACH payments offer added convenience for clients, as they can securely authorize direct transfers from their bank accounts. This eliminates the need for manual check writing or card transactions, simplifying the payment experience and enhancing customer satisfaction.
By using this function, you can streamline your financial processes by cutting down on the time and labor required for handling manual payments. The electronic nature of ACH payments minimizes the risk of errors and provides a more accurate and reliable payment collection process.
Experience the benefits of accepting ACH payments through ZarMoney, and enjoy improved cash flow, simplified payment processes, and enhanced customer satisfaction, ultimately contributing to the financial success of your business.
5. Quotes/Estimates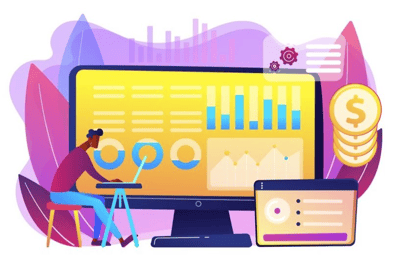 ZarMoney empowers you to effortlessly generate detailed quotes or estimates for your electrical service business. This feature simplifies the process of outlining the scope of work and associated costs, ensuring transparency and creating trust-based, long-lasting consumer connections.
By utilizing ZarMoney for quotes and estimates, you can provide your clients with accurate pricing for the services you render. This eliminates the risk of underquoting or overcharging, establishing credibility and professionalism in business dealings.
ZarMoney's comprehensive solution goes beyond traditional billing or invoicing software. It is designed to cater to all aspects of your electrical service business, offering a complete suite of features to streamline your operations. From managing financial transactions to tracking inventory, ZarMoney is your go-to solution for comprehensive business management.
With ZarMoney's robust quote/estimate feature, you can confidently present accurate pricing information to your clients, foster transparency, and optimize your business operations with an all-in-one solution. With ZarMoney at your side, You can keep a lead over the competition and guarantee the success of your electrical service business.
Standing Tall Against The Competition
While there are other options like FreshBooks and Xero, ZarMoney takes the lead with its comprehensive features. It's a robust all-in-one software solution offering an affordable solution without compromising on any essential features. Let's compare it to its rivals to see how it compares:
| | | | |
| --- | --- | --- | --- |
| Features | ZarMoney | FreshBooks | Xero |
| Customers & Accounts Receivable | Yes | Limited | Limited |
| Invoicing | Advanced | Basic | Basic |
| Accepting Credit Cards Online | Yes | Yes | Yes |
| Accepting ACH Payments | Yes | No | Yes |
| Quotes/Estimates | Advanced | Basic | Basic |
ZarMoney is a winner here. It offers advanced invoicing features, a comprehensive approach to managing customers and accounts receivable, and the ability to accept a wider range of online payments.
Final Words
These are the standout features of ZarMoney; these features provide accurate estimates, thereby ensuring transparency and building trust with customers. This feature allows you to provide a detailed cost estimate for a job, including labor costs, material expenses, and any other costs involved. Its project management capabilities make it an excellent field service software, perfect for managing field operations, whether small-scale residential jobs or large commercial contractors' projects.
ZarMoney also excels in financial management, making it a comprehensive tool for managing your business's financial operations. Its expense tracking and accounting systems allow you to maintain a healthy cash flow, ensuring your business's financial health is always optimal.
ZarMoney is a clear standout as the best accounting software for electricians. Its comprehensive features, tailored to cater to electricians' unique needs, help streamline business operations, providing a platform for growth and success. Whether creating professional invoices, accepting online payments, or providing accurate cost estimates, ZarMoney has got you covered. It's time to take advantage of this all-in-one software solution and let your business flourish.
FAQs
1. What should I look for when choosing accounting software for electricians?
You should consider the software's features, such as its ability to manage accounts receivable, its invoicing capabilities, its ability to accept online payments, its project management capabilities, and its price. The software should ideally be an all-encompassing system that can handle every area of your company.
2. Why do I need accounting software designed specifically for electricians?
Such software is tailored to the unique needs of electricians. It includes features that help track labor costs, generate detailed cost estimates, manage project progress, handle the financial operations of the business, and more.
3. How can accounting software help me grow my business?
Good accounting software helps you streamline your business processes, track expenses, manage customer and vendor relationships, and provide insights into your business's financial health. This information can be critical for decision-making and planning for business growth.
4. Can accounting software help me with compliance and safety regulations?
Yes, certain accounting software, like ZarMoney, provide features that help you comply with safety regulations, financial reporting standards, and tax laws.
5. Are cloud-based accounting software solutions better?
Cloud-based software solutions offer more flexibility and accessibility. They allow you to manage your business operations from anywhere, and they ensure that your data is securely backed up in the cloud.
6. How secure is the online payment processing feature in ZarMoney?
ZarMoney prioritizes the security of your financial transactions. The online payment processing feature integrates with reputable payment processors that comply with industry-standard security protocols, ensuring that customer payment data is protected.
7. Can I customize the quotes and estimates generated in ZarMoney?
Yes, ZarMoney allows you to customize the quotes and estimates according to your specific requirements. You can add your branding elements, personalize the content, and include relevant terms and conditions to align with your business policies.
8. Does ZarMoney provide customer support and training?
Yes, ZarMoney offers customer support and training resources to assist you in getting started and maximizing the benefits of the software. You can access tutorials and documentation and contact their support team for assistance.