What's The Difference Between A Bookkeeper And An Accountant?
I wish we could associate the bookkeeper and accountant with the movie Mortal Combat. The bookkeeper would play Scorpion and the accountant would play Sub-Zero. And guess what, you get to play Shao Kahn. Though these two might have their own interpersonal combats, they're best served as a unit working together.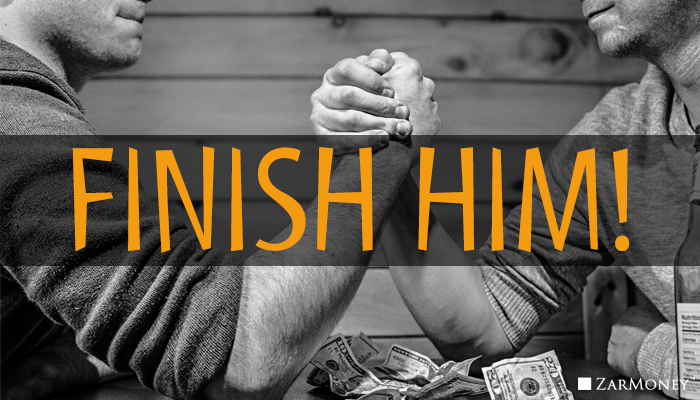 Ask most people and they will have trouble telling you the difference between the services of a bookkeeper and accountant. And do you need a bookkeeper or an accountant?
Small business owners often ask me ask if they need accountant or a bookkeeper. The answer is normally both – says Garry Carter, the chief executive of The Institute of Certified Bookkeepers.
To better explain and elaborate on this answer, let's look at Dave's situation and his growing business.
Dave is only a few months into his florist business and has found out pretty fast that he needs help with managing his financials. His business has really taken off. After a few short months of operation and 3 new employees, Dave managed to pull off a deal to supply a major retailer and now he is struggling to come up with the cash to buy stock to supply his new client – and they want to expand into more stores.
When speaking with his bank manager about an overdraft feature to help him with the extra cash on a short-term basis he got quite a shock. While his bank manager was really impressed with the contract to supply the major retailer, a stack of receipts and bills wasn't enough to satisfy the application requirements for a business overdraft. Dave had assumed he could deal with his accounting when it came time to lodge his tax. Dave's bank manager said he wasn't alone in thinking that.
Bookkeeping is a painful and expensive part of operating a business. And while there are more than 30 million small businesses in the US, 74 per cent do not employ full-time or part-time accounting help.
Does Dave Need A Bookkeeper Or An Accountant?
In actual fact and despite that their jobs may overlap, he will probably need both. Dave sat down with Judy (a bookkeeper) and Howard (an accountant) to discuss his options, and find why.
Judy runs her own bookkeeping small business.
Judy is a CPB (Certified Public Bookkeeper). She contracts out her services as a bookkeeper to small business owners just like Dave. Judy summarized her bookkeeping services as a cost-efficient and consistent way of recording daily transactions to build a stronger business foundation while allowing small business owners to avoid the upfront costs of hiring a full-time or part-time bookkeeper. Judy calls her services on-demand bookkeeping.
Judy has an associate degree in bookkeeping and 5 years of work experience and has been running her business for 2 years. She really knows her stuff.
Her bookkeeping services include:
Keeping a record of all financial transactions.
Posting all debits and credits.
Producing invoices.
Completing payroll.
Maintaining and balancing general ledgers and historical accounts.
Judy went on to explain most bigger businesses have full-time bookkeepers who keep a record of all financial transactions and hand over to the company accountant at regular intervals. Her services as a CPB allow small business owners to keep their business similarly organized without the heavy overheads.
Dave really needs a well-maintained general ledger for his overdraft application and having someone sort out his payroll will certainly be of benefit because that's just one more task he is trying to handle – along with what seems to be an ever-growing mountain of jobs.
A general ledger is also known as a nominal ledger, and it is a bookkeeping ledger that works as a central repository for accounting data transferred from sub-ledgers like
accounts payable,
accounts receivable,
cash management,
fixed assets,
purchasing, and
projects.
Each accounting account is known as a ledger account, and all of them combined are known as the general ledger. The general ledger is the single most important element of every accounting system as it holds both financial and non-financial data for an organization.
To learn more about general ledger check out this read by Wikipedia.
To discover more about bookkeepers and their duties and job description, check out this read by Robert Half.
Howard is a CPA (Certified Public Accountant)
Howard has a degree in accounting, has passed the CPA exam and has 10 years experience working as a CPA and 8 years running his business. Being a CPA allows Howard to do a lot more than a regular accountant. He's also able to provide audited financial statements – often required by banks, investors and lenders. In actual fact, Howard has a knack for getting investment for promising small businesses and has the track record to prove it.
Howard provides his accounting services to a select number of growing small and medium-sized businesses on a pay-as-you-go-basis with finder's fees when he lands extra funding. His clients are those who can really benefit from having a CPA while reducing the need for an accountant – especially when they don't need one full-time but they need one who does more than look at their business once a year.
Howard's CPA services include:
Preparing and adjusting entries for expenses that haven't occurred yet (and not recorded in the bookkeeping process).
Preparing audited financial statements.
Filing tax returns.
Analyzing the costs of operations.
Helping business owners to understand the impact of financial decisions.
Advising business owners on better ways to financially structure their business.
Helping business owners obtain financing and funding.
Howard is all for Dave engaging Judy's bookkeeping services because that will make his job all that much easier, reduce his charges to Dave, and allow him to focus on more broader issues – helping Dave get more money than an overdraft, and potentially some serious investment. As a matter of fact, Howard is also interested in speaking to Judy about contracting her services for his business.
Still not sure what is really an accountant about in the light of a bookkeeper? Check out this brief guide by TargetJobs.co.uk.
Why You Need A Bookkeeper And An Accountant
As you can see, most businesses benefit from good bookkeeping and accounting. Bookkeeping and accounting are essential functions required for all businesses. Generally speaking, bookkeeping is responsible for the recording of financial transactions with the required supporting documents (think IRS). Accounting is more responsible for interpreting, analyzing and summarizing business financial data.
You could try to handle your bookkeeping and maybe see an accountant once a year, but let's face it; most people start a small business because they are good at something. Unless you are a bookkeeper or an accountant, you probably have better skills in other fields and trying to do your accounting would be only wasting valuable time you could use to mastering your growing business.
Furthermore, small business owners need to keep operating costs under control. Engaging the services of an on-demand CPB and a pay-as-you-go CPA with a progressive mindset will certainly do more than meet business legal and financial requirements, they will collaborate to give your small business the financial and operating edge you need to succeed.
Nonetheless, one doesn't have to be a bookkeeper or accountant to start tracking the information these two professions would. You can simply try some of the various accounting solutions out there to see if this is the golden middle road solution that would benefit you the most.
Give ZarMoney a FREE try today - and start controlling your costs better.