The Smart Way to Use Business Debt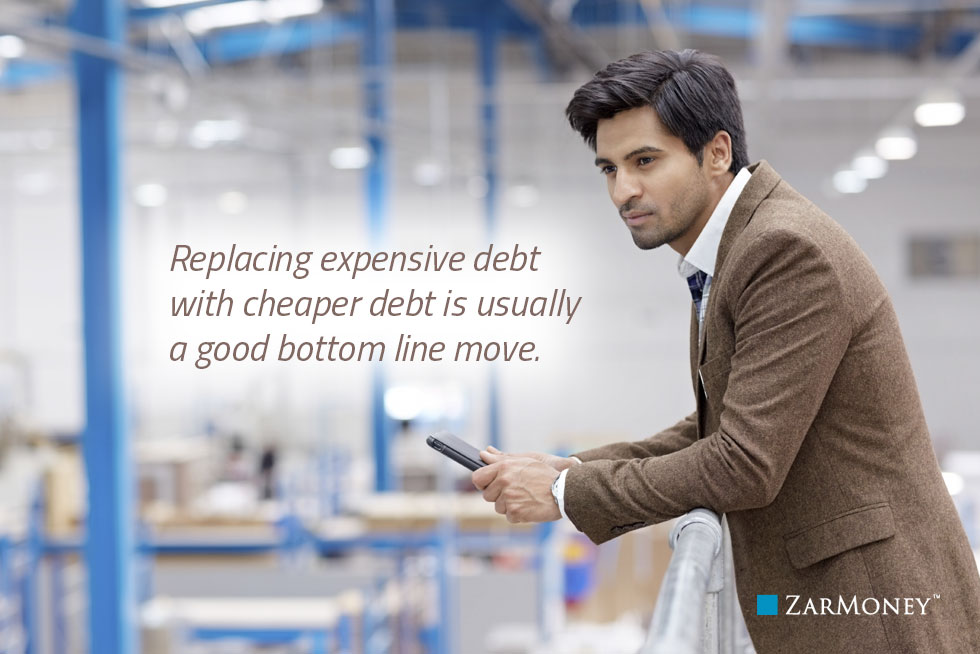 In most cases, incurring any kind of debt is a risky endeavor at best. Not only does it reduce your cash flow (or ongoing debt payments), but you're essentially trading money now for more money later. That makes it harder to turn a profit, and puts more pressure on your business.
And so it's not very surprising that most of the business advice on the topic essentially amounts to "pay off your debt whenever you can." That's a good way of thinking—but it's not always completely accurate.
As a matter of fact, there are a few times when borrowing makes sense. Here are a few of the ways smart business owners use debt:
To Pay Off More Expensive Debt
If you can trade a higher interest rate for a lower one, or restructure payments in a way that makes holding onto an existing debt more feasible, then applying for a new loan can be a good option. This is especially prevalent in growing companies, where an initial business loan might carry a relatively-high interest rate, but future loans (after the company has been established and shown some growth) can be secured on better terms. Replacing expensive debt with cheaper debt is usually a good bottom line move.
As a Source of Emergency Funding or Cash Flow
There are a lot of reasons a successful business might want access to a line of credit. Perhaps the owner worries about slow periods in the future, or that some customers may pay more slowly than they have in the past. In those kinds of situations, a little bit of debt can be useful in maintaining day-to-day operations, paying employees, and even ordering new inventory. In other words, short-term debt can be used to smooth out cash flow issues and keep the business profitable.
To Take Advantage of Smart Expansion Opportunities
Sometimes, big expansion opportunities – like the decision to open a new location, start a new product line, or rollout an entirely new service – are dependent on access to larger amounts of cash than a business owner has on hand. In those instances, securing a loan might be the only alternative to watching the opportunity pass by. However, this kind of strategy is inherently much more risky than the first two presented on this list. It's important that a business owner thinking about taking on debt to fund an expansion examines the risks and opportunities carefully to ensure that the chances worth the costs and risks.
To Consolidate an Equity Stake
What happens when a profitable business is owned by more than one party, and one or more of the partners wants to leave? Depending on the valuation and terms of the cash out, incurring a bit of business debt (to pay off the departing owner) can be preferable to dissolving a company or leaving it without sufficient cash to operate in the short term. As with the case of debt for expansion, however, it's important that financial experts be consulted before making a potentially risky decision with this kind of loan.
To Take Advantage of Favorable Terms
At times, there can be benefits or perks associated with a large purchase (or the debt itself) that make a loan more attractive. For example, a business owner may be able to enjoy volume discounts by securing a loan and ordering products in advance. Or, he or she might be able to benefit from earning "points" on business credit card purchases that are promptly paid off. In some cases, business loan customers might enjoy better rates on other financial products from their banks. The key behind these types of debt, of course, is conducting a careful cost-benefit analysis to ensure that the savings are real.
You never want to have much debt in your business if you can help it—but the right loan, on the right terms, can sometimes make financial planning a lot easier.
Looking to get more control of your company's finances? Try the ZarMoney cloud accounting app for free today!