The Secret to Working Healthy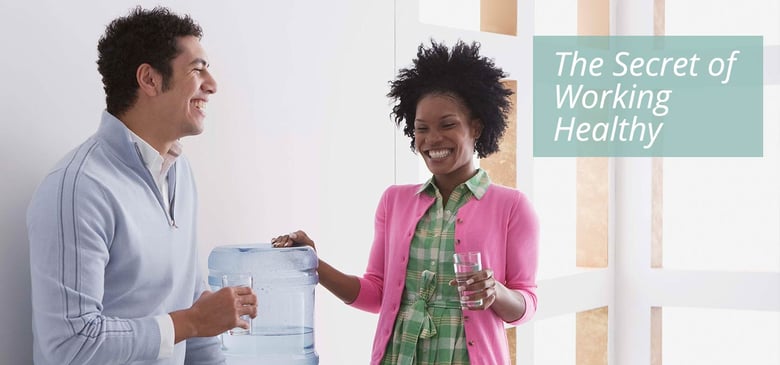 Every self-aware entrepreneur knows that the harder he or she works, the better are the chances to grow the business. This often translates into many late nights and early mornings sitting at the desk, squinting at the computer and crunching the numbers. While this may be healthy for your bottom line, it might be less so for your waist line or your overall physical condition.

The Deadly Office Epidemic
There's a term for that constant hunching at the desk, hour after hour. It's called "sitting disease" and it's harming and even killing America's workers at a dramatic rate. We have become more sedentary thanks, in no small part, to the advent of the computer and its relative, the smart phone. Even if the nature of our company's business requires staff members to move around frequently, executive level managers and business owners often find themselves chained to their desks for long, uninterrupted periods of time.
The average person in the U.S. spends 55% of his or her waking time, roughly 7.7 hours per day, sitting in place. That's a lot of time with relatively little movement or exercise. What medical professionals are seeing, as a result, are increasing incidents of heart disease and diabetes. In some cases, companies have tried to stem this growing trend by introducing standing desks to get people on their feet. This is an expensive investment, however, and it is often impractical.

A Two-Minute Plan
According to the Clinical Journal of the American Society of Nephrology, there is a solution and the society's recent study backs up its assertion. The study found that walking around just two minutes every hour can play a positive role in helping to reduce the possibility of life-threatening conditions due to oversitting. Researchers discovered that filling those two minutes with gentle walking or strolling could decrease the chance of premature death by as much as 33%.
Here's the catch, though. You can't get the same benefit merely by getting up and standing for two minutes every hour. Actual walking is required to reap the health rewards. The walking burns calories, which can also help you to lose weight. And guess what…physical activity such as walking has also been shown to increase brain function.
There are many different ways to add those extra minutes of exercise around the office. For instance, you can locate printers, scanners and other office equipment some distance away from your desk so that you must get up and walk a bit, in order to use them. One other possibility is to take a brief walk around your office or amid your outside surroundings while reading notes, business articles or other company-related materials. And if you've scheduled a meeting with someone, you can meet them at a nearby park that's within walking distance, rather than sliding into your office chair for the face-to-face.
If you feel it's necessary, set a timer at your desk so that you can be alerted each hour about your two or three-minute walks. You can even mix things up a bit by substituting the walking with a set of squats or push-ups every now and then.
It also goes without saying that, if you work in a multi-story building, you have the opportunity to take the stairs instead of an elevator whenever you leave the building. For a change of scenery, try leaving your office from time to time and walk those stairs for several minutes. You'll be amazed at what a difference it can make.

Staying Fit, Keeping Hydrated
While many people thrive throughout the workday on coffee and sodas, you can also improve your health by keeping a bottle of water on your desk. It's easy to become dehydrated in the course of a busy afternoon, especially if you've been downing caffeine on a regular basis. Sip that water as the day moves along and get the fluids you need, when you need them. Better yet, walk over to the drinking fountain or into the break room to retrieve you water on a routine basis.
It's not that difficult to make these minor adjustments to your workday schedule if you put your mind to it. Remember that two minutes per hour is just 16 minutes in an 8-hour work day. None of these simple ideas require any kind of equipment, a gym membership or even breaking a sweat. So go ahead…put regular exercise on your workday schedule throughout the week. It's one of the best investments you'll ever make for your business – and your life.