Should Your Business Use Employees or Contractors?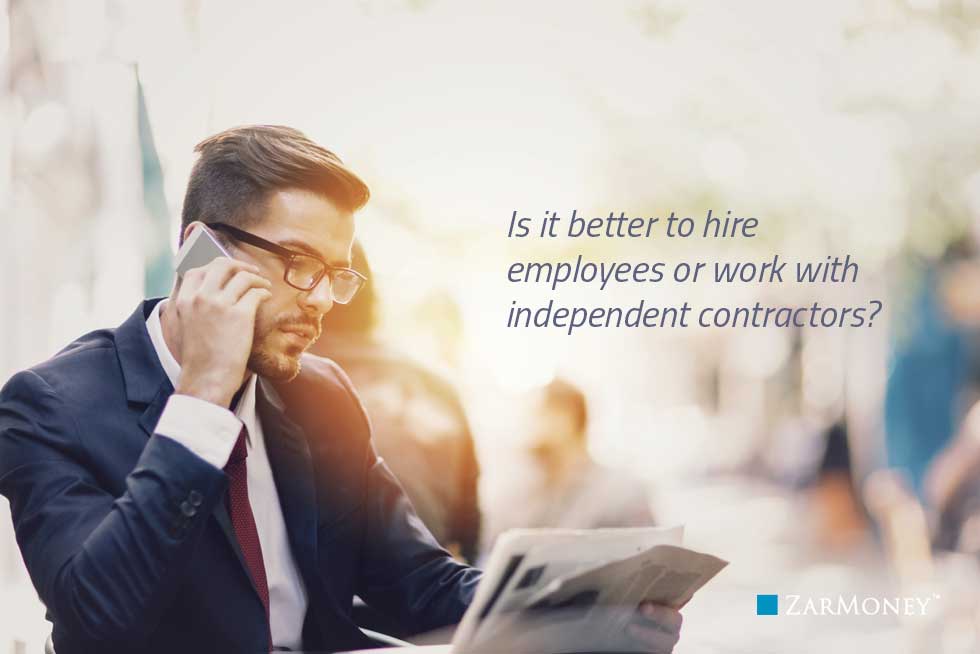 When you reach the point that it's impossible to run your business on your own, is it better to hire employees or work with independent contractors? There are advantages and disadvantages to each arrangement, and you likely already know other business owners who have had good or bad experiences with both.
To get to the bottom of the issue, we decided to list out some of the pros and cons of each approach:
If You Want to Save Money and Retain Flexibility, Hire Contractors.
Even though you will generally pay higher hourly or contract fees to independent workers than you would employees, you'll almost always save money because you are not responsible for taxes and benefits. Plus, you don't have any long-term obligations to your contractors beyond what's stated in your written agreement, so you can cut costs as needed.
When You Need Someone to Work On-site or in Your Location, Hire Employees.
When you work with independent contractors, you have no control over their schedule, location, or working style. So if you need someone to be physically present at your place of business, it only makes sense to hire an employee. The same applies for situations where you want to be able to manage someone's work at regular intervals, or one-on-one.
If Specialized Skills and Training Are Needed, Consider Working with Independent Contractors.
A lot of independent contractors bring specialized skill and experience in areas like technology, marketing, and even staffing. To hire someone like that full-time might be prohibitively expensive, but bringing them in (either once, or through an ongoing contracting relationship) can be an affordable way to get the high-level expertise you need.
To Develop a Good, Long-term Relationship with Someone, Bring Them in as an Employee.
Independent contractors are best used for short-term projects. Just as you can decide to move on from them at any time, they may pursue other opportunities elsewhere, leaving you with the need to find someone new. So if you're looking for an employee who can later be trained as a manager, for example, or a person who can acquire and develop new skills, it's best to hire them as an employee.
If You Need to Permanently Delegate a Job or Task, Look at Both Sides of the Coin.
In many cases, it probably makes sense to bring a new employee on board if you need someone to handle the task indefinitely. You can select someone with the right training (or give it to them), and not worry about finding someone new again in the future. However, if the job is a specialized one, or you're having trouble finding good employees, consider outsourcing to a firm that may be able to handle the job like an employee would but at an independent contractor's cost.
Be Very Careful of Treating Independent Contractors as Employees.
You might be thinking that the perfect answer is to have an "employee" who is paid as an independent contractor. Be very wary of this kind of arrangement. Tax officials regularly audit businesses to ensure that companies are not using contractors as employees, and if you are found to be in violation of the appropriate laws and guidelines, you could be subject to heavy fines.
Once you take the time to ask yourself what you really need extra help for, and how you want to balance the desire to save money in the short term versus developing someone for bigger tasks in the future, the choice between employees and contractors usually becomes pretty clear.
Ready to ditch your old small business accounting software and try something newer, better, and more intuitive? Click here to begin your free trial of the ZarMoney cloud accounting app today!