Evaluating Bookkeeping Services: Your One "Must-Have" Item
How do you choose a bookkeeper to help keep your company's finances in order? Should you ask someone for a referral, look for a professional with other successful business owners as clients, or just interview a few in your area and see whom you like and can imagine working with?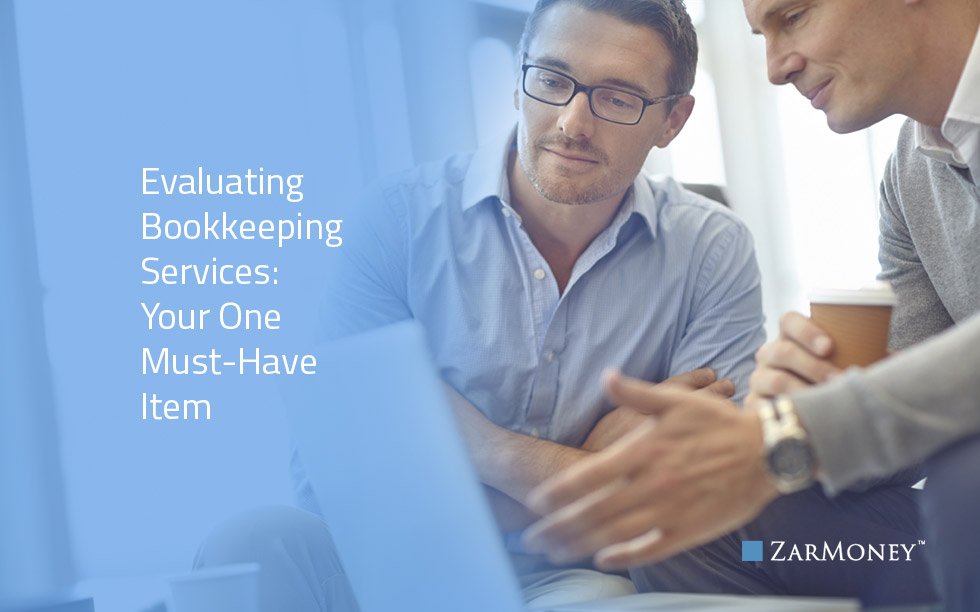 Any of these could be a good first step, of course, but we encourage you to shop around until you find the perfect fit. Bookkeeping services aren't just essential for the day-to-day operation of your business but can also have a very big effect on your long-term profitability. After all, if you don't know where your money is going, or how much you have available to you at any given time, it becomes difficult to make good long-term decisions.
In addition to looking for someone knowledgeable and trustworthy, we recommend that you add one "must-have" qualification for any bookkeeper you hire: a familiarity with cloud-based accounting.
You could make the claim that we are biased in this area, and you might not be wrong. But even so, there are a few good reasons to insist upon hiring a bookkeeper or accountant who is keeping up with the latest technology and software.
You'll Save Time in the Cloud
This is, by far, the one thing that business owners love most about cloud-based accounting apps. By letting you automate transaction entry, download current statements, and communicate with your bookkeeper electronically, cloud accounting software takes away many of the most aggravating and time-consuming tasks business owners have to deal with. You can even connect cloud accounting apps to online banking for automatic transaction reconciliation!
We have yet to find someone with a successful company who isn't already busy enough without having to obsess over invoices, phone calls, and hard copies of paperwork. It's not an exaggeration to say that the right financial app can save you several hours a week when it comes to managing your company's finances.
You'll Enjoy Better Financial Reporting
Most business owners are already used to getting detailed financial reports from their bookkeepers. Unfortunately, those statements and balance sheets are often dated by the time they are viewed and analyzed. That's significant if you're trying to keep up with trends, new orders, and cash flow concerns.
One of the best things about cloud-based accounting apps is that they update in real time and can be configured to display customized reports. That means you don't just get a more accurate picture of your company's financial situation – even from home or anywhere else you can find a web connection – but also a better look at the kinds of numbers that are relevant to you for the decisions you have to make.
It's a Sign You Found a Savvy Accounting Professional
As we've already pointed out, choosing a bookkeeper or accountant is a big decision. You want to know that you have a competent professional you can trust looking after your money. When you find a bookkeeping service that has embraced cloud-based accounting apps, that's a sign that they aren't just progressive and up-to-date on the latest ideas, but also that they value your time and want to make things convenient for you.
Conversely, if you hire a bookkeeper who isn't willing to try new things, what does that say about their flexibility or their ability to keep up with peers and competitors?
No matter where your business is located or what you have to sell, you'll undoubtedly have dozens of qualified bookkeepers or accountants to choose from in your area. As you evaluate them in their qualifications, though, don't forget about the difference that cloud-based accounting can make. If you want to save time, get better reporting, and the best possible advice, make comfort with cloud accounting apps a priority.
Interested in trying ZarMoney for yourself with no cost and no obligation? Check out our free cloud accounting demo!