Choosing the Best Church Accounting Software
Churches are places to gather and come together to achieve a purpose and help their surrounding community. While it may be the last thing on their mind, a church's accounting software can create an impact on the organization. If the accounting software is cumbersome and can't handle the church's needs, then it can become a black hole for your bookkeeper's time. However, choosing the right accounting software can make their job much easier and can free up their time to help drive the church's mission forward.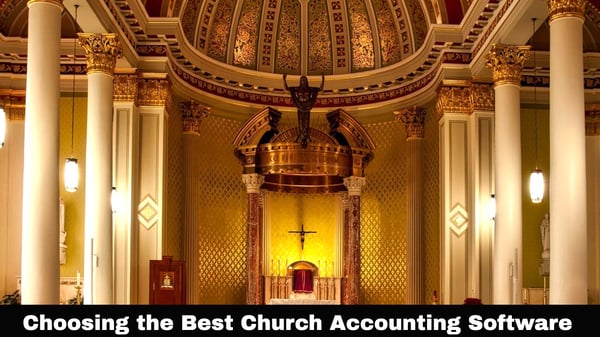 In this post, we'll give you the factors you need to consider when choosing the best church accounting software.
Robust Reporting Capabilities
Churches don't need spreadsheets full of data to hand out at their board meetings. They need robust reports that consolidate and analyze the data into easy-to-read graphs and charts. Accounting software should provide insightful reporting that tells a financial story and paints the full picture of how the church is receiving and spending money.
Timely and accurate reports can demonstrate that the church is spending its funding appropriately and following donation guidelines, as well as staying compliant with regulations. Having these types of reports can improve the church's credibility and improve the relationship the church has with highly-contributing donors.
Price
Churches often have strict budgets and most of their funding should go towards their causes rather than overhead. As churches seek out their best options for accounting software, cost plays an important role in the decision. However, it shouldn't be the only factor.
That being said, churches should evaluate what their needs are for the software and set a realistic monthly budget to accommodate the expense. Many software options base their pricing on how many users need access to the software along with what features are available. If the church is trying to stay on a tight budget, it may be best to limit the number of users to as few as possible, while still keeping a practical level of controls in place.
Cloud or Desktop Software
Depending on the church's unique needs, they'll want to evaluate both cloud-based and desktop accounting software. There are certainly pros and cons to each and it comes down to what the church finds important and what it can live without.
Some churches may want to pay a one-time fee for a desktop accounting software rather than committing to a subscription for cloud-based accounting software. The main benefit of using a desktop accounting software is that it's a one-time purchase that the church can use for life. Oftentimes, the desktop software can pay for itself in just a few years' time.
However, cloud-based accounting software usually costs less than a cup of coffee per day or even per month sometimes. The main benefits churches have when using cloud-based software are the frequent updates and ongoing user support. When new features are available and the software is updated, the church will have access to new features with no extra work on their part. This means the software evolves over time and can continue making bookkeeping easier. Plus, if there are any issues, the cloud-based software always has a team ready to help. On the other hand, desktop accounting software can become outdated and support for the software can end without much notice.
Cloud-based software is also easier to scale up as the church grows. The desktop software a church purchases today may not be able to handle what the church needs in a few years' time. Then, the church will be on the hunt for new software again. With cloud-based accounting software, churches can easily upgrade their subscriptions to suit their growing needs.
Accessibility
As more and more people are working remotely, churches can stay ahead of the curve and choose software that allows users to access their finances from anywhere. That means the church's accounting and bookkeeping tasks can be completed from anywhere that has an internet connection. This is a huge added benefit to the church and those responsible for keeping up with the finances.
Organization Features
Keeping the church's funds and expenses organized is a top priority. Members and donors alike want to know that the church is using funds properly and staying compliant. Most accounting software can help keep a church's finances organized with features like:
Online payments
Imported bank transactions
Bill management
Automatic expense categorization and matching
All of these features can make the church's bookkeeping much more simplistic and streamlined, which will save time and money. The easier the bookkeeping is, the more time it frees up for other activities to help progress the church's mission.
Security
No church wants their financial information to fall into the wrong hands. Oftentimes, donor information and other sensitive data are housed in accounting software. Before the church decides on which accounting software is best, they should evaluate the security of the system.
One of the top security features to look for in accounting software is the ability to limit user access, specifically by location if possible. That way, the church can choose which computers can access the data and block anybody who is unauthorized. The church should also choose software that sets restrictions around which members can see or edit which data.
Pro tip: For an added layer of security and protection, ZarMoney allows churches to give an authorized user the option to approve bills before they're paid. Church leaders can take extra precaution to protect the church's funds.
Where can Churches Start?
Choosing the best accounting software for the church is about evaluating cost and features. The church can reap some serious benefits by choosing software that increases the efficiency of its bookkeeping while providing insightful reporting to those who have a stake in the church's success.
Of course, one of the best ways to free up the church's time for more mission-driven activities could be to outsource the accounting tasks completely to someone who understands non-profit bookkeeping. It would be a much larger cost, but it could be beneficial if it creates time for more fund-building events.