Best Car Dealership Accounting Software
If you're searching for a comprehensive accounting solution for your small or midsize auto dealership, ZarMoney is your best bet. This high-performing tool, custom-designed for the unique needs of the automotive industry, has carved a niche for itself as the preferred choice for savvy business owners in the auto dealership business.
In addition to its rich features, what sets ZarMoney apart from competitors is its single-platform capability, providing your dealership with an integrated, all-in-one platform for seamless financial management. Let's take a closer look at why ZarMoney is the unrivaled choice.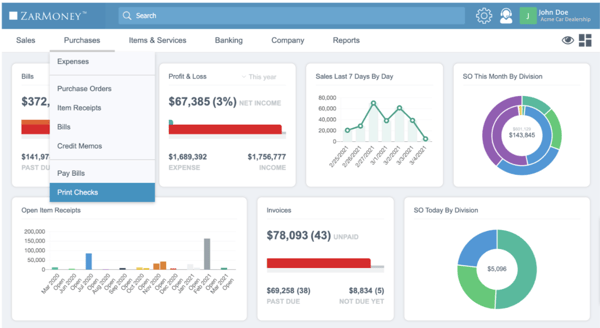 1.

Simple Tips for Boosting Your Inventory Management
With ZarMoney's robust inventory management solution, you're empowered to manage your dealership's new and used cars, parts, and other inventory items with precision and ease.
It ensures accurate records and gives you instant visibility into your stock levels, helping you make precise pricing decisions and avoid stockouts or overstock situations.
2.

Handling Warehouses Everywhere
With ZarMoney, you can track inventory across all your warehouses on a single platform, simplifying your daily operations and ensuring your inventory tracking is always on point. ZarMoney allows you to have real-time updates on all stock levels across all warehouses and inventories.
3.

Mastering Sales Order Processes
ZarMoney sales order feature ensures you never lose track of any deal. You can also monitor invoice status, ensuring a streamlined invoicing process and improved cash flow.
4.

Streamlining Purchase Order Acquisitions
ZarMoney's Purchase Order feature is your best companion in acquiring new cars, parts, or other items from suppliers. This feature simplifies your dealings with suppliers, tracking all your orders in one place and providing detailed reports on your purchases. This visibility allows you to make intelligent decisions that boost your dealership's financial performance.
5.

Effortless Invoicing for Seamless Sales
With ZarMoney, creating professional invoices is a breeze. This feature is essential for invoicing customers after car sales or services. The digital invoices generated by ZarMoney enhance your dealership's professionalism and speed up your invoicing and billing processes, contributing to improved cash flow. You can add your professional logos and business name to your invoices for a better reputation and outreach.
6.

Quick and Easy Online Credit Card Acceptance
In the digital age, a cloud-based dealer management system like ZarMoney that accepts online credit card payments is invaluable. Most customers prefer online payments, especially when dealing remotely. This feature enhances customer experiences, crucial for successful operations.
7.

Managing Money Flow with Accounts Receivable and Payable
ZarMoney's Accounts Receivable (A/R) feature tracks all customer money owed to the dealership, while its Accounts Payable (A/P) manages funds the dealership owes to suppliers and lenders. Together, they provide a clear picture of your financial position, ensuring accurate records.
8.

Perfecting Bank Reconciliation and Sales Tax Calculations
Bank reconciliation and dealing with sales tax are essential aspects of auto dealership accounting. . ZarMoney shines in these areas with its built-in expense report tool and sales tax management capabilities. These features ensure that your dealership's records are accurate, compliant with tax laws, and ready for financial reporting.
9.

Financial Snapshot with Profit & Loss and Balance Sheet
ZarMoney's Profit & Loss and Balance Sheet reports provide insightful details into your dealership's financial health. The Profit & Loss reports presents a clear picture of your business's profitability rates. At the same time, the Balance Sheet reports provides valuable insight into your company's financial status at a particular time. These reports enable you to make informed business decisions.
10.

Adaptable Dashboard with Responsive Notifications
As a car dealership, you must constantly be aware of your business's financial situation to make informed decisions. ZarMoney stands out with its customizable dashboard and real-time notification features.
You can tailor the dashboard to track your most important metrics at a glance and receive notifications via text and email for real-time updates on various transactions and changes. These features offer enhanced functionality and instant visibility into your business performance.
11.

Advanced Controls with User Permissions
ZarMoney understands the importance of security. Its Advanced User Permissions feature provides access control among staff and prevents unauthorized access to sensitive financial data. You can manage who sees what, ensuring your dealership's financial administration is secure.
ZarMoney versus the Rest
When compared to Sage Intacct, NetSuite, Xero, and QuickBooks Desktop Pro, ZarMoney stands out. It consistently provides more comprehensive and intuitive features that better cater to small and midsize auto dealerships' unique needs.
| | | | | | |
| --- | --- | --- | --- | --- | --- |
| | ZarMoney | Sage Intacct | NetSuite | Xero | Quickbooks Desktop Pro |
| Inventory Management | ✅ | ❌ | ✅ | ❌ | ✅ |
| Multiple Warehouse Management | ✅ | ❌ | ✅ | ❌ | ❌ |
| Sales Order | ✅ | ✅ | ✅ | ✅ | ❌ |
| Purchase Orders | ✅ | ✅ | ✅ | ✅ | ✅ |
| Invoicing | ✅ | ✅ | ✅ | ✅ | ✅ |
| Text/Email Notification | ✅ | ❌ | ✅ | ✅ | ❌ |
| Advanced User Permissions | ✅ | ❌ | ❌ | ❌ | ❌ |
Conclusion
In conclusion, ZarMoney's powerful features and robust capabilities make it the ultimate accounting solution for small and midsize automotive dealerships. This cloud-based auto dealer accounting software ensures smooth business operations, informed decision-making, and successful operation. Experience the ZarMoney difference today.
Frequently Asked Questions (FAQs)
1. What factors should I keep in mind when choosing accounting software for my car dealership?
Look for a solution that offers robust inventory management, sales and purchase order tracking, invoicing, online payments, account management, bank reconciliation, tax management, and financial reporting features.
2. How can accounting software benefit my car dealership?
Accounting software like ZarMoney can streamline your financial management, improve cash flow, enhance customer experience, and provide vital insights into your dealership's financial performance, helping you make informed decisions.
3. Can I manage multiple warehouses with ZarMoney?
Yes, ZarMoney allows you to manage multiple warehouses or storage facilities from a single platform, simplifying your inventory management.
4. Can I accept online payments with ZarMoney?
Absolutely. ZarMoney accepts online credit card payments, facilitating easy and quick transactions for your customers.
5. Can ZarMoney help with tax management?
Yes, ZarMoney's sales tax feature can assist with tax management, ensuring your dealership remains compliant with tax laws.
6. Does ZarMoney provide financial reports?
Yes, ZarMoney provides insightful financial reports, including Profit & Loss and Balance Sheet, enabling you to monitor your dealership's financial health.
7. How secure is ZarMoney?
ZarMoney is highly secure with its Advanced User Permissions feature, which provides access control among staff and prevents unauthorized access to sensitive financial data.