5 Best Small Business Payment Processing Solutions in 2023
For every enterprise, payment processing is the most crucial process in the entire business transaction process. Small and large enterprises worry about the safest and most convenient way to process their payments to vendors and sellers. Luckily, there are countless business payment processing solutions available.
However, the challenges are still ongoing. Although several payment processing solutions are available, they need to be simpler for small business owners to comprehend. This article is a help for all small businesses as it lists the best small business payment processing solutions. Read till the end to find the winning solution.
1. ZarMoney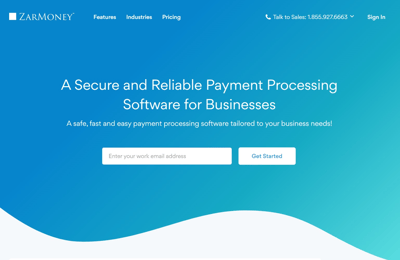 The first payment processing solution in the list of top payment processors is ZarMoney. Based in Los Angeles, ZarMoney came into being after observing the dynamics and challenges of financial dealings. The creators of ZarMoney have developed this online payment processing solution keeping in mind every industry and its scale. Therefore, it is a complete package for small and large setups.
ZarMoney offers complete financial solutions to users through a variety of features. However, its payment processing software is handy for small businesses with a more diverse clientele that needs swift payment processing systems to attract and ensure returning customers. This high-rated solution has several advantages and features, making it an absolute lifesaver for small businesses.
Features
Multiple payment methods

Diverse payment gateways

Automated invoicing

In-built notifications

Quicker payment processing

Invoice reconciliation

Centralized client database

Warehouse and inventory management

Bank connections

Financial reporting
Top 3 Features
1. Multiple Payment Options
Small businesses have diverse clientele. They also contact several vendors to buy their products or avail of services. Ideally, vast payment options enable small business owners to pay their vendors and accept customer payments conveniently.
ZarMoney allows users to accept and send payments through credit card transactions. It also offers debit card payments, Stripe, and more. Multiple integrations mean no payments are delayed for any reason. Swift and easy payment options are a win-win for both parties and offer peace of mind, especially for small business owners.
2. Instant Payment Processing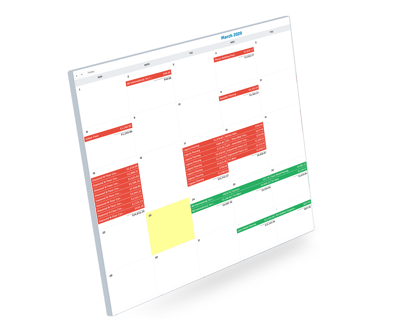 ZarMoney ensures that customers and vendors can receive timely payment processing. A quick and seamless payment processing solution is a crucial feature of desirable software, and ZarMoney is just that.
Invoicing and billing are time-consuming and an area where most customers need help. ZarMoney comes to the rescue by creating automatic invoices like a seller on the job 24/7. These invoices are sent via email also, so customers have a record of their orders.
However, it does not end here. Customers are kept updated with their order status with the in-built notifications. Quick payments in diverse options with updates ensure happy and returning customers.
3. Bank Connections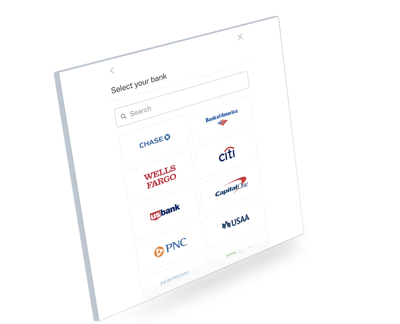 Several individuals face problems when paying or accepting bank payments. They must switch between applications to access their bank accounts and streamline payments. For someone who has less time, this can be quite a hassle.
ZarMoney allows users to conveniently make payments with its connections to over 9600 banks. All these banks are integrated with the software so users can handle their transactions in a single place.
Pros
Perfect for small businesses

Efficient customer service

Easy to use

Bank integrations

Diverse payment options
Cons
Does not have a mobile app

Difficulty in checking templates
Supported platforms
Pricing
Free trial available

Entrepreneur, for $15 per month. Includes a single user.

Small Business, for $20 per month, includes two users.

Charges increase by $10 per month with every added user

Enterprise costs $350 per month and includes more than 30 users.
Customer support
24/7 support

Knowledge base

Forums

FAQs

Email

Phone support

Chat

Help desk
Ratings
ZarMoney rates 4.7 on Capterra and GetApp. This payment processing solution is rated five on GetApp for value for money and 4.5 for its functionality. G2 rates ZarMoney at 4.8.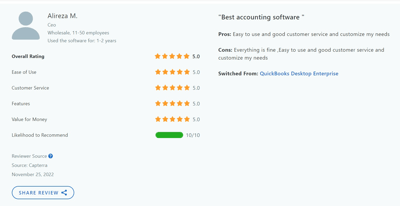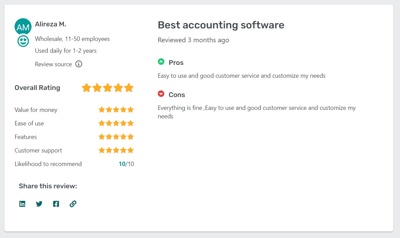 Conclusion
ZarMoney is a one-stop solution for all payment processing needs of small businesses. This Los Angeles-based software answers all concerns about seamless invoicing, payment processing, bank integrations, and more.
With ZarMoney, small business owners can rest assured that none of their customers are lost to delayed invoicing or problems with payment processing methods. In addition, the ability to accept payments across multiple options and bank connections makes ZarMoney the best small business payment processing solution.
ZarMoney has attracted several positive reviews and satisfied customers because of its matchless features and quick customer service.
2. Quickbooks Payments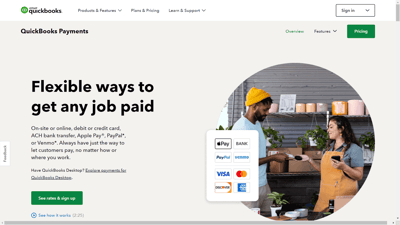 Online Payment processing solutions have become more sophisticated with each passing day. Today, payment processing solutions include their exclusive point of sales or POS systems and software.
Quickbooks Payments is a payment processing solution with software and extends its services through POS systems. These systems work well for sales-based businesses such as restaurants or barber shops. However, service-based entrepreneurs can also benefit from them by using the mobile payment system.
Features
Contactless payments

Digital wallets

Automated recurring invoices

ACH payments

Quick payments

Quick deposits
Top 3 Features
1. Payable Invoices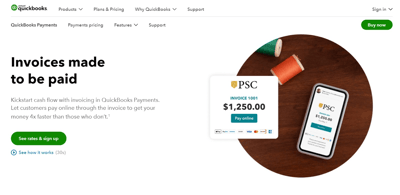 Quickbooks Payments is a payment processing solution designed to speed up the payment process without compromising ease of use. The payable invoice system checks both boxes.
When a small business owner sends an invoice, Quickbooks Payment makes the invoice payable so the customer can make payments by simply clicking on the invoice. In addition, the invoice directs them to their bank accounts, where they can make payments without entering beneficiary, amount, etc.
2. ACH and eChecks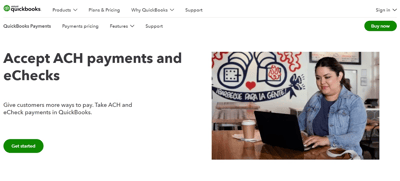 Moving money electronically is a new technology that is quicker and smarter. In addition, ACH payments are more convenient than credit cards since they have lower credit card transaction fees and offer an easy setup.
Quickbooks Payments introduces the ACH and eChecks payment facilities for users who can send instant invoices and receive payments even quicker. In addition, ACH payments are received in users' bank accounts safely.
Additionally, eChecks are also a convenient method of processing payments. They reduce paper use, and their ease of scanning and storage prevents fraud.
Pros
Easy to use

POS system

Affordable

Available on mobile devices
Cons
Lags in mobile applications

Problems in card swiping

Inefficient customer service
Supported platforms
Windows

macOS

Android

iOS
Pricing
Simple Start, at $15 per month with 50% off for the first three months

Essentials, at $27.50 per month with 50% off for the first three months
Customer support
Email

Help desk

Forums

FAQs
Ratings
Quickbooks Payments is rated 4.3 on Capterra and GetApp. GetApp rates it at 4.1 for price and 4 for functionality. In addition, this payment processing solution is rated four on G2.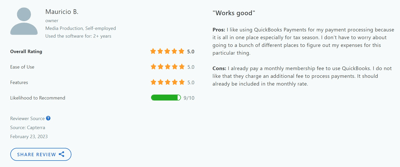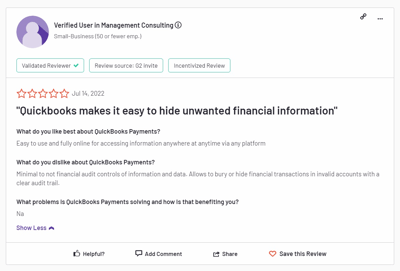 Conclusion
Quickbooks Payment is a part of the Quickbooks system that features several business solutions, from invoicing to bookkeeping. Quickbooks Payments is a payment processing solution that offers convenient features for small businesses to run and extend their business.
However, users complain of lags in the application and a lack of an adequate customer support system. These issues can be severe since new users often need help understanding the software and solving any issues they encounter.
3. Veem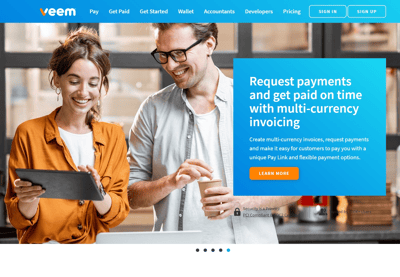 As mentioned earlier, payment processing solutions have become more sophisticated. However, this innovation is accompanied by over-complicating processes that should not be so twisted and multilayered. As a result, payment processing solutions have become too intimidating because of their features and systems.
Thankfully, Veem is among the few small business payment processing solutions that have kept its simplicity without compromising on the quality of service. It allows users to accept quick payments from customers around the world.
Features
Multi-currency invoicing

Payment tracking

Multiple payment options

Veem wallets

Payment through checks

Same day payment
Top Features
1. Instant Invoicing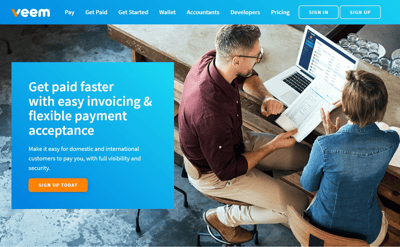 Veem allows its users to create instant and seamless invoices to get paid in the blink of an eye. Users can conveniently create invoices and emails sent directly to customers' accounts. A unique payment URL lets the customer pay securely through the payment portals.
For those who still need the specified platforms, Veem makes it even easier by allowing them to pay through their cards. By allowing customers to pay without a merchant account, Veem enhances the ease of use for everyone.
2. Receive Payments from Anywhere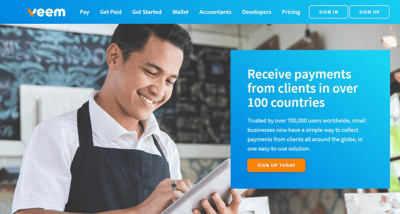 Small businesses that wish to streamline their payment processing must have a Veem account. After that, it is all rainbows and unicorns.
Veem provides all-in-one services to its users and covers all aspects of easy payment receiving. Users can track their incoming payments and see how far along they are. A foresight of incoming payments lets them plan important financial transactions ahead of time.
Clients can pay Veem users through unique links. They can even make payments without having a Veem account. All these options ensure small business owners can receive their payments without excuses or delays.
Pros
Multi-currency payments

Pay via emails

Easy to use
Cons
It takes time to get paid

Users worry about money getting lost in the mail

Inadequate customer support

No mobile app
Supported platforms
Pricing
Free trial available

Monthly fee of $14.99

Additional transaction fee
Customer support
Chat

Live support

FAQs

Forums

Help desk

Email

Knowledge base
Ratings
Veem is rated 4.6 on Capterra and GetApp. GetApp rates Veem 4.6 for value for money and functionality. G2 rates Veem at 4.1.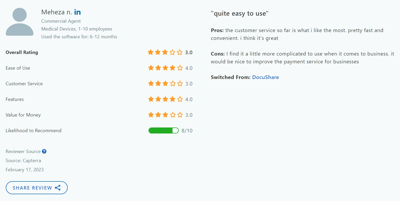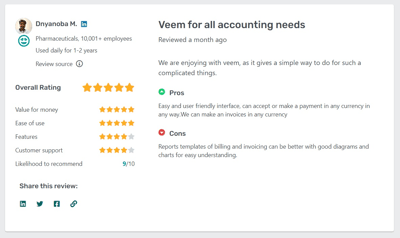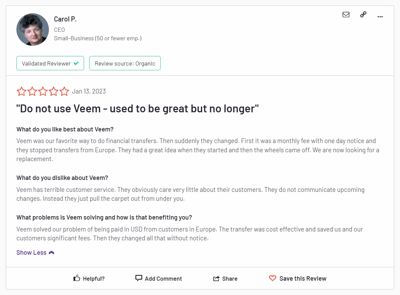 Conclusion
Veena is a convenient payment processing solution in a sea of complicated payment methods. It serves its purposes in a to-the-point manner with invoicing and billing and the ability to accept payments in various ways to ensure ease for small business owners.
It needs some essential features that are a must-have for payment processing platforms, such as bank integrations and ease of layout. In addition, the website seems too confusing, with incomplete information on how the service works. A lack of accurate information can result in low clientele.
4. Stax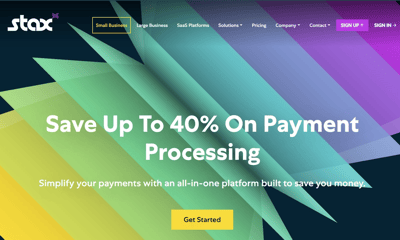 Stax has emerged as a famous payment processing solution. The software has earned a respectable reputation quickly due to its various features and vast clientele.
Stax caters to the exclusive needs of small businesses and large organizations. Additionally, it extends services to SaaS companies, which have different dynamics of financial operations altogether.
This payment processing solution offers several features. From invoices to payments and point-of-sale payments, Stax has simultaneously kept it simple yet multilayered. The website could have been more straightforward, with a simple design scheme to focus on and navigate through.
Features
Invoicing and billing

Payment tracking

Financial trends analysis

Multiple integrations

Multiple payment options

POS system
Top 3 Features
1. Simplified Payments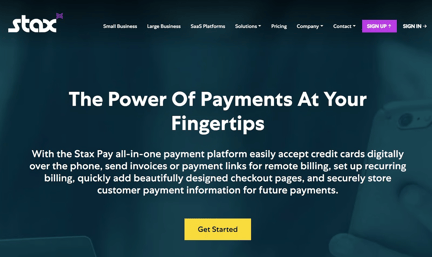 Although Stax is among several payment processing solutions that have introduced a POS system, it stands out in terms of convenience. Although using the POS system is another aspect, Stax bags a win through a clear and easy understanding of this feature on its website.
With Stax, users can set up a smooth payment option to accept payments through their POS terminals. These terminals can be customized to individual businesses to provide a better experience. Customers can pay through multiple payment options such as key-in, Google Pay, tap, Apple Pay, and more.
Even better, Stax converts a mobile into a POS system through its mobile application. As a result, customers can make payments upfront by tapping or scanning their credit cards on the phone's camera. This eliminates the need to use bank accounts to make payments and wait for them to process.
2. Mobile POS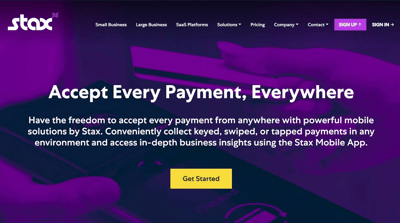 Small businesses are always on the go. They are businessmen everywhere. The best solution for such entrepreneurs is to design solutions that allow them to accept payments easily. Converting mobile devices into POS systems is the most innovative solution.
Stax provides innovative POS solutions for small businesses. It converts their mobile devices into POS terminals through which entrepreneurs can accept payments. In addition, the Stax application for Android and iOs allows users to view all their transactions and records on their mobiles.
The Mobile POS is an innovative solution for small businesses on the go and businesses that provide home services. The POS system eliminates transaction delays or bank transfers.
3. Invoicing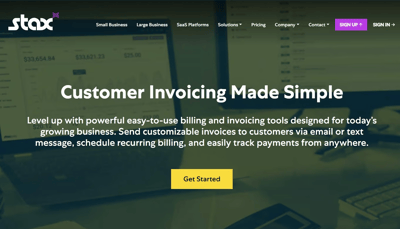 Creating and sending invoices is another element of the entire payment processing system. Stax allows users to create customizable invoices and send them to clients via email or text.
Additionally, Stax features a recurring payment system that relieves small business owners from the hassle of composing and sending repeating invoices. The automated recurring invoices send to clients on set dates automatically.
Users can also track their payments at each step. They also stay updated with the status of payments on their web browsers and mobile devices. A mobile application's convenience ensures that small businesses are in sync with their finances everywhere.
Pros
Available through the mobile app

Mobile POS systems

Quick customer service

Easy to use
Cons
Not suitable for freelancers

Difficulty tracking invoices

An expensive fee as the business grows
Supported platforms
Windows

macOS

Android

iOS
Pricing
Growth, at $99 per month

Pro, at $159 per month

Ultimate, at $199 per month
Customer support
Phone

Chat

Email

Help desk

Forums

FAQs

Knowledge base
Ratings
Capterra and GetApp rate Stax at 4. However, G2 rates it higher, at 4.9. This small business payment processing solution is rated 3.9 for its pricing and 4.1 for functionality on GetApp.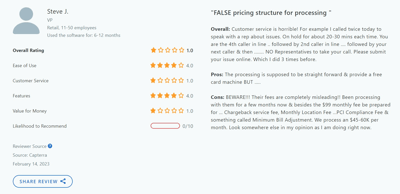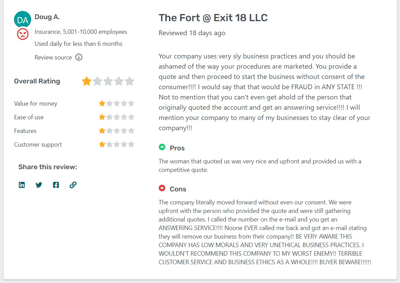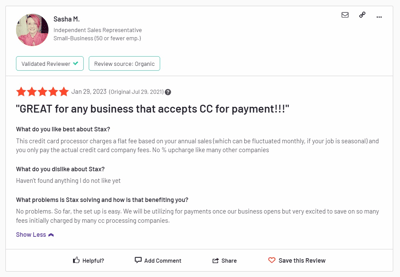 Conclusion
Stax has managed to incorporate some attractive features in its payment processing system. This software allows users to create and customize invoices, manage recurring invoices, and track payments. The POS system is an innovation that benefits service providers and small, product-based businesses.
Users have disapproved of Stax's customer service, subscriptions, and difficulty using. The lack of efficient customer service is a roadblock to Stax's popularity. Thus, it must work on it to ensure a better client experience.
5. GoCardless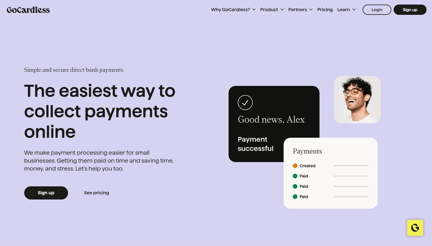 GoCardless is another payment processing solution that caters to the needs of small businesses and large enterprises.
GoCardless works with the idea of introducing innovative ways of doing business. It intends to skip the traditional banking and transaction systems that involve tedious payments and manual labor in invoicing and payment processing.
However, with this payment processing solution, users will be free to process their fees instantly without fearing fraud or discrepancies.
Features
Billing and invoicing

Integration with software

Email notifications

Secure payment

Instant or scheduled payments
Top 3 Features
1. International Payments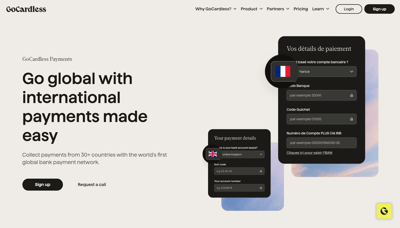 Small businesses have a global reach. They deal with vendors and customers worldwide. However, global dealing means interacting in multiple currencies. Sending and accepting payments in different currencies can be a headache.
GoCardless solves these problems by offering the facility for international payments. This allows users to accept payments from over 30 countries. Even better, GoCardless uses Wise for accurate and updated currency conversions to ensure the correct amounts are transferred.
With GoCardless, hectic transactions are made easy. Users can collect one-off or recurring payments in their local currency without issues with their accounts or going to a money exchange.
2. Payment Recoveries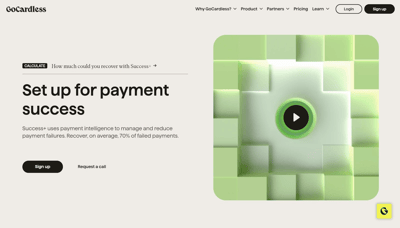 Failed or delayed payments are a significant concern for small businesses. Often, entrepreneurs worry about their customers not sending payments. Constant reminders and calls create tension between the two parties.
Amicable customer relationships are essential for every business. However, they are significant for startups that build on these relationships to attract more customers. GoCardless creates a perfect working balance of payment recoveries, so no one has to swallow the bitter pill.
GoCardless can automatically retry failed payments according to customers' suitability and retries payments at the customer's convenience. Furthermore, since this process is automated, business owners do not need to ask for payments personally. Thus, considerable time and energy are saved.
GoCardless claims to recover up to 75% of failed payments through its payment recovery option.
3. Instant Payments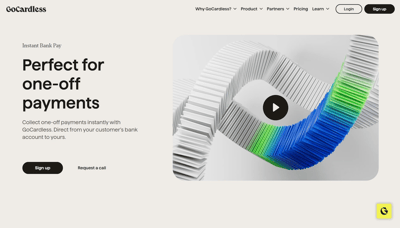 GoCardless strives to offer payment convenience to its users by reducing processing time and hassle. It offers ease, especially for one-off payments, without ignoring the payer's verification and prevention against fraud.
With this payment processing solution, users create payment channels that customers can link directly to their banks. As a result, they no longer need to enter credit card details and lengthening the process. In addition, this facility skips the transaction fee that accounts holders must pay.
Pros
Reduces payment frauds

Secure payments

Interactive Features
Cons
Pricing
The Standard plan is free but includes a fee for each transaction

Plus, at £50 per month

Pro, at £200 per month
Customer support
Chat

Phone

Knowledge base

FAQs
Ratings
GoCardless is rated 4.8 on G2.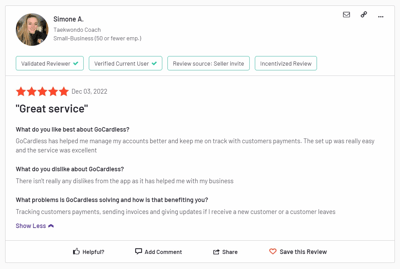 Conclusion
GoCardless promises safe and secure payment processing to its usersMoreover. It has introduced several initiatives to prevent fraudulent activities, such as payment recovery and GoCardless Protect+. Undoubtedly, such services are a gush of fresh air for entrepreneurs who worry about bank fraud and late payments.
With better customer outreach, GoCardless can attract a broader customer base. More active customer service will also benefit this small business payment processing solution.
Table of Comparison
| | | | | | |
| --- | --- | --- | --- | --- | --- |
| | ZarMoney | Quickbooks Payment | Veem | Stax | Go Cardless |
| Multiple Payment Options | ✓ | ✓ | ✓ | ✓ | ✓ |
| Free Quick Payment Processing | ✓ | ╳ | ╳ | ╳ | ╳ |
| Invoice Reconciliation | ✓ | ✓ | ✓ | ✓ | ✓ |
| Centralized Database | ✓ | ✓ | ╳ | ╳ | ✓ |
| Bank Connections | ✓ | ✓ | ✓ | ✓ | ✓ |
| Access to all Features in single Subscription | ✓ | ╳ | ╳ | ╳ | ╳ |
Wrapping Up
Payment processing solutions are intelligent solutions that offer unmatched convenience to users. These solutions handle all aspects of financial transactions, from invoicing to payment tracking, payment deposits to point-of-sale systems, and more.
However, the best small business payment processing solutions are extensive yet easy to use. Moreover, they provide the best features at an affordable price and offer scalability. Keeping all these aspects in mind, ZarMoney is the only solution that checks all these boxes. In addition, ZarMoney has exclusive services for small businesses to ensure sustainability and success.
Reach out today to learn more about our services and avail yourself of the best payment processing solutions.
FAQs
1. What does payment processing software do?
A payment processing solution is a wholesome software in which users can make and accept payments without having to access their bank apps now and then. This software has intelligent systems of simplified payments and keeps track of all payments.
2. What are some important considerations for a payment processing solution?
Payment processing solutions are a lifesaver in themselves. However, since there are several solutions out there, you must have some considerations before you make your decision. Some important considerations are:
Ease of use

Multiple payment methods and gateways

Suitable payment plans

Inclusion of all valuable features in payment plans
3. What are payment methods and gateways?
Payment methods are different ways of making payments. These include credit or debit cards, payment using QR codes, and more. Payment gateways are the network channels used to make payments. POS systems and PayPal are some everyday examples of payment gateways.
Nowadays, the most popular payment methods are credit or debit cards. People prefer these over cash payments.