6 Best eCommerce Payment Processing Solutions
After figuring out what products to sell, you will need to know how to accept payments online for your eCommerce business. Unless you plan to operate a cash-only business, you will need a way to authorize credit card payments.
Today, payment gateways and processors have come a long way. You have a variety of payment processing options. These payment processing apps are significant for accepting customer payment data. They help in setting up billing and safeguarding customer payment information.
Before we look into the best eCommerce payment processing solutions, let us look at some of the critical features of payment processing apps.
Key Features of Payment Processing Solutions
After searching for several payment gateways, we have narrowed down the key features of the best payment processing solutions. If you are choosing an eCommerce payment solution, you should look for the following key features:
The best payment processing solution will provide you with a virtual terminal where you convert your device into a payment processor. Virtual terminals allow you to accept payments even if a card is not physically present.
Does your payment processing app provide recurring billing features? All of the top payment processing solutions cater to subscription-based customers. The payment apps let you create custom schedules of regular online payments for your repeat customers.
Recurring billing features are essential in selecting payment processing apps. This is because it helps create custom recurring payment schedules for these repeat customers.
Since online payment apps secure our financial data, security is crucial when selecting payment processing software. Payment apps have security features such as tokenization and encryption to secure your credit card data. They use the latest technology, like AI, to detect and prevent fraud.
Professional payment processing solutions will let you send customized invoices to your customers. Invoicing customers helps to add the relevant information needed to make the transactions more organized.
Notifications and Reminders
All the top payment processing apps let you send notifications and reminders to your customers to pay their invoices. Once the bill is paid, a notification is sent to you that updates the payment status. Notifications and reminders keep your transactions on track and keep them more organized.
Top 6 eCommerce Payment Solutions
It is encouraged to integrate more than one payment gateway on your site. Let us examine some of the best eCommerce payment processing tools and what benefits they offer your eCommerce business.
ZarMoney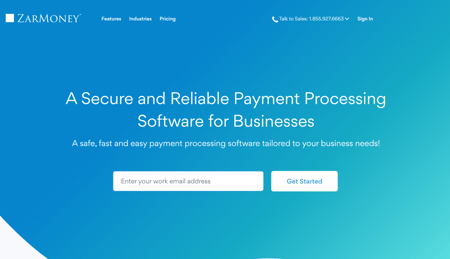 ZarMoney features payment processing software that supports multichannel payment methods. Whether direct deposits, debit cards, or credit cards via Stripe and Paypal, ZarMoney accepts most payment methods.
All of the payment routes are reliable and secure. This payment solution helps retain your existing customers while attracting new clients. With ZarMoney, you will have an effortless experience accepting payments from your clients.
Moreover, if you have clients who want quicker payment options, ZarMoney is well-suited for you. With the billing payment gateway and automated invoicing, your clients can pay with just a few clicks. The clients have the option to make payments around the clock. You can inform your clients about their order status using the built-in notification feature. This helps to keep your clients notified and guarantees returning customers.
ZarMoney gives you an integrated payment platform. It helps reconcile your invoices. The automated billing system is seamlessly integrated with the bank reconciliation feature. With just a click, you can reconcile your invoices.
ZarMoney has different pricing plans that are tailored to your business requirements. ZarMoney's entrepreneur plan works well for a single user and starts at $15/month. The small business plan is $20/month and includes two users. The enterprise plan has more than thirty users and features specialized training and priority customer support. This plan starts at 350$/month.
PayPal
Introduced in 1998, PayPal is considered the leader in payment solutions. It dominates nearly 55% of the market for payment processing solutions.
Paypal helps you to send money to customers using their credit cards directly to the recipient's email address. The charge per transaction is relatively low, and PayPal has no hidden charges.
This payment solution is best known for fast and transparent business transactions. Many consumers are reluctant to give their credit card details, so they rely on PayPal to complete their online transactions. Therefore, your eCommerce website must have the option to pay through PayPal.
Along with being easy to set up, Paypal is also budget effective. It offers various pricing plans to choose from and integrate into your website.
You can easily integrate PayPal with any website offering customers a medium for easy transactions. Whenever customers proceed to make a transaction, Paypal directs them to their website for a convenient experience.
PayPal can also be integrated with other apps. For instance, you can integrate PayPal with Xero, which will help you with invoicing payment solutions and time management.
You can quickly transfer your PayPal funds into your bank accounts. Paypal offers a mobile application called PayPal Here that makes the payment process and transfers faster. With just a WiFi connection and mobile, you can receive payments anywhere and anytime. In addition, PayPal is well-suited for international transactions.
Square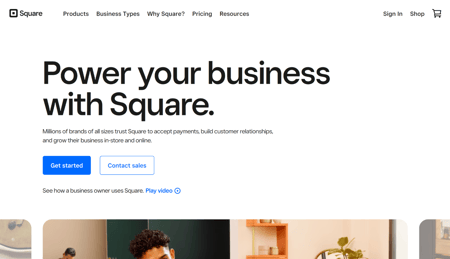 Square is the fourth largest payment solution and accounts for 2.33% of the market share. The reason is quite simple, Square is known for its seamless Point of Sale (POS), which integrates with its payment solutions. It is a perfect choice if you have physical stores and want to implement online payment methods.
If you do not have an online shop, Square also provides an eCommerce website builder. It provides you with many great-looking drag-and-drop themes that allow you to create an eCommerce store without any coding knowledge.
Square is priced at competitive rates compared to other payment solutions mentioned in this article. There is no monthly fee for adding a Square payment gateway to your eCommerce website. The payment platform only charges 2.9% + $0.30 per transaction, just like PayPal or Stripe.
Integrating Square into your eCommerce platform is quite easy. It has a lot of eCommerce partners, which include:
WooCommerce
Wix
Ecwid
3DCart
OpenCart
GoCentral Online Store
Magneto
Miva
Drupal Commerce
Zen Cart
Shipstation
Mercato
WordPress
Unbound Commerce
nopCommerce
WP EasyCart
Sociavore
The quick pay feature of Square is quite easy to use and reliable. Thanks to its intelligent mobile card reader, the platform lets you accept payments from everywhere. This enables you to convert your mobile into a POS system.
Square also provides deposits on fraud protection, demand, and Square Stand for larger businesses. With this payment platform, you can build customized registers and issue receipts and invoices. You can also view sales reports and manage timesheets and inventory.
Stripe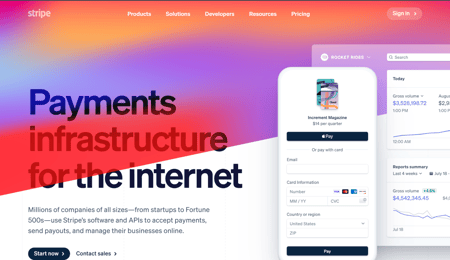 Stripe is one of the best payment methods on the market because of its versatility. It is ideal for subscription services, eCommerce shops, and on-demand marketplaces. If you operate your eCommerce business with multiple benefits, Stripe is a platform you should consider.
The best part about Stripe is it is developer-friendly. It offers numerous tools and lets you customize your payment methods. From easy-to-use API and comprehensive integration, a developer can get everything out of Stripe.
The platform supports online and in-person payments. Therefore, if you have an on-site store, you can add a Stripe POS system and a gateway to your eCommerce site. You can also configure recurring payments from your customers. Through this approach, you can remain consistent across all marketplaces.
Research has shown that by using Stripe, brands have increased their revenue by 6.7%. With Stripe, you would have almost 24% lower operating costs than other payment methods.
Another essential feature of Stripe is the Stripe UI toolkit. Stripe lets you customize your checkout process with its UI toolkit.
With Stripe, all major debit cards and credits are accepted from all countries. The accepted debit/credit cards include
Visa
Mastercard
American Express
JCB (Japan)
UnionPay (China)
Discover
You also have the option to integrate alternative payment options into your Stripe payment gateway. The alternative payment options include:
ACH transfers
American Express Checkout
Masterpass
Apple Pay
Google Pay
Visa Checkout
Microsoft Pay
The pricing of Stripe is quite simple. Each transaction costs you 2.9% with an additional $0.30 fee for every card charged as a merchant. There is an additional 1% charge for international cards. For ACH transfers, the incurred cost is 0.8% of the transaction, with a maximum fee of $5.
In addition, Stripe offers you customized pricing options. You will get discounts for multi-product and country-specific rates if you target the international market.
Stripe has an exceptional customer support and tech support. You can contact their representatives round the clock with live chat, email, and phone. This will help to resolve your queries within no time.
2Checkout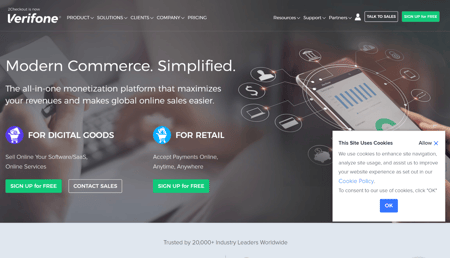 For any reason, if you cannot use PayPal or Stripe, 2Checkout is a robust alternative payment solution. It is used by industries around the world and has support in more than 200 countries.
2Checkout is one of the best payment processing tools created for global payment acceptance. It presents you with a compliant gateway in almost 15 languages and 87 currencies. The payment platform supports both mobile payment and online platforms.
This payment processing platform features recurring billing, hosted checkout, and fraud protection. You can integrate 2Checkout with the most popular online shopping carts. You can receive all PayPal, bank, wire transfers, and major credit cards.
With this payment tool, global payments are pretty easy to handle. Moreover, international taxes, subscription billing, and other eCommerce payment needs can easily be managed. Above all, 2Checkout is a perfect partner for international selling.
By using any of 2Checkout's modules, you can start selling in more than 200 countries. With the 2Monetize platform, you can easily manage regulatory compliance and VAT.
The pricing of 2Checkout is quite simple. You can start on any of 2Checkout's solutions for entirely free. Payment is only made once you start selling. Once you start trading, you pay a fraction of each sale and a small additional fee. On the base-level plan, 2Sell, it charges you 3.5% +$0.35 on each transaction.
Payoneer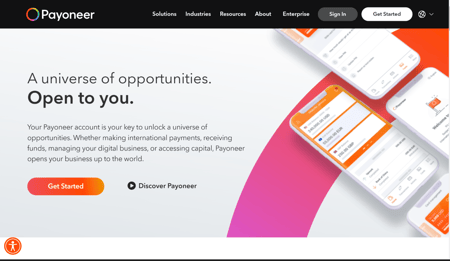 Payoneer is the ideal option for you if you want to take your eCommerce website to the global level. Whether it is accessing untapped markets or making more on international sales, Payoneer is well-suited to help your eCommerce business grow.
Payoneer annihilates the pain of costly currency conversions and wire transfers. This is done by setting up localized receiving accounts. You can get your payments in USD, EUR, on any other currency.
In three simple steps, you can set up an account and email your customers how to pay you. This will help to have payments sent to your Payoneer account automatically.
It is important to note that Payoneer is not a merchant account provider. This means it does not have the option to accept payments via credit or debit cards. It configures a local bank within your area you want to request money from. Payoneer allows bank transfers which can be helpful for specific business types.
For instance, global businesses greatly depend on vendors and suppliers. Therefore, Payoneer makes international payments relatively easy. You can pay vendors and suppliers directly from your Payoneer account balance. All the payments are sent instantly and have no additional charges. Moreover, you can conveniently send payment in batches of up to 200.
If you are having difficulty adapting to global markets, you can take assistance from Payoneer's network of partners. From sourcing services, shipping, and advertising for legal aid, you can easily connect with vendors based in your markets.
Payoneer charges a low-cost fee for some transfers and also there is an annual account fee. The annual fee is $29.95, which is relatively low when looking at the platform's services.
The Bottom Line
To sum it all up, the primary thing you need to figure out before starting your eCommerce business is a way to accept online payments. The right eCommerce payment solution depends on where your business is located, the products you sell, and your gross margins. Integrating at least two payment processors in your eCommerce website is recommended.
ZarMoney is an easy-to-use, quick payment processing tool tailored to your business requirements. The payment processing tool promises versatile features and scalable solutions to businesses worldwide. Contact us now to integrate the best payment processing software that adapts to your business needs.