The Best Accounting Software for Designers - Streamline Your Finances
Are you a designer looking for the best accounting software to streamline your financial management? Look no further than ZarMoney. With its comprehensive set of features tailored specifically for designers, ZarMoney stands out as the top choice in the market.
In this blog, we will explore why ZarMoney is the ideal accounting software for designers, highlighting its key features, comparing it with competitors, and addressing common questions to help you make an informed decision.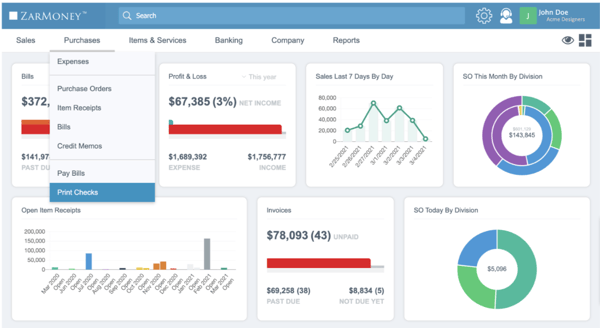 Key Features of ZarMoney
ZarMoney is packed with a range of essential features that cater to the unique needs of designers. Let's delve into some of its standout features and explore why they make ZarMoney the best accounting software for designers.
1. Online Payments
With ZarMoney, you can simplify your payment processes by integrating online payment gateways. This feature enables you to accept payments directly from clients through credit cards, debit cards, or other online payment methods. By streamlining the payment collection process, you save time and effort, ensuring faster and smoother financial transactions.
2. Bank Accounts Integration
ZarMoney seamlessly integrates with your bank accounts, allowing you to connect and synchronize your financial data. The software automatically imports your bank transactions, eliminating the need for manual data entry. By reconciling your transactions, ZarMoney ensures the accuracy of your financial records and saves you valuable time that would have been spent on tedious data entry tasks.
3. Project Management
ZarMoney goes beyond traditional accounting software by offering robust project management capabilities. You can create projects, assign tasks to team members, set deadlines, and track progress within the software. Additionally, ZarMoney provides a centralized hub where you can receive project updates, collaborate with team members, and keep all project-related information organized in one place.
4. Expense Tracking
ZarMoney's expense tracking feature simplifies the process of monitoring and managing your business expenses. You can easily capture and categorize expenses, attach receipts for documentation, and track spending across different categories or projects. This enables you to gain a comprehensive overview of your financial outflows and make informed decisions regarding cost management and budgeting.
5. Financial Reports
ZarMoney offers extensive reporting capabilities, allowing you to generate financial reports to gain valuable insights into your business's financial health. You can generate balance sheets, income statements, cash flow statements, and other financial reports to analyze your business performance, identify trends, and make data-driven decisions. These reports also help you ensure tax compliance and provide a clear overview of your financial standing.
6. Inventory Tracking
For design businesses that involve selling physical products, ZarMoney's inventory tracking feature is a valuable asset. You can keep track of your inventory levels, monitor stock movement, and receive alerts when it's time to reorder items. By effectively managing your inventory, you can minimize stock outs, optimize stock levels, and ensure smooth operations in your design business.
Comparing ZarMoney with Competitors
To showcase why ZarMoney stands out as the best accounting software for designers, let's compare it with two popular competitors: QuickBooks Online and Studio Designer. The table below highlights the key features where ZarMoney excels.
| | | | |
| --- | --- | --- | --- |
| Features | ZarMoney | QuickBooks Online | Studio Designer |
| Time Tracking | ✅ | ✅ | ✅ |
| Online Payments | ✅ | ✅ | ❌ |
| Bank Accounts Integration | ✅ | ✅ | ❌ |
| Project Management | ✅ | ❌ | ✅ |
| Expense Tracking | ✅ | ❌ | ✅ |
| Financial Reports | ✅ | ✅ | ✅ |
| Inventory Tracking | ✅ | ❌ | ✅ |
As you can see, ZarMoney offers a comprehensive set of features that surpasses its competitors. It excels in areas crucial for designers, such as project management, expense tracking, and inventory tracking, making it the top choice for design professionals.
Bottom line
When it comes to finding the best accounting software for designers, ZarMoney emerges as the clear winner. With its comprehensive set of features, including time tracking, online payments, project management, and expense tracking, ZarMoney caters to the unique needs of design professionals.
By offering advanced functionality and surpassing competitors like QuickBooks Online and Studio Designer, ZarMoney proves to be the ultimate accounting solution for designers. Streamline your financial management, make informed business decisions, and ensure the success of your design business with ZarMoney.
Frequently Asked Questions
1. Do I need accounting software as a designer?
Absolutely! Accounting software is essential for designers to efficiently manage their finances, track project costs, and generate accurate order . It saves time, ensures accuracy, and provides valuable insights into your business's financial health.
2. Can ZarMoney handle both my personal and business finances?
Yes, ZarMoney is designed to handle both personal and business finances. It allows you to separate your personal and business expenses, ensuring clarity and simplifying your tax obligations.
3. Can I try ZarMoney before committing to a subscription?
Yes, ZarMoney offers a 30-day free trial, allowing you to explore its features and evaluate its suitability for your design business. Take advantage of this trial period to familiarize yourself with the software and make an informed decision.
4. Is ZarMoney suitable for freelance designers?
Absolutely! ZarMoney caters to the needs of freelancers and provides specialized features to manage the unique financial requirements of freelance businesses. It offers features like time tracking, project management, and online payments, making it an ideal choice for freelance designers.
5. Does ZarMoney offer different pricing plans?
Yes, ZarMoney offers various pricing plans to accommodate the needs of different businesses. Whether you're a small design firm or a growing design agency, ZarMoney has a plan that fits your requirements. From the basic plan for startups to the premium plan with advanced features, you can choose the plan that suits your needs and budget.