5 Cloud Accounting Features You Didn't Know About & You'll Fall In Love With
Although there are lots of things that make cloud accounting great, we'll be the first to admit that business owners and their bookkeepers are most drawn to these types of apps for the convenience they bring. With very little effort in training, they can literally shave hours off of each week's workload, taking away mundane tasks like transaction entry and categorization. To remind yourself take a look at all the accountant's responsibilities you might forget you pay your accountant to do.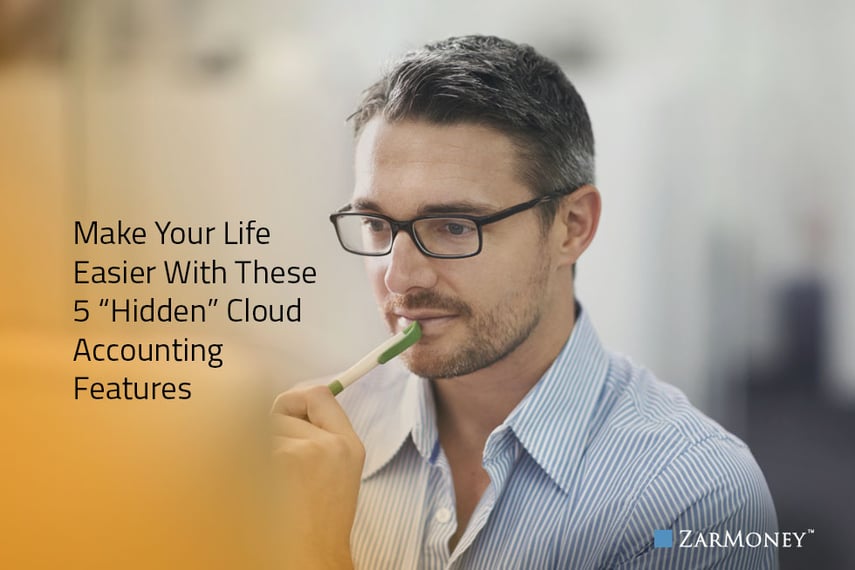 But as much as accounts and entrepreneurs like to talk about how easy the automated features are to use, there are five other, seemingly hidden, cloud accounting features that we think you'll learn to love once you try them out. Let's take a look at them.
1. Automatic Currency and Measurement Conversions
There's no good way for us to estimate how many hours accountants and bookkeepers spend manually converting things like currencies and unit measurements, but it's safe to say that the wasted time would be better spent on other tasks. With cloud accounting software, these kinds of translations can be handled automatically and in terms of currency conversions using either a fixed formula or real-time exchange rates.
2. Real-Time Inventory Management
There are lots of tools a business can use for inventory management, but few that give them access to remaining stock in real-time. Using an online accounting and inventory management solution, you can compare what you have on hand to estimates and sales orders, and even transfer inventory from one account or location to another with the click of a mouse - from anywhere. Your office, business trip to a neighboring state or a family vacation from New Zealand. The more products and resources you have to manage, the more important real-time inventory control can be…and the more resources it saves your company.
3. Automatic Reports and Information
What if, instead of having to ask your accounting software for the information you need, you could have it provided to you automatically when you log in… or even sent to you via email or text, on demand or in specified time intervals?
Cloud accounting software allows you to do just that, with controls that allow you to specify what kinds of reports you want to receive and when. Need to be notified when balances reach a certain level, what your profits look like month-to-date, or when a withdrawal has been made by an employee or bookkeeper? With just a few clicks, you could make sure you never miss another important financial alert. Just decide what you need to keep tabs on and let automation handle the rest.
4. Anywhere Access
A lot of business owners and bookkeepers feel tied to their desks, if only because that's the one place they can manage to get a bit of control over their companies and see an accurate picture of what's going on with the business's finances. That doesn't have to be the case, though. With cloud-based accounting apps, you can get access to the data you need anywhere. Unlike some apps, which won't show you anything more than balances and pending transactions, cloud software puts real tools and reports right at your fingertips.
5. Daily Automated Online Backups
Have you ever had that sinking feeling of dread that comes with the worry that you've just lost all your financial data following a power surge or hardware failure? Cloud accounting software can take that worry away because automated daily backups (performed through an encrypted connection) run in the background and keep you protected. This is one feature you might not spend a lot of time thinking about, but you'll be glad it's there if you ever need it.
We won't blame you if you're considering making a switch to cloud accounting because you want to save time, are tired of digging up old receipts, or feel like you spend too much of your week entering and re-entering transactions. Just remember that cloud apps have so much more to offer your business, and those extra features might be the ones you end up loving even more!