3 Ways Cloud Accounting Apps Helps Keep Your Money Safer
If you've already talked with your bookkeeper about cloud-based accounting software, then you already know how it can make it easier to manage your business's finances. But what you may not have known is that managing finances on the cloud can actually help you keep your money safer, too.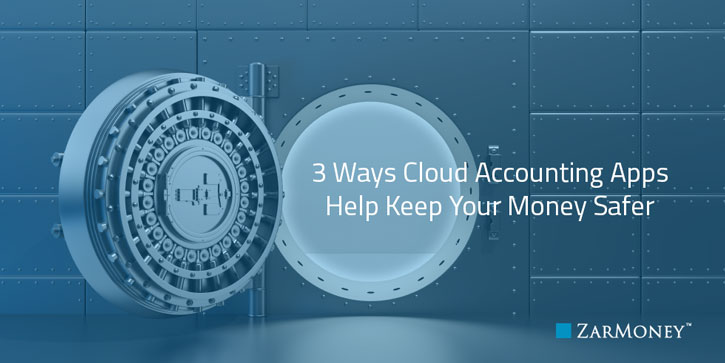 Here are four ways working in real-time through secure connection can make it easier to protect your money and sensitive financial data:
#1 With an Easy "Approve to Pay" Feature
For a lot of small businesses, paying bills can present a real dilemma. On the one hand, you don't necessarily want to give a bookkeeper or accountant or employees the authority to write checks out of your accounts without any oversight, while on the other hand approving transactions one-by-one (in person or over the phone) can be overly time-consuming.
An intuitive easy "approve to pay" feature solves that problem. By logging in to your account from anywhere, you can see which checks are ready to be cut, along with the amounts and their destinations. That means you are protected against fraud and low cash balances, but without having to give up hours per week on financial reviews. With approve to pay, you decide which team members have the authority to pay bills, and track which employees have made payments with accurate time stamps.
#2 The Ability to Flag Transactions Instantly
Not only are accounts updated in real time with cloud-based accounting software, but both you and your bookkeeper will have the ability to flag transactions for immediate review as they post. In a day-to-day sense, that gives you a way to follow up on any transactions that seem questionable or suspicious before they are repeated again in the future.
In a bigger sense, that means you can keep a close eye on where your money is going without having to meet with your financial professionals when you'd rather be running your business (or wait for explanations while you play phone tag back and forth). Additionally, this makes it easier for your bookkeeper to alert you to anything he or she sees that might require better documentation or a closer look. You can even chat, compare notes, and resolve problems in real-time if you're both logged into your cloud accounting package together.
#3 With Daily Backups and Encrypted Connections
While we have dealt so far with overseeing your expenses and bookkeeper, it's important to note that strong online security helps keep hackers and cyber criminals away, too. With automated daily backups and highly-encrypted connections, you can rest easy knowing that it's incredibly difficult for thieves to snoop on your transactions or steal sensitive data.
In fact, your financial data is almost certainly safer in the cloud than it is on a local computer or hard drive. That's because data breaches based on unauthorized access at an unattended computer are common, and give thieves the ability to scan and use whatever they want. Getting through the encryption in cloud-based accounting software, however, is nearly impossible.
We know how important privacy and online security are to business owners, and always stay on the lookout for new ways to stay ahead of criminals and identity thieves. With the right cloud accounting package, your data is many times safer than it would be on a hard drive in your office.
Part of managing your small business is staying on top of finances and keeping your money safe. That's why the best cloud-based accounting software services include a number of features designed to help you identify, categorize, and follow up on questionable transactions. And of course, developers do everything in our power to ensure your data stays safe when you use these apps.
Why not try ZarMoney for yourself with a free trial? It only takes a second, and we think you'll love it so much that you'll never go back to another piece of small business accounting software.