3 Best Attorney Invoicing Software
We often see businesses use Management Software that could be in the form of Customer Relationship Management Software (CRM) or Accounting Software. The primary purpose of such software is to simplify the most complex business tasks. Likewise, you can find attorney invoicing software to help you with your legal billing and similar tasks.
The use of Financial Accounting Software has become more common than ever. This Software helps in expanse tracking, monitoring account receivables, client billing, and much more. A business that is product based has a much simpler financial structure. In contrast, those businesses that are service-based have complex economic systems.
Service-based businesses have complex financial structures because they must carry out time and expense tracking. Usually, the service-based business charges their client at the rate of per hour. This is because the service can't be quantified like products. Another thing that raises complexity in the service-based business's financial structure is tracking expenses. Tracking expenses is often complex because, unlike product-based companies, you can't follow per-unit cost on a finished or ready-to-sell product. Also in service-based businesses demand forecasting is nearly impossible.
As we know, the Legal Profession is a service-based profession, meaning its financial structure is pretty complex. As a result, lawyers and Law Practitioners have a unique billing system. As a result, even small law firms often find a need for management tools that can help them in billing. This is why we now have Attorney Invoicing Software.
Attorney Invoicing Software is specifically designed to fulfill the financial management needs of people, organizations, and firms that belong to the legal profession. We all know that the legal profession is one in which big bucks keep coming, which means that there is a need to frame a top-notch and error-free financial system. In addition, people belonging to the legal profession most often law firms and lawyers have to abide by strict litigation rules and regulations to ensure the transparency of their work. All these things made it necessary for them to use Attorney Invoicing Software.
What is Attorney Invoicing Software?
Attorney Invoicing Software, as the term indicates, is used by legal professionals for billing their clients. The essential feature that makes this Software very useful for lawyers is that it tracks the billable hours for law firms or lawyers, which helps them in making invoices that would then be sent to clients. There are many other notable features of Attorney Invoicing Software. For example, this Software has the quality of Case Management; the litigation process requires extensive documentation. These features help lawyers manage all the necessary documents in one place. The part of Case Management also helps lawyers immediately find the necessary documents regarding the particular client or Case, which means that you have full access to your case details from any location.
Attorney Invoicing Software is a cloud-supported and downloadable platform, which means confidential and sensitive customer information is saved on the internet. The cloud-support platform helps prevent data loss, which is often common when this data is saved on complex storage devices. The cloud-supported platform also has strict security, which protects clients' sensitive data from any threats like cyberattacks and ransomware.
Features to look for in Attorney Invoicing Software
We have not discussed two features yet: Billing Hours and Case Management. Although both of these features are primary features of Invoicing Software for lawyers' numerous other parts are required in Attorney invoicing Software.
Tracking Payment
This feature helps law firms and lawyers to track their client's payments. After the clients are sent the invoices, they ought to pay for the services they have availed. This feature helps law firms and lawyers to track their revenue stream over time. If delayed payments are made, messages could be sent asking for immediate expenses. Also, the extra charges could be added to the invoice as a penalty for late payment. Late payment penalties would avoid late payments made by clients, or they can increase the revenue income as additional charges would be added, which is a win-win situation for the lawyers or law firms.
Accounting Features
Although accounting features are primarily for business, Attorney Invoicing Software has accounting features for lawyers and law firms. This means that lawyers and law firms could easily create profit and loss statements. The profit and loss statements would help lawyers and law firms know their monthly profits. Measuring profitability is also easy with these features.
Document Storage
The process of litigation is filled with heavy paperwork. In the legal process, there is a need for tons of documents. Lawyers and firms often get exhausted with this much paperwork; searching and storing documents can be very time-consuming. All the problems could easily be solved with Attorney Invoicing Software. This Software would help lawyers in the storage of confidential information of their clients with added security that they can send people who can access these documents. As this Software is cloud supported, there is no threat like the misplacement of documents. Any software that doesn't have this feature should never be opted for by lawyers or law firms.
Online Payments
One feature that an Attorney Invoicing Software must have is the option for online payment. In recent times online payments have become more popular due to the rise in online shopping; not only individuals but businesses and services-based firms receive or pay through the internet. Online Payments are more convenient than cash payments and cheques. Online payments can be made from anywhere at any time. Also, invoicing software with an online payment option becomes easier to monitor revenue or inflow of money. You have to ensure that the Attorney Invoicing Software can be integrated with financial payment applications like PayPal or any other. Also, the invoicing Software should have the ability to accept payment through a visa card, master card, and debit card.
Legal Calendaring
The feature of Legal Calendaring is vital and it should be in every Attorney Invoicing Software. This feature helps lawyers in numerous ways. Lawyers have to deal with many things like appointments, court hearings, meeting potential clients, and attending conferences of law firms; all these activities are a hassle for sure and need adequate time management. The feature of legal calendaring helps lawyers to solve all these issues. Legal Calendaring is a feature that works as a digital calendar for lawyers. This feature allows lawyers to set deadlines on cases, set the right time for appointments, and track time spent on each Case. A part like Legal Calendaring should always be in the Attorney Invoicing Software.
Software Solutions
Now that we have discussed everything in detail regarding Attorney Invoicing Software and its features, we should shift our focus to what Software a law or law firm should opt for. First, of course, there are several Financial Software for product-based businesses. However, when it comes to services-based businesses and talking specifically about Lawyer's financial dealing, few get the work done efficiently, effectively, and accurately. So, let's have a look at top-tier Attorney Invoicing Software.
1. ZarMoney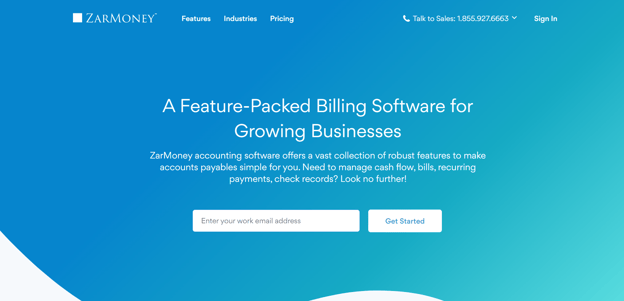 ZarMoney is the one-stop solution for your financial management. This Software is best for businesses that are product-based or service-based alike. ZarMoney has numerous features as ease in the Billing process, Online Payments, and a vast network of bank connections throughout North America.
Top 3 Features
The top three features of ZarMoney that have helped their clients the most are as follows:
Bank Integration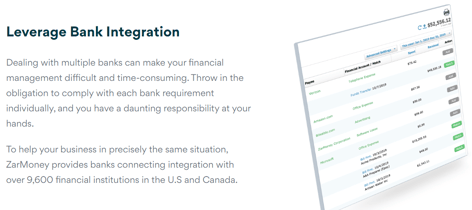 There are numerous banks, and your different clients might be using foreign banks to make payments often, which makes things confusing. The feature of bank integration helps law firms and individual lawyers track each payment received separately and from whom it's received.
Cash-Flow Management

Despite Several businesses being product-based or service-based, one similarity that is there between the two is Cash-Flow Management. Effective cash-flow management ensures that the company can sustain itself in the long and short run. ZarMoney helps law firms make cash-flow statements that are accurate. These statements are automated as the software tracks all the income and expenses; this reduces the chance of human error, which is common when this process is carried out manually. In addition, cash-flow projection helps to clear the projection of a law firm's future.
Customizable Financial Statements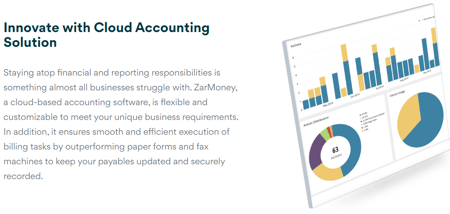 ZarMoney helps you create financial statements that can be customizable. This feature allows the creation of interactive financial reports that are easier to understand so that management can grasp the situation quickly.
Pricing Plans
Enterprise/ Individual Lawyers: $15 (Per Month)
Small Law Firms: $20 (Per Month)
Medium to Large scale Law Firms: $350 (Per Month)
Choose payment plans by revenue.
Pros
Professional Accountancy App
Steep Learning Curve
The wide connection between North American Backs
Auto Reminder on due payments by clients.
Cons
The reimbursement Process is often confusing
Limited Integration
Supported Operating Systems
Microsoft Windows
Mac OS
Linux
2. MyCase
MyCase is one of the few software solutions that is specifically designed for lawyers and law firms. This Software is feature-rich. MyCase has everything to offer that a lawyer can wish for. In addition, it has excellent features like online payments, a client portal, calendaring, and many more.
Top 3 Features
The top 3 features that help lawyers in the Financial Management of MyCase are:
Case Management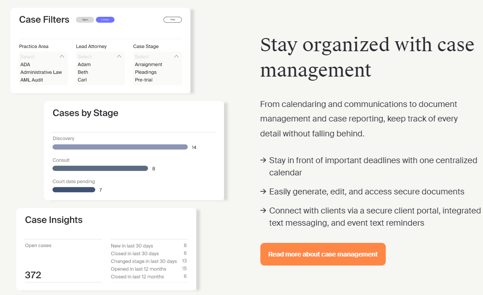 Communication and keeping things on track are essential, especially in legal affairs. The prime features of MyCase help lawyers track every activity, meet deadlines, communicate on the client portal, edit tasks flexibly, and get reminders on upcoming appointments. My Case also helps lawyers to schedule or cancel appointments and share this with their clients beforehand.
Receiving Fast Payments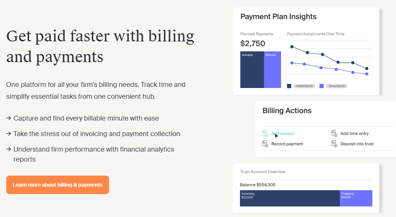 My Case helps lawyers and law firms to have a clear view of their financial management. For example, this platform allows lawyers to track billable hours. My Case also helps lawyers or law firms know their due payments, which could then be charged additionally. Also, these features help law firms or lawyers in creating financial statements for profitability or income projection.
Catching Clients
It is easier to get the client than ever for law firms or even individual lawyers. This is credited to technology that makes getting clients easier. MyCase helps you in getting clients from the web. The client intake forms help lawyers, and law firms generate leads that can be potential clients. This feature also lets a business know how many leaders are interested in becoming clients. These features also help track the pipeline management of a law firm or individual lawyer.
Price Plans
Basic: $39
Advanced: $59
Pro: $79
The higher the pricing gets, the more the number of features would be offered.
Pros
Better Workflow Management
Ease is setting dates and making edits
Easy to understand and work on.
Cons
Difficulty in file movement
Limited in utility
Supported Platforms
Microsoft Windows
Mac OS
Linux
3. AbacusNext

AbacusNext is the prime accounting software that can fulfill all your legal and accounting needs. Managing finance can be difficult, primarily when you work in a legal profession. AbacusNext solves all the complex financial management issues faced by lawyers or law firms.
Top 3 Features
The top features that AbacusNext has to offer are as follows:
Law Practice Management Software

AbacusNext assists lawyers in managing all their legal practice using cutting-edge tech that boosts productivity and efficiency in legal management. In addition, this feature helps in emailing, calendaring, and monitoring payments from clients.
E-Payment

AbacusNext helps lawyers and law firms to make online payments with ease. This platform helps in the flexibility of payments and receiving payments from clients. In addition, this platform allows law firms to integrate financial and legal Software so they can be easily managed.
Cloud Hosting

Cloud hosting features help law firms, and lawyers secure their confidential information on the internet. The secure cloud system of AbacusNext helps to store essential documents and allows easy access to the private file to only those entrusted.
Price Plan
Starting at $69
Pros
Ease in document filing
Secure Cloud Platform
Easy to use
Cons
Hard to search documents
Prices higher than competitors
Supported Platforms
Microsoft Windows
Mac OS
Linux
Wrapping Up
We have gone through it in great detail with Attorney Invoicing Software. We have discussed its features and how helpful it is for lawyers and law firms. We also discussed top-notch software solutions for law professionals.
The best software that stands out due to its features and performance is ZarMoney. ZarMoney is the most trusted platform for service-based business-like litigation and especially for attorney invoicing. We recommend ZarMoney to lawyers and law firms if they want to increase their operational efficiency and effectiveness.