The Best Accounting Software for Small Business Inventory Management
Is your business growing faster than you can manage? Then an inventory management software should be on your radar. An inventory management platform is an excellent way to reduce complexities, gain visibility, and drive cost efficiency throughout the organization.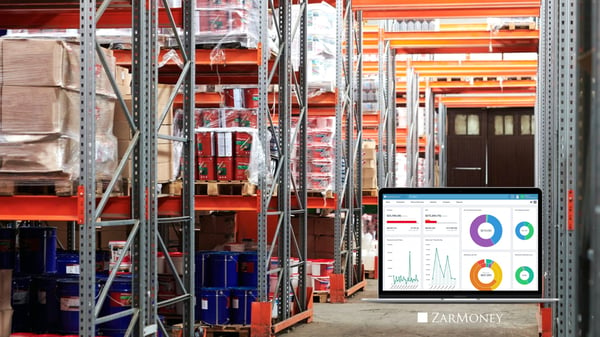 However, it is essential to know what to look for and expect from the inventory solution you might choose. Not all platforms are created alike, and of the choices available, many are quite expensive, so you need to approach it as you would an investment and choose wisely, based on what you are trying to achieve.
Why You Need Inventory Management Software
There are still small businesses that often conduct manual inventories, using Excel spreadsheets to manage the process. Even though Excel is capable of many things, it is not viable as a long-term strategy. That's why it is better to choose a long-term solution as your needs will quickly outpace Excel's capacity as your company grows.
For instance, if you are using a spreadsheet system, you are viewing inventory after the data have been recorded. Between the physical count, the analysis, and when the report is issued, there will likely be changes. By that time you receive the report, the data is outdated, confusing your teams and causing inefficiencies in supply chain management. Out-of-stocks and overstocks are common in this scenario, and the more your company grows, the more costly these become. In a study by Innovapptive the author discloses 6 most common inventory errors:
Human error

Inadequate training

Erroneous data entry

Incorrect item picking

Disorganized inventory

Poor communication
Where each of the errors can have serious consequences, especially in the chains of suppliers for larger companies working in regime JIT.
Next, you must reconcile inventory assets and sales with your accounting system. If you are still doing this manually, you will need to transfer data from one application to another; a cumbersome, time-consuming undertaking loaded with opportunity for errors, rendering the process inefficient by today's standards.
A modern inventory management system addresses these pain points by simplifying, streamlining, and automating each process. It connects to your accounting system, thus providing you with real-time visibility into your assets and accurate insights into the state of your business at any given time, from anywhere - business trip or holidays won't limit you in checking on your inventory, making sure everything is at it should be.
Inventory Software: Basic Features
The inventory software you choose should be based on your needs, but most have a handful of features in common. These include:
Cloud-based access. Anytime, anywhere access helps you manage your business more effectively and efficiently.
Barcode capabilities. No matter what type of business you are engaged in, a barcode scanner or RDIF reader is essential for tracking products in and out of the system.
Reporting. Reports should be customizable to your needs and be capable of generating automatically based on your needs.
Forecasting. Historical data helps you predict future demand well in advance.
Alerts. Notifications and alerts can be configured to send to a manager or whomever you choose.
Accounting. The inventory management system should connect directly to your accounting system, either through an existing integration or custom API.
Synchronization. If you sell through multiple channels, inventory synchronization is vital to maintain global visibility.
Raw materials tracking. Manufacturers need to track individual components and raw materials, so if this is a concern for you, your system should be configurable to account for these, both as stand-alone parts and as part of the whole.
Reorder automation. Configure your software to trigger a reorder when a stock reaches a certain level.
Integrations. Software integrations that link to your schedules, logistics, payment processors, POS systems, or ERP extend the capabilities of your inventory management software, making it even smarter.
Pros and Cons of Cloud-Based Inventory Management Software
When you consider the expanded capabilities a cloud-based inventory management solution delivers, you won't find too many arguments against making the switch.
On the plus side:
Real-time data. You always have an accurate snapshot of your inventory assets at any given time.
Reduced hardware costs. A cloud-based system does not require any on-premise servers or hardware to run.
Speed of deployment. Once the system is set up, it provides immediate insights.
Simple integration. Works with and connects to your existing systems.
Increased efficiency. Reduce errors and time spent on manual tasks.
Cost-efficient. Save money on labor, minimize loss and waste, eliminate stock-outs.
Enhanced coordination. Make just-in-time business decisions based on accurate data.
Disadvantages of cloud-based inventory management software:
Security/privacy concerns. Though cloud security is exceptionally efficient, highly-regulated industries might have compliance or privacy concerns.
Lack of independence. Your inventory is tied into a platform and a service that does not exist independently of the system.
Less flexibility. You are limited to your platform's features, which may not suit your needs should you experience scale.
Final Thoughts
In conclusion, inventory management software is an essential business need. For companies that operate both on and offline, this is especially true as the added complexities often lead to costly errors and inefficiencies.
In choosing the right system, consider your present needs and envision where your company will be in the future. Ultimately, you need a system that can grow with you, improve accuracy, and add value through every process.
Zarmoney's inventory management solution is one of the most flexible and affordable ways for companies to gain visibility, drive efficiency, and maximize profitability. Sign up for a free trial today, or reach out directly to learn more about how we can help.